Hi
Wi-Fi Newbie needs help!!
I have a ADSL wirless router.
Today i bought a HP Laptop and want to set the laptop up gor Wi-Fi. Sorry to be so ignorant, but I just can't seem to get it together. And yes, my laptop is very close to the router.
I am using Vista, and the steps I have taken are as follows:
Connect to Internet
Q. Do you want to use a connection that you already have?
No - create a new connection
Yes - I'll choose an existing connection
The only connection listed is "Broadband Connection WAN Miniport (PPPOE)
I chose "No, create a new one"
Q How do you want to connect?
I chose Wireless
Q. Select a network to connect to:"
Marconi Security-enabled network (only one listed) I have South African Telkom Premuim Combo Wireless Router
Q. Type in the Network Security Key or Passphrase for Marconi
????? What is this and why if Wi-Fi is already active??
- My ISP is www.mweb.co.za - also provides the ADSL and Wireless. In my account it says that the Wireless is "Active" see below copied from my MWeb Account page:
Wi-Fi
STATUS: [ ACTIVE ]
UNITS AVAILABLE: [ 300 ] | Buy More |
LAST USED: [ never
So if Mweb says that Wi-Fi is Active, why can I not activate and connect it on my laptop?
I have also gone through START, CONNECT To options, and whichever way I do it, the TYPE THE NETWORK SECURITY KEY OR PASSPHRASE FOR MARCONI.
In Control Panel, Wireless Network Wizard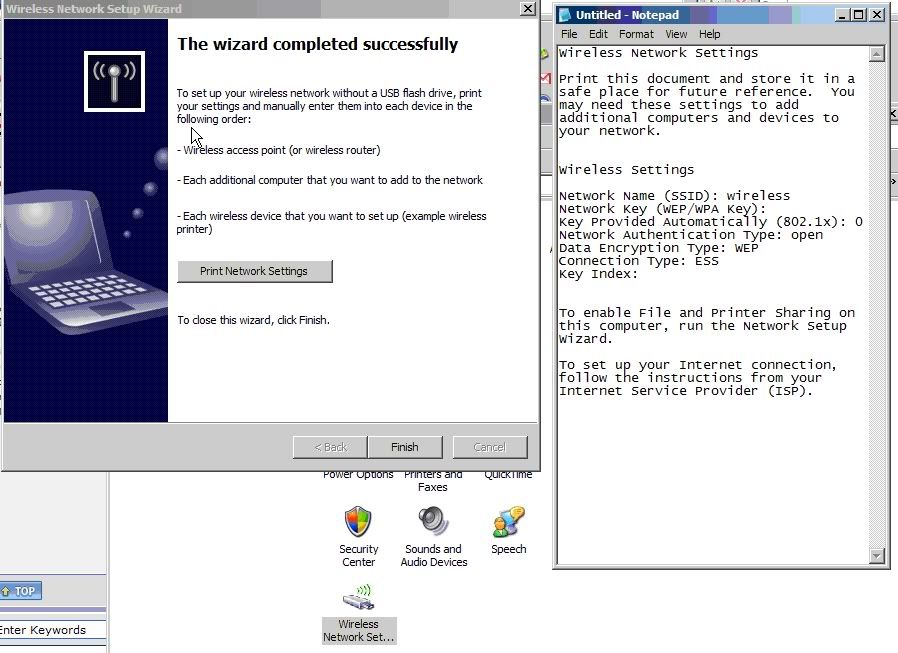 NB: I did the setup manually to set my own security key (which I have deleted from the screenshot) and still no luck..
And YES, I have switched the Laptop's Wireless button to on. Also, I DO NOT have a USB Flash rive.
Also, I charged the laptop for 16 hrs as recommended, and it soon ran down when I started to use it. So I have re-charged and it has dropped to 63% in just over an hour - and all I was doing was trying to do the wi-fi thing. This can't be right, can it??

10 mins later, and the battery is down to 57%. Did I not do the initial charge for long enough? Should I now charge it again for 16 hours???
Thanks
Moderator Edit: Moved topic to the more appropriate forum. ~ Animal
Edited by Animal, 29 June 2007 - 09:41 AM.