First Off, a warning:
WARNING:
All that follows should only be attempted on non-mission critical machines. Incorrectly (and even correctly) performing these actions can make your computer unresponsive or may damage the operating system beyond repair. These actions have been tested by me on Windows XP Professional Service Pack 2 and may or may not work on other versions. These actions involve editing the explorer.exe file and the registry, you NEED to make backups before proceeding.


OK, you have been warned.

For these "hacks" you will need a program that can access and edit executables. I use the XN Resource Editor.

Hack #1: Changing the "Start" in "Start menu"

This will change the Start Button to show any text you desire instead of simply "Start"
Example: I changed my Start Button to "Override":




How to do it:
Open your resource editor and find explorer.exe in you main Windows folder.
In the editor, expand String Table followed by 37 (see fig 1)
Fig 1: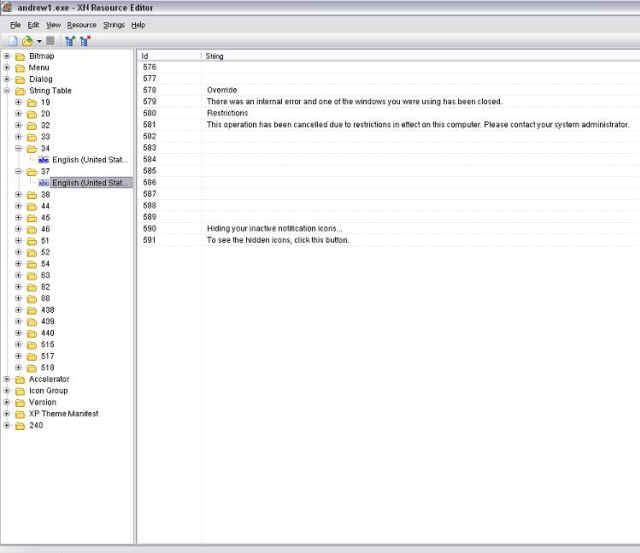 On the line labeled 578 enter what word (or short phrase) you want on the start button.

If that's all you want to do today, skip to the end of this post for instructions on how to implement this new shell. Otherwise, read on:

Hack #2, Changing what the little popup tooltips say on the Start Menu:

In the resource editor, with your file still loaded, go to String Table->19.
Edit the lines there to reflect your weird tastes.
Key:
Line 300 is the My Documents tooltip
Line 301 is the recent documents tooltip
Line 302 is the My Music tooltip
Line 303 is the My Pictures tooltip.


How To Implement Your Changes:
now that you've edited the shell a bit, you need to save it. Save it as an exe file to your Windows folder. Give it a unique name, DO NOT OVERWRITE EXPLORER.EXE!!
Now, open the registry and navigate to HKEY_LOCAL_MACHINE\SOFTWARE\Microsoft\Windows NT\CurrentVersion\Winlogon and change the shell value to the name of your custom shell. Don't give the path (that's why we saved it in the Windows folder). For example, C:\Windows\MyShell.exe would be entered as MyShell.exe.
Close the registry and reboot, your new shell is now in effect!.


Troubleshooting, or WTF happened?!
As with all hacks, there is the chance that the new shell just won't load. No desktop, no start menu, nothing. So, what do you do? Press Ctrl+Shift+Esc to launch the task manager. Click on File->New Task and enter regedit to launch the registry editor and revert the change you made. Reboot.

PS
I noticed that the shell takes a little longer to load after this. I don't know why, but be patient if it's not as spry as normal. You can always change it back.

Edited by Andrew, 24 September 2010 - 12:44 PM.
Fixed broken images