Hi
I am a Windows XP user looking to migrate to Linux but have little to no experience in it so far. I have fiddled with some Ubuntu Live CDs and decided the best thing to do would be to install it as a dual boot so I can get a bit more familiar with more of its functions.
My current PC setup contains 2 hard drives - a 200Gb master with Windows and all my files and documents which I want to leave wholly intact so I can continue to use it as my main OS, and an empty smaller 20Gb slave which is where I want to install Ubuntu.
Knowing nothing about how to go about this I got some advice from these forums before (see post
here
) and I am intending to install Grub to help keep my Windows as the main system and giving me the option to boot up from the Linux drive when necessary. I basically just need help someone walking me through the process.
After running the installer on the desktop the first question im asked is where to install it and given the following options:
I believe the best choice is the one provided by default i.e. to do the 'guided install' on the Fireball drive (20Gb). In the previous topic I linked to earlier, someone suggested to select the manual option however doing so produces the following screen at which point I haven't a clue what to do.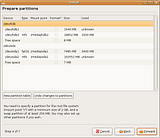 Can anyone please advise as to which method would be appropriate for my desired setup - whichever is easier - and talk me through it.
Thanks in advance.
Edited by benny269, 08 June 2007 - 03:25 PM.