Hi all
I have a few questions for solutions to various things, and for want of not knowing where to post them all, I decided to post them here. I suppose that they all generally fall under this topic anyway. If this is not the case, please direct me accordingly.
My questions might seem basic and obvious to many of you, but not to me!!!
So here goes.
1. I seem to have developed a bad habit of downloading alot of free software - and by "alot" I mean a ridiculous amount!!
For example: -
PC Security
Hard Drive & System Utilites
System Information
Utilities
and many more.
2. With the above in mind, is there a
program that can organise the software / hardware,
into the correct categories, such as System Utilities, Downloaded Software, Drivers, Desktop, etc. It often takes me ages to find a program which is so frustrating.
I found a program, (in Softpedia) but it is shareware, and I'm a Freeware kinda person:
Software Tracker
Software Tracker will help you catalog all your software programs with 18 different customizable fields including program Title, Category, Supplier, Revision Level, Support, Serial Number, Condition, Email, Location, Installation Date, Media, Warranty, Buy Price, Buy Date, Value, User, and a graphic field.
3. Note Programs: I have several :
Evernote, Scrapbook, My Stuff (ask.com) Google Notebook. Cooliris Add to Stack
!!
Which one do I keep ??
4. Due to my download addiction, I am in need of a "
Duplicate Finder
" program or similar.
5.
File Assocation
/ Open with / Search web for appropriate file extension . As in, when a program is downloaded, there is a message that windows can't open the file because of unknown extension. You know what I mean. See below image!!
6.
TaskBar and Notification Bar
. Somehow the text decription above the icon flashes for less then a millisecond - why? The Notification Bar is very full, and some of the program icons are listed more than once. In option, setting them to "Always Hide" doesn't do the trick. Example: I have XP Power Toy Tooltips which shows you a thumbnail of the program. Instead of just one thumbnail showing, there are three of them. So, aside from the options of Hide when Inactive, Always Hide, or Show, is there a way to actually delete or remove some of these icons from the notification Bar ??
7. I use quite a few
support forums
(
of which BC is by far the best..!
!!!
) - Again, I often lose track of them. Is there a way or a program that can help to organise this.
8.
Email.
I use several different emails - Outlook, gmail, hotmail. Outlook is my default, and I have forwarded mail from gmail etc to Outlook. Problem: My inbox is overflowing, as I subscribe to newletters, updates, software reviews from C-Net, Softpedia etc etc. How do I send my gmail stuff to a seperate folder in Outlook, rather than everything going directly into my main Inbox??
Ok, so I will leave it there, because I'm sure that I could go on for ages !!
Please forgive all these questions in one post, and again, please redirect me if appropriate.
So as you may realize, my poor computer is bearing a huge weight, and is slugging along very slowly. So your help is desperately needed.
FYI
: I do the following on a regular basis:
Ccleaner
Disk Cleanup
Defragment
AFT Cleaner
Regedit
Delete all browser, cache, cookies, temp int files
Run all anti Spy / Virus / Malware or whatever once a week.
The following image is to give you a visual on how crowded my system is, and possibly to make you laugh !!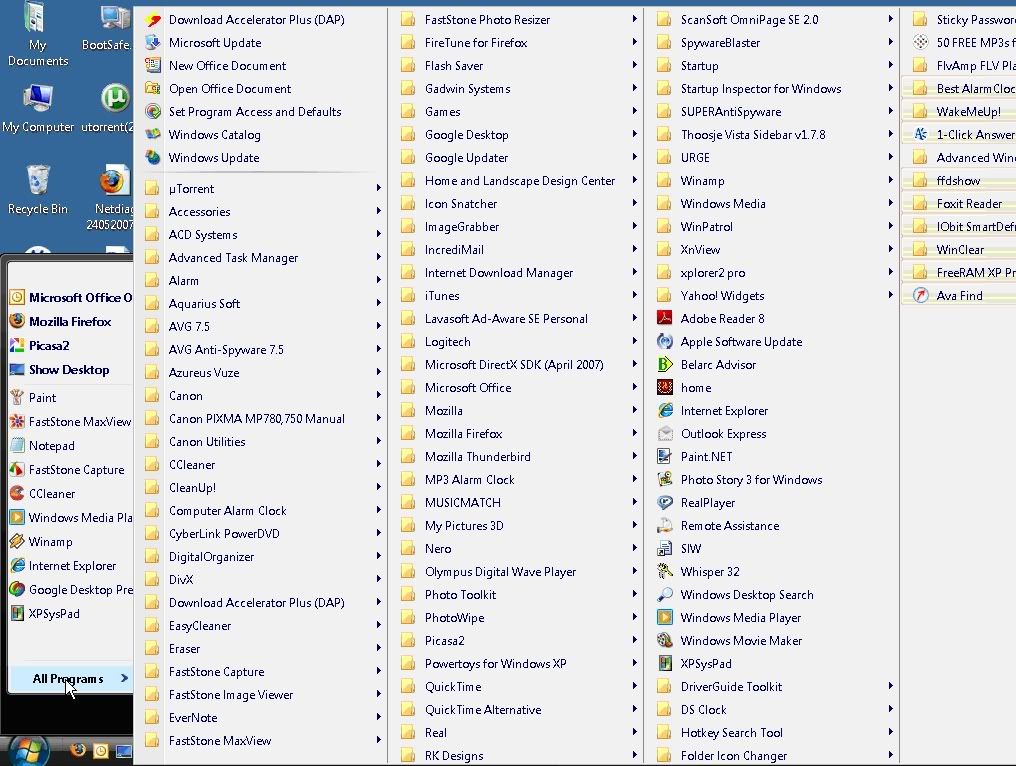 Thanks all.