In the past 2 days I have been getting these emails from JohnQ. opening the message causes outlook to shut down. See screen shot: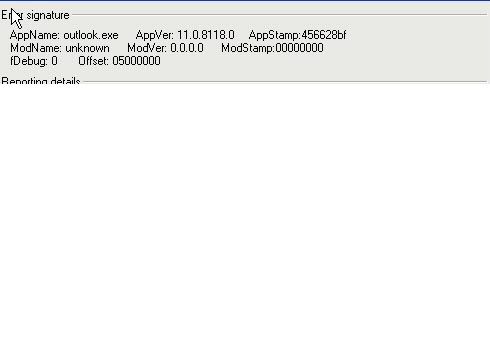 I copied the following from the Message Options Box - don't know if it's of any relevance or not?

So what is this all about?? Is it a virus? What's interesting, if it is a virus, is that it has been forwarded through my separate email accounts such as yahoo \, gmail and Mweb.

Return-Path: <bouncehandler69@johnq.com>
X-Original-To:
Received: from prewall03.mweb.co.za (prewall03.mweb.co.za [196.2.42.48])
by vmc01.mweb.co.za (Postfix) with ESMTP id EA8B548EE90
for <>; Tue, 22 May 2007 09:47:05 +0200 (SAST)
Received: from localhost (viruswall11.mweb.co.za [196.28.149.31])
by prewall03.mweb.co.za (Postfix) with ESMTP id 8D6D94BF15
for <>; Tue, 22 May 2007 09:46:56 +0200 (SAST)
Received: from localhost (spamwall02.mweb.co.za [196.2.50.196])
by mxvwall-01.worldonline.co.za (nod32smtp); Tue, 22 May 2007 10:04:41 +0200
X-Spam-Score: 4.229
X-Spam-Level: ****
X-Spam-Status: No, score=4.229 tagged_above=3 required=7.5
tests=[BAYES_50=0.001, DCC_CHECK=3.5, FORGED_RCVD_HELO=0.135,
HTML_MESSAGE=0.001, MIME_HTML_ONLY=0.001, SARE_UNI=0.591]
Received: from postwall04.mweb.co.za ([196.2.42.24])
by localhost (spamwall02.mweb.co.za [196.2.50.196]) (amavisd-new, port 10024)
with LMTP id rGzB2Sy4hc5X; Tue, 22 May 2007 09:47:03 +0200 (SAST)
Received: from mta147.mail.ukl.yahoo.com (mta147.mail.ukl.yahoo.com [217.12.11.26])
by postwall04.mweb.co.za (Postfix) with SMTP id 2507145B3C
for <>; Tue, 22 May 2007 09:47:04 +0200 (SAST)
X-Yahoo-Forwarded:
X-YahooFilteredBulk: 64.225.154.128
X-Originating-IP: [64.225.154.128]
Authentication-Results: mta147.mail.ukl.yahoo.com from=johnq.com; domainkeys=neutral (no sig)
Received: from 64.225.154.128 (EHLO IPDDFG0838ATL2.usa.prod.interland.net) (64.225.154.128)
by mta147.mail.ukl.yahoo.com with SMTP; Tue, 22 May 2007 07:46:57 +0000
Received: (qmail 23688 invoked by uid 0); 22 May 2007 07:32:56 -0000
Message-ID: <20070522073256.23687.qmail@IPDDFG0838ATL2.usa.prod.interland.net>
To: @yahoo.co.uk
Subject: Amie Street
Date: Tue, 22 May 2007 03:10:03 -0400
From: "JohnQ DailyShot" <dailyshot@johnq.com>
Reply-To: dailyshot@johnq.com
MIME-Version: 1.0
X-Mailer-ListID: 9
Content-Type: text/html; charset="iso-8859-1"
Content-Transfer-Encoding: 7bit
X-Virus-Scanned: ClamAV using ClamSMTP