Hey everyone, thanks for the help ahead of time.
The other day I finally got to cleaning my room and I moved my computer. When I went to boot it back up, the first thing I noticed was the Windows login sound was very laggy. I went on to try and play some music with WMP11 and all the music was laggy along with windows itself. I checked the task manager under the processes tab and it was really weird - it's telling me that a bunch of random programs are taking up memory...and it changes maybe every couple seconds. I took some screen shots to show: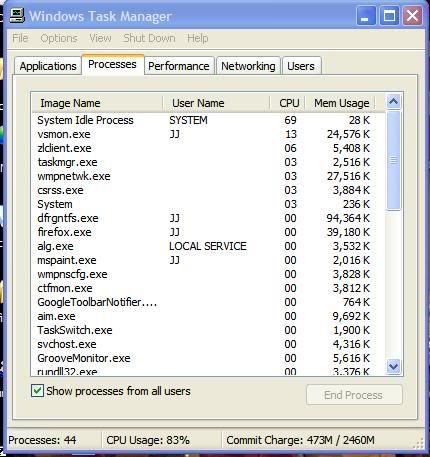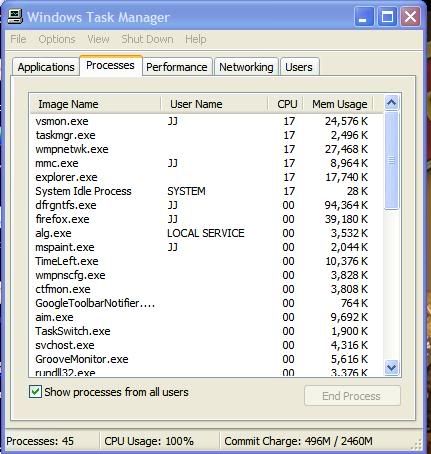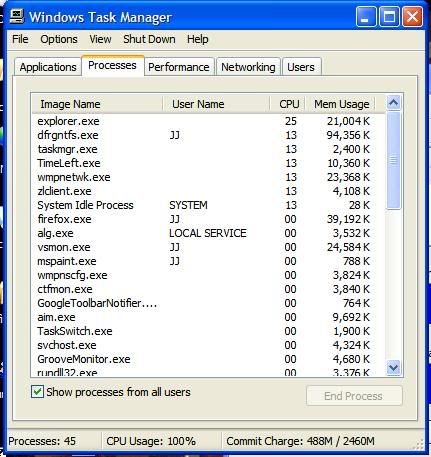 These were all within a couple minutes and kept changing randomly.
Here are the steps I've taken:
1. Defraged all of my HDD's
2. Preformed anti-virus scan with Symantec AntiVirus Corporate, BitDefender, Windows Live scanner, (ran in safe mode)
3. Preformed anti-spyware check with SUPERAntiSpyware, Ad-aware SE, Panda (ran in safe mode)
4. Deleted data from main HDD to make space (getting desperate)
5. Tried shutting down some processes
6. Disabled DNS Client to stop one of the svchost.exe processes (it read that it was taking alot of memory/cpu usage)
7. Tried simply rebooting computer
8. Tried uninstalling add-ons and themes to Firefox
9. Used specialized anti-virus scaners (used most that people have listed in previous posts)
I'm almost thinking that I need to reinstall XP, but the problem is I don't have the disc....
I'm pretty much out of options, I don't know what else to do or to think.....
Is it my HDD? My processor? My motherboard? My PSU?
Help. Please.
P.S. Should I do one of those "HijackThis" threads?
In case this helps:
Windows XP Professional SP2
AMD Athlon 64 +3000 (the case is open, cooling shouldn't be an issue.)
1gb Corsair Memory
320GB seagate perp. recording HDD
80GB WD HDD
10GB Quantom Fireball HDD
500W power supply unit
Linksys 10/100 workgroup switch
Firefox 2.xx.xx
WMP 11 (final version)
Zone Alarm Pro
Symantec Anti-Virus Corporate Edition