Hello, a friend of mine recommended these forums to me to help out with my problem.
My computer has been hit with a virus that has burrowed into my Windows/System directory (AVG reported it to be: Trojan Horse Downloader.Agent.IOJ) and I am unable to get rid of it. I ran an AVG scan immediately and the file was reported as healed. Scans afterwards reveal that there are no viruses on the system. The virus causes some programs not to run at all, and my computer to be fairly sluggish for ten minutes to fourty-five minutes, and then everything returns to normal and is fine. This makes no sense to me. I have tried several System Restores from about twelve hours before the virus was put into my system, and they work fine. The catch with the System Restore is that the problem is only corrected until I reboot. When I reboot my system all the older files are there, but the affects of the virus persist. I have included a screen shot of my Task Manager a few moments after boot.
--------------------------------
(The floating menu is due to system lag, caused by the virus. Don't mind it.) Nothing under User Names, which is really odd. After a while when the system returns to normal, so do the names in this empty column.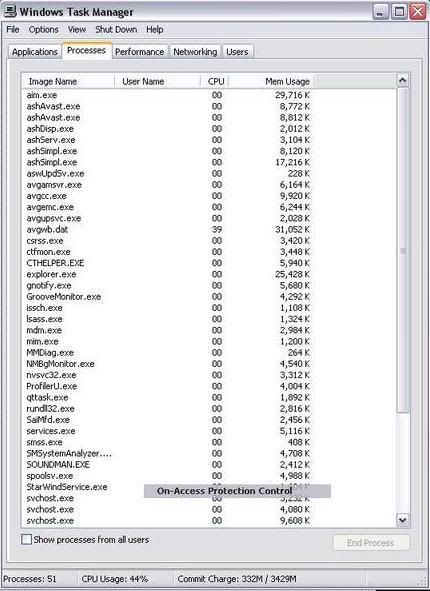 Edited by Kinote, 08 February 2007 - 08:09 PM.