First off, as much as I'd like to call myself a techie, I don't really know what I'm doing most of the time. I really don't have any clue what's going on with my laptop so I'll just lay out the facts and symptoms, and hope that its something I can fix myself.
I have a Dell Inspiron b120 notebook (crappy...I know but it was free) running Windows XP. Other than being a little slow, it worked great until recently. Then AVG Anti-virus quaritined the "gaelicum.exe" virus a couple of weeks ago, which I deleted. I then ran the "vcleaner.exe" to make sure that it was completely gone. Vcleaner showed no evidence of the gaelicum virus or anything else.
And then about a week ago it started having the following symptoms:

-stuttering sound (I use this computer for music production so this is a big problem)
-takes an extremely long time to start-up or restart
-error message "Low Virtual Memory, increasing virtual memory"

We ran AVG Anti-Virus and Ewido Anti-Spyware again (found nothing). I started keeping an eye on my processes to see if there was anything odd in the virtual memory column that might be a memory leak. But I wasn't entirely sure what was "normal" to begin with.
Here's a screenshot of my processes. Seems like a lot to me considering that Firefox is the only thing running at the time. The VM numbers stayed pretty much the same for the amount of time that I was observing them.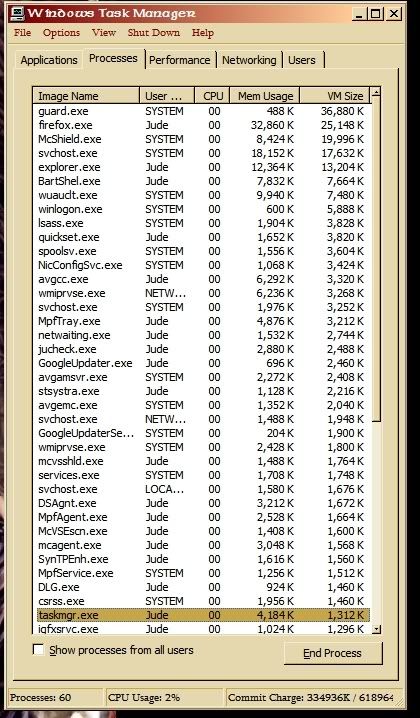 But in the last couple of days, the problem took an odd turn for the worse. I use Peoplepc at home for dial-up and for some reason, it will not stay connected. I don't know if this problem is related, but it constantly crashes and tries to reconnect. I haven't been able to connect for more than a few seconds at a time in 2 days. So I brought the laptop to my parent's house and connected via their DSL. The connection is stable but I am now getting a strange error mesesage. A window pops up that says: "Connecting to peoplepc. Redial in 3...2...1..." or something like that. (I'll repost when I can get the exact message). If you close the window (or just let it count down) it will continuely reopen over and over. And this happens for no reason...I haven't even tried to open peoplepc since yesterday. If I restart, it temporarily fixes THAT problem but eventually it will come back each time.
Does anyone have any idea what this is? Am I infected (my virus scans and spyware scans find nothing out of the ordinary)? Or is this related souly to my virtual memory problem? Any advice or pointing in the right direction would be greatly appreciated.