Hello,
I have been getting an issue where every thirty minutes or so a box will pop up called 'Windows Script Host'. It will display text saying 'Can not find script file "C:\Windows\Temp\sys.vbs"'. Here's an image of that box: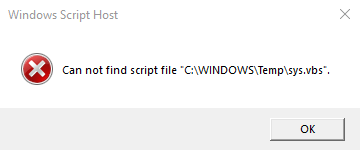 Really not to sure why this is happening. I have googled relentlessly and tried to fix it numerous times with no luck.
Any help is appreciated,
Cheers.
Edited by hamluis, 09 June 2018 - 07:46 AM.
Moved from MRL to W10 Spt - Hamluis.