Hello,
I sent britechguy a pm to get permission to post about the issues I am having trying to use Buttercup password manager. I have both LastPass and Keepass 2 which could be used to import to Buttercup. I do not know how to use Keepass2 very well I made an account on Keepass to try to import passwords to Buttercup.
I have already got a lot of help for this issue from another forum. Here is a link to that post. 
The issue I am having now is when I try to create my archive no matter what words I use I get the following: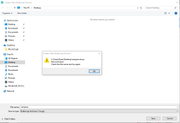 Would someone please tell me how to fix file not found so I can create my archive. I don't know why file not found is showing or how to fix it.
I have used geek uninstaller to uninstall Buttercup then I reinstall Buttercup that does not solve the issue. I have turned off Windows Defender to create my archive that does not solve the issue.
Once I am able to solve the above issues I should be able to use Buttercup.
Thanks for your help. 
Edited by ryrhino, 05 June 2018 - 05:46 PM.