Sorry for the long post!
For decades, many DVD and (later) Blu-Ray releases have been bugging me on how sometimes movies and TV shows can look so different than back then when they were originally shown on theaters or broadcast on TV. I know this opens some discussion, which one is right, which one is wrong, print aging, '80s print-to-tape transfers, modern print-to-digital transfers.
I just try to make some modern releases to look a bit more like the productions originally were (considering memories, old collector's edition laserdiscs, even VHS releases from the time, VHS recordings of original brodcasts, and so on). No matter if that is "right" or "wrong".
To achieve that, sometimes I must change a particular "wrong" color and try to keep the others intact. Hue controls just won't do the trick (because, for instance, if you correct the reds, you screw up everything else, and so on). The only relatively successful solution I could ever find, and I did find it by accident, was Intel® HD Graphics 4000 series Control Panel, particularly its "video" section, that affects video playback in real time, and it even allows you to save 50 presets!
The video section of Intel HD Graphics Control Panel lets you change drastically one color and keep the others somewhat (not entirely) intact (something that hue control does not achieve).
So far so good, the problem is that Intel Control Panel involves buying a specific hardware, and who knows, maybe Intel does not even present those functions anymore (it's pretty hard to know exactly what the newer Intel Control Panels offer on their video section, consulting the internet). So I would like to ask if there is any software or PC media player software that lets you tweak colors, one separate from the other (not the usual "hue" function only).
Having it done via software is better than being "hostage" of a particular hardware... My NP550P5C Samsung laptop is getting old, and I would not like to buy a new one in the future thinking mainly about a specific function that "by accident" comes with the onboard video card (I was lucky enough to have a Nvidia graphics card on it too, but that card and the onboard Intel somewhow "split" functions, so Intel's Control Panel is there). 
Look at what Intel can do. Here's a useless exaggerated example, just to show how flexible it can be: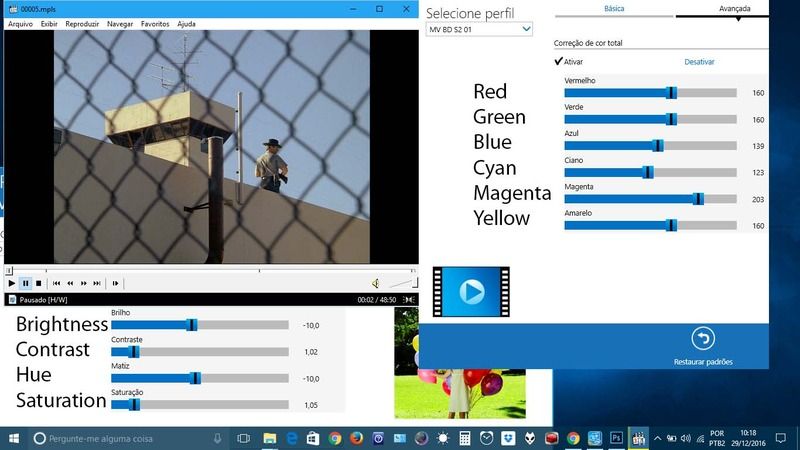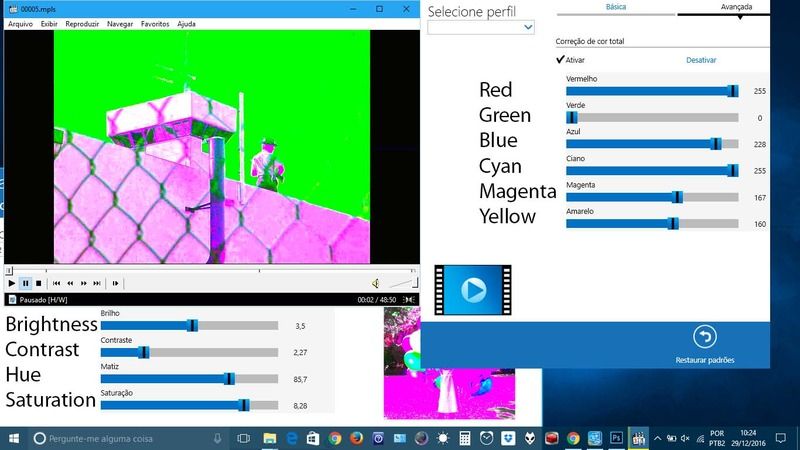 ​
Here are section one controls that the Intel Control Panel offers for real time video playback (sorry, it's in Portuguese, controls are Brightness, Contrast, Hue, Saturation):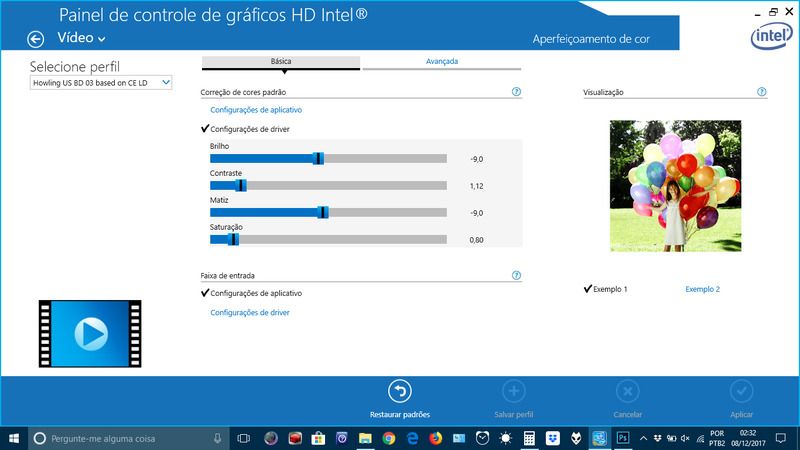 ​
Here is the second section of controls (Red, Green, Blue, Cyan, Magenta, Yellow):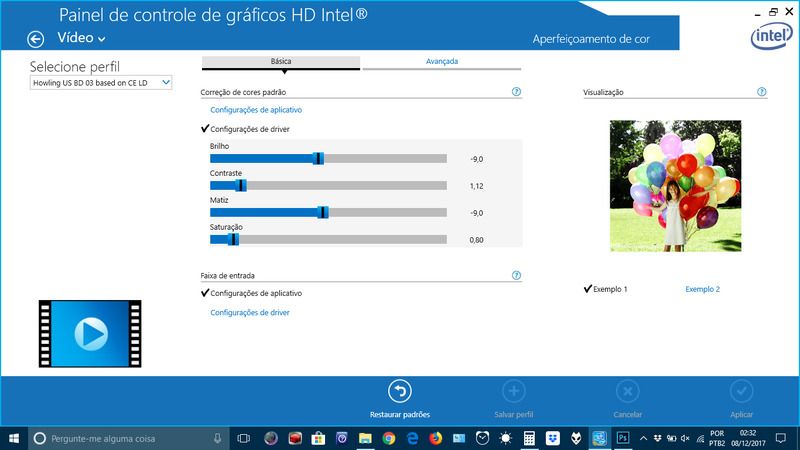 ​
Do you happen to know any media player that have flexible controls like that? Or other kind of software that can affects playback of a separate media player software? Intel Control Panel does something like that, it affects PowerDVD performance or any other player.
No TV, to my knowledge can do that. And I can't make media players like VLC or PowerDVD etc. to make that by themselves, either (ig used together with Intel Control Panel, they do, but the credits goes to Intel).
Let me show some less useless examples. In some of those cases, I could make the Blu-Rays to look a little more the productions looked decades before, considering broadcasts or collector's edition laserdiscs
Just some examples: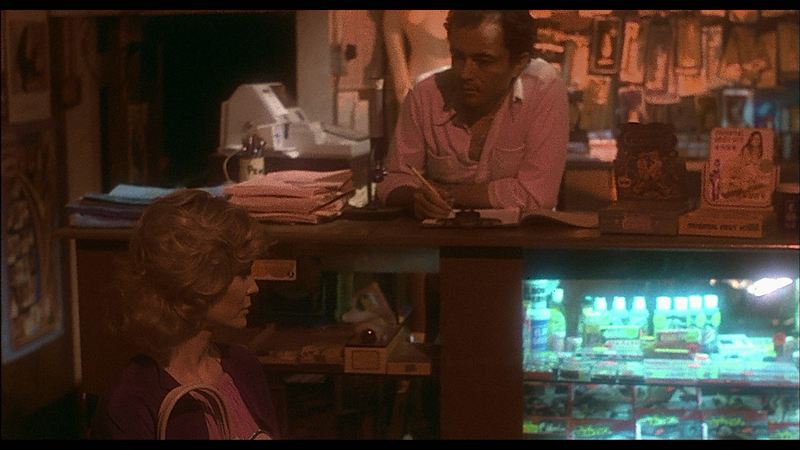 ​
The Blu-Ray, untouched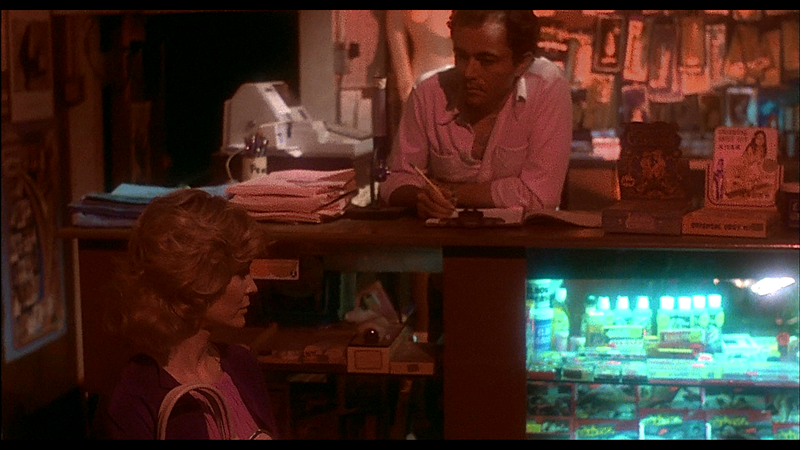 ​
The Blu-Ray, now looking a lot like the Laserdisc Collector's Edition (print transfer supervised by the director)
​
Blu-Ray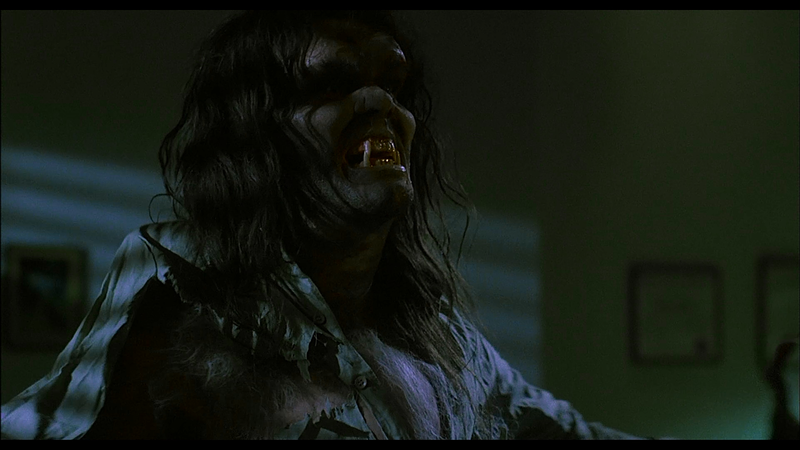 ​
Blu-Ray, tweaked, nearly equal to the LD Collector's Edition, print transfer supervised by the director, who clearly states on running commentary that was the way the movie sort of looked on theaters (if that is correct, now one gets faithful colors, but with Blu-Ray definition, way above Laserdisc)
Now a very radical example, of a title that has  drastically changed compared to what it once looked like in the '80s. The problem was there in the first DVD release, and continues on the Blu-Ray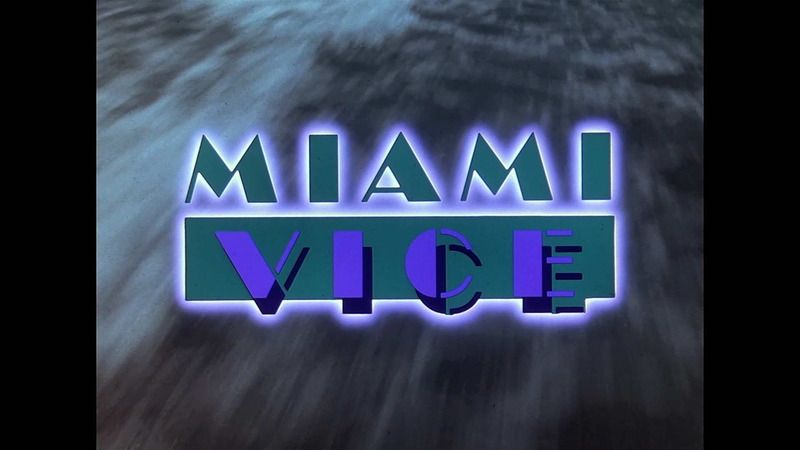 ​
Blu-Ray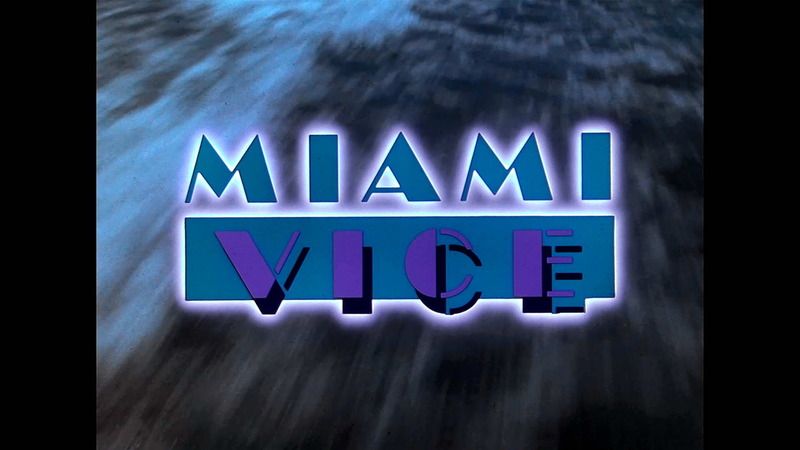 ​
Blu-Ray, now looking a lot like the original broadcast (but with all the qualities that Blu-Ray has to offer!)
No VLC or PowerDVD or TV settings can change colors like that alone. Up to this moment, I can only find Intel Control Panel. Wonder if there would be any software that would be also able to affect playback like that (that is, changing one or two particular colors without messing the rest, all that on real time playback).