Hello All,
         I'm really not quite sure where this question belongs but since an SD card of any type is removable I'm going external hardware.  I recently acquired a 512 GB micro SDXC card that seemed to quick format just fine.  I wanted to use SyncToy to copy my music from my PC to it in Echo mode so that as I add albums to the computer over time that only the new stuff will end up being copied over after the first really long run.  Well, that hasn't quite worked out.
          The card is formatted exFAT using the defaults.  After my first attempt to use SyncToy resulted in a fatal error after thousands of actions had already been completed I thought that the card might have an issue.  So, as a result I decided to format it again, this time using a full format, which took the better part of 48 hours, which went off without a hitch.
           Well, I tried the SyncToy run using the card as the destination again today and am getting a fatal error about corruption, which, unfortunately, I did not record with the error code.  I shall do that when it occurs again, which I feel certain it will.
            When running a chkdsk /f on the drive, both when this issue occurred after just the quick format and again since it's been fully formatted without issue, it gets into what appears to be an endless loop for a folder.  Yesterday the folder was different, but the behavior was not.  Here is a screen shot from what's running now, but it's up to 2800 and counting: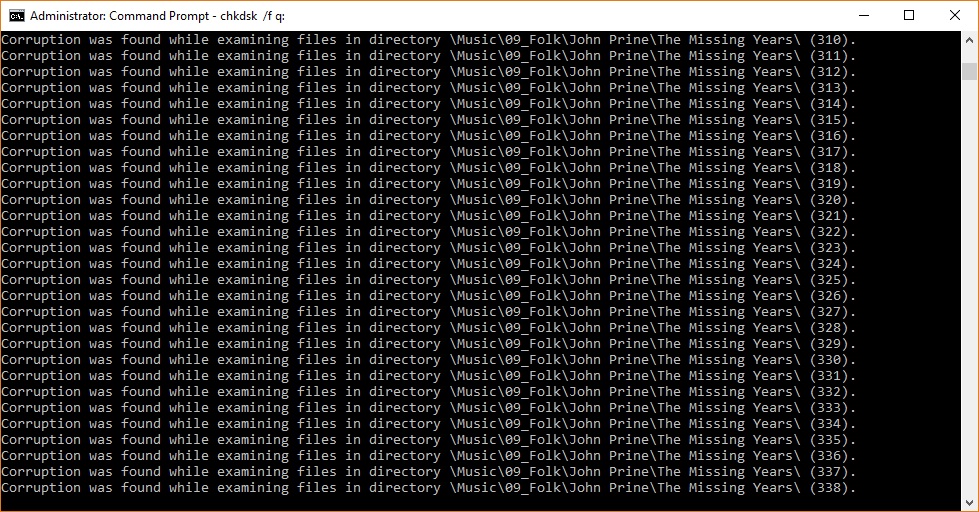 I also could not delete a file in another folder that was shown as problematic when the SyncToy stopped working.
             I'm really not sure what's up here, but the card should not have formatted fully and successfully if it's a "bad card."  But why does what's happening keep happening?
             Any guidance will be much appreciated.