I've commented on this before....Trump's election is bad for education and increases ignorance in the USA. Another poll
demonstrates the increase in science deniers such as those denying humans are causing rapid global warming. Religion
plays a huge part in whether one thinks the Earth is a flat circle or a globe like our moon and other planets.
The results of this poll even surprise me in just how ignorant and untrusting in science Americans are. The major Creationist
websites...AIG, ICR and Discovery Institute....don't openly promote a flat Earth. They just claim the Bible is without error
and ignore several verses that mention a flat, round or an Earth with corners.
SOURCE: YouGov | Most flat earthers consider themselves very religious
Data from YouGov Profiles suggests a link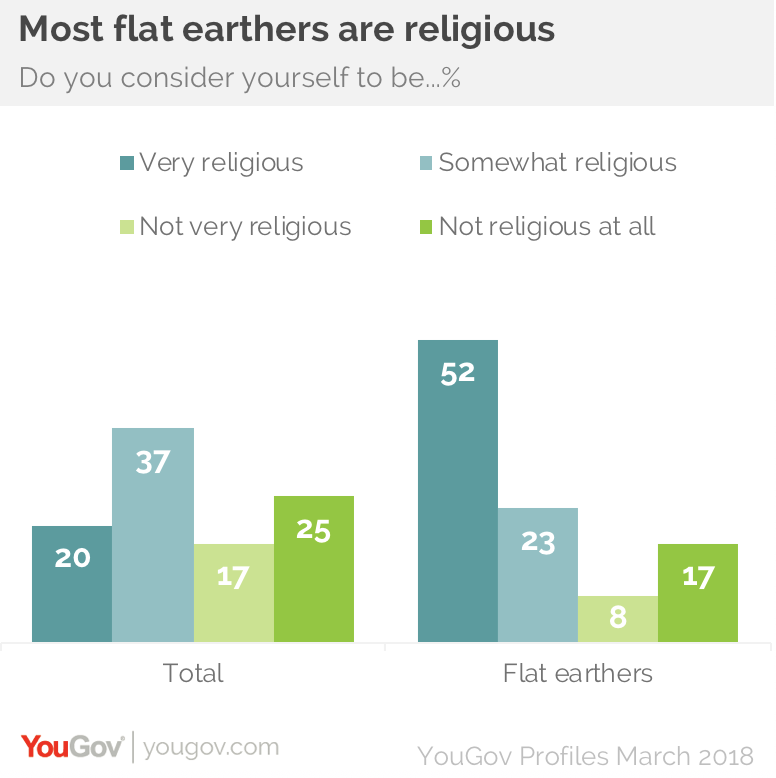 between belief in a flat earth and spirituality. For some flat earthers, evidence of the earth's shape may be found in scripture – more than half of Flat earthers (52%) consider themselves "very religious," compared to just a fifth of all Americans (20%).

Read more results from this poll here

Learn more about
YouGov Omnibus and YouGov Profiles

Photo: Getty
SCREEN SHOT OF POLL RESULTS
Edited by buddy215, 04 April 2018 - 12:20 PM.