Hi!
This is my first post on this forum and i did it to try to get some help from you guys.
I used this forum before, but i didn't actually posted or even registered because i found all the all i needed just by searching for it, but now i lost since i have no idea what is going on.
Maybe it's an easy thing (i really hope) and i will laugh about it in the end, but at this point i'm completely lost.
This is an old PC, but it was working fine (as fine as an old PC can be) until the 21st of December. The last good day was on the 20th.
Here are my PC Specs:
Windows XP Professional SP 3
4 Gb Ram
Core2Duo 6600 2.40Ghz
Like i said, it's old but was working fine.
Let me tell you a story of what happened before this all mess, it's important...
------------------------------------------------------------------------------------
> 1 year ago (give or take), my Antivirus (Avast) stopped working for whatever reason.
Since i had no idea what happened, i googled for a solution and the only i found was to uninstall and install it again.
I did it and i worked...except for the fact that the UI wouldn't open ever again.
Every time i tried to, it would open a black box saying there was an error.
I thought about changing by AV but i couldn't find any i was comfortable with and worked for Windows XP, i kept it; besides, it was working and i could still update it and stuff by right-clicking on the icon in the taskbar.
On the 21st everything changed...
I turned the PC and the Avast asked me for an update to the program (i did several updates, i just don't know if to the program or just to the virus definitions).
The point is, after the update was done....THE UI WORKED 
It opened again, no error no nothing.
I noticed that i had some software was outdated, so i used the software update to fix that.
I updated Adobe Shockwave, Flash Player Active X, Flash Player Plugin, Foxit Reader and Java Runtime Environment 8.
----------------------------------------------------------------------------------
Back to my actual problem....
After the Avast update, the software update and the UI working again; i noticed that i can't install chrome extensions, even more, when i try to install extensions and it freezes on "checking", if i close the browser, it doesn't open again. It also doesn't restart the PC or turn it off, i did to do it manually (pressing the restart button on the case).
All has to do with trying to install extensions, because if i don't do it, the browser works fine, open and closes like normal, and i can restart or turn off the PC like everyday.
Nothing of the sort happened the day before, so, unless it's a gigantic coincidence, something happened when i updated Avast, and maybe why the UI started to work again.
So, it goes like this:
> I go to Chrome Store
> i choose whatever extension and press the blue button that say "add to chrome".
> The button changes to "checking" and an pop-up open saying what modifications it can do; in that pop-up it has two buttons, one that say "add extension" the other say "cancel"
*all normal until now*
> I press "add extension", the pop-up closes and it keeps "checking".....and never installs it.
> If i open a new tab and close the first and return the chrome store, when i go to the same extension and press "add to chrome" a pop-up comes up saying "an error has occured. This Item is already being downloaded and added to chrome".
> If i close the browser and try to open it again, it refuses to open. The browser doesn't work.
> If i go to start and try to restart the PC, it doesn't do it; the same goes to turn off.
Notice that, all the extensions i had previously installed work perfectly.
------------------------------------------------------------------------------------------------------------
What i did to try to fix it
The first thing i did was to uninstall Chrome and install it again.
The uninstall was "perfect" (more on that) but i couldn't install chrome, i double clicked the chrome setup and i didn't open.
So, what did i do?
I installed it in safe mode.
In safe mode it installed perfectly. but the weird thing was that i had kept all my settings, i didn't needed to log into google again.
I wanted to start from scratch and i didn't do it.
The problems remained.
I went back to safe mode and uninstalled it there.
I ran Adwcleaner (don't remember if i ran anything else, but if i did was just one more program).
I restarted the PC and went back to safe mode, i installed chrome again.
I returned to "normal" mode and i did it, the settings were wiped and so i started from scratch, logged into google again and all of that....the problems remained.
I did all of this because i had a problem a few months ago with some pages being redirected and all it took was to uninstall and reinstall chrome, i was hoping for the same...no luck.
After that, i ran a bunch of programs to try to fix it:
> Malwarebytes
> Adwcleaner (again)
> rkill
> tdsskill
> Combofix
> Roguekiller
The problem remains....and i've noticing others here and there, problems i never had before the 21st.
> The progress bar on Potplayer doesn't fill in completely as you can see in the picture below, when i do a clip from a video
Also, when i do make a clip, during the recording, the video becomes weirdly slow, like a frame rate drop

> Torrenting
After the 21st, it takes too long for the client to connect to the trackers and start to download whatever it is.
It use to take few seconds for a recent torrent, now it takes "forever" for seeders to appear.
It's maddening, can take up to 2 minute or more; it used to be a few seconds.
And the download speed is very slow compared to what it was before, it used to be 3 or 4 MiB or more (on a good torrent), now it's 1MiB at best.
> Youtube
It takes a long time to change view, for examples, "watch later" to "history" to whatever, 9 seconds or more (i counted)
> Chrome extensions don't install (we covered that already)
> When i turn the PC, a window opens every time at start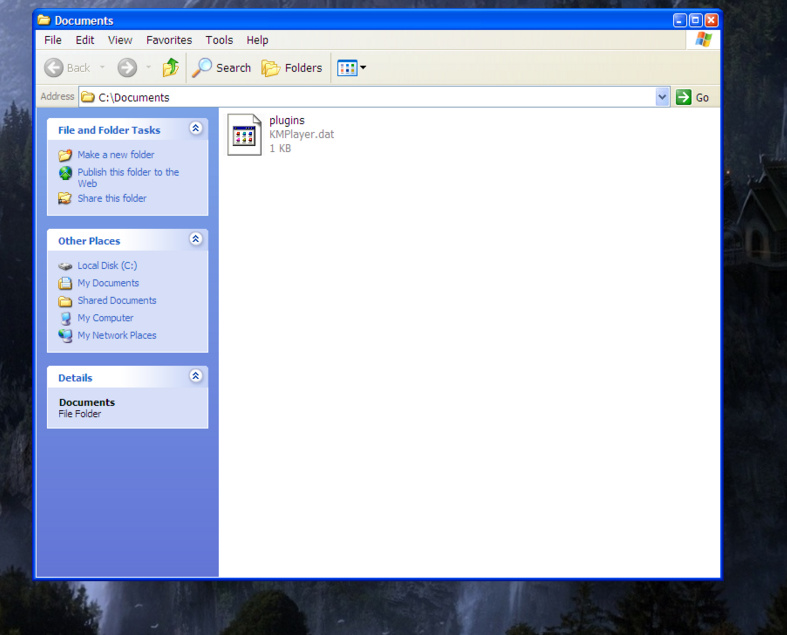 I have no idea what C:\ Documents is, even less that plugins .dat file.
KMPlayer was deleted months ago, and i never used it, i went with PotPlayer.
About this last thing, the window that opens, it only started to appear after i ran the programs i stated above.
All in all, i ask for your help, i have no idea what is going on nor even where to start to try to fix all of this.
Very important thing i forgot to mention, i can install chrome extensions in safe mode and they work fine once installed.