Hello all.
So, I have a question about my HDMI Lenovo monitor that I recently got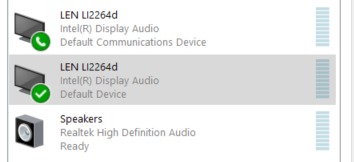 As you can see in that picture, my computer lists it as an audio device (twice, for some reason) - it even shows up in my Device Manager under Audio.
However, no audio comes out of it.
Same thing when I plug it into an other HDMI port, no audio.
Is the monitor even supposed to have build in audio, or in my computer just confused by the monitor?