Hello, it's been a week that I'm experiecing stuttering at Windows startup. The system hangs for about 1-2 seconds after getting responsive, it freeze when Corsair LINK is loaded.
What I've tried until now:
- Update BIOS
- Update all drivers for my motherboard from the ASUS page
- Clear CMOS / reset the BIOS
- Memtest with no errors
- Re-installed all ME / MEI / Graphics drivers
I've installed two additional fans + two fans for the CPU cooler (Corsair H100i v2), plugged the two CPU fans into the CPU_FAN slot and the USB cable of the AIO into the USB3 Slot of the motherboard as shown in the Corsair manual.
There are some problem with LINK:
1. I see two slots for each fans plugged into the motherboard: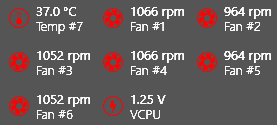 2. Initially the H100i v2 fan speed was 0 rpm no matter which profile I apply, it won't change the fan speed, only the Pump speed can be regulated. So I disabled the CPU Qfan control from the BIOS and I can regulate the fan speed from LINK.
3. Everytime LINK is started at boot will freeze the system for 1-2 seconds.
Can you help me fixing these and set up correctly the BIOS and the motherboard? Thanks.