Hello,
First time posting here.
I seem to have a problem, and I'm hoping for some input from you guys so that I can hopefully solve it and make it work again. I'm quite computer savvy, but I'm going out of my mind trying to fix this thing for the past 2 days.
A little back story. If you're not interested in it, just skip to the configurations and setup.
My computers aren't latest or greatest, but they work well for what I need them to do. I use one for my every day works (graphic design, website coding, and making music, among other things), and the other is mainly there as backup for websites that I maintain. Anyway, about a month ago, I borrowed that backup computer to my cousin's son since his laptop died and he needed a computer for school (the usual crap - text processing, powerpoint and stuff like that). I took out hard drives out, since he had one, and he took the case there. Fast forward to 3 days ago, I got an email from the hosting company that they are going to migrate the websites to another server. I thought it would be best to have backups before they do just in case something goes wrong (it happened before). So, I took my hard drives to my cousin's place, hooked them up, and backed-up my websites. However, I couldn't wait for Windows updates to finish, being that they have a rather slow internet connection for it to be done quickly, and he wanted me to check his hard drive because he said it behaved a bit weird, so we agreed that I'd take the computer back to my place for a day, finish my updates and check his hard drive, since I had another computer I could hook it up to if I need to and all the tools I needed for me to do it much easier. And that's where the problems started.
>> CONFIGURATIONS <<
PC 1 (work):
CPU: Intel Pentium G3250 @ 3.2 GHz
RAM: 8GB DDR3-1600 Kingston (running @ 1400)
VGA: GeForce GTX550-Ti 1GB (DVI + VGA, connected to monitor with DVI-to-HDMI converter)
OS: Windows 10 Pro x64
PC 2 (database backups):
CPU: AMD Athlon64 X2 4600+ @ 2.4 GHz
MB: Biostar MCP6P M2+ (nForce 430 chipset)
RAM: 3GB DDR2-800
VGA: Integrated GeForce 6150 SE (VGA)
OS: Windows 10 Pro x64
Monitor: LG 22MP55 (1920x1080x60, IPS, VGA+HDMI inputs)
>> PROBLEM <<
The problem is quite simple to describe. When I hooked PC 2 up to the monitor (integrated VGA -> VGA input), the screen was (and still is) just showing "No Signal" even though the computer boots up just fine. That's it.
>> TROUBLESHOOTING <<
What I tried:
Re-seated all power connectors and RAM modules into their slots - "No Signal".
Disconnected hard drives - "No Signal".
Took out the CMOS/BIOS battery - "No Signal".
Installed an old 8800GTS card (2x DVI, so I tried both DVI->VGA and DVI->HDMI) - "No Signal".
Tried different power supply - "No Signal".
Switched GTX550-Ti to PC2 - WORKED!!!
>> DEDUCTIONS AND NOTES <<
Windows on that computer is working fine. I can access it via remote desktop app from my Android phone. That would remove CPU and RAM as culprits.
Device Manager is showing that everything seems to be working fine.
Both inputs on the monitor are working fine when connected on the GTX550-Ti.
The 8800GTS card is working properly when put in the other computer; indicates that it's not broken.
The only thing I haven't tried is to take it completely apart and put it back together again. But I have a feeling I'm missing something, and possibly something stupid.
In short... Does anyone have any suggestion or advice how to solve this?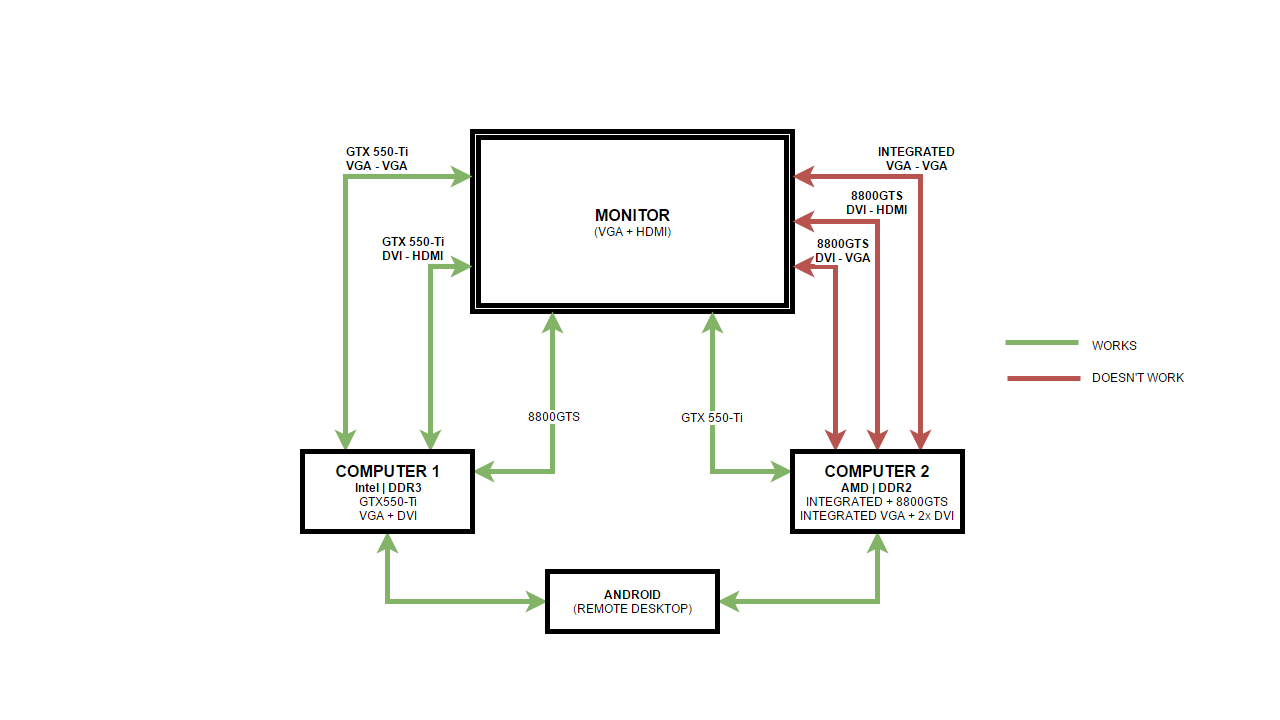 PS. I am very sorry if I posted in the wrong section. If it's wrong, would someone be kind to move it into an appropriate section? Thanks!
Edited by gyrocog, 13 May 2017 - 03:30 AM.