Demonslay335 has released a decrypter for this ransomware, it can be found here:
https://download.bleepingcomputer.com/demonslay335/BTCWareDecrypter.zip
If the bruteforcer is unable to find a key with the files you have provided. it will ask if you'd like to decrypt files up to the filesize of the files you provided it. For example, if you provided an encrypted file and its original that were 20MB each, then the decrypter will be able to decrypt files 20MB and smaller. It will skip any files larger than the files you give it.
In the example below, I gave it a file pair where each file was 1,270,896 bytes.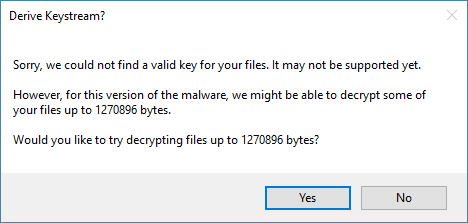 Simply press Yes, then close the dialogue, and select a directory to decrypt. The larger file pair you provide it, the larger of files it will be able to decrypt; don't worry about the bruteforcer taking longer to try, it only grabs 16B from each file for trying to get a key.
If you already know the bruteforcer wasn't able to get a key before, you may go straight to this option by starting the bruteforcer, and then press "Cancel". This option will only be available for versions of the malware that this trick will work on (currently .[<email>].btcware, .[<email>].cryptobyte, and .onyon).
We're hoping to get a sample of the malware so we can support recovering the actual key but hope this helps people at least decrypt some of their more important files.
Hello,
 
Well, I guess someone opened the wrong email, but not sure what happened.
 
Every file has been encrypted with extension .btcware. So far I've done this:
 
1. Uploaded a sample to https://id-ransomware.malwarehunterteam.com. Results here:
https://id-ransomware.malwarehunterteam.com/identify.php?case=37402b9692fb97f6ba6cc9f998db8a1d6570d333
 
2. Above result led me to this topic:
http://id-ransomware.blogspot.com.co/2017/01/gog-ransomware.html
 
3. At first (about a week ago), every file on desktop was encrypted. Currently, I've noticed that files are not being encrypted anymore (put a .txt file on desktop and is still there after some restarts).
 
4. I tried to find a topic here with no luck, so I'm starting this one. Any help is appreciated.

 
I have samples from encrypted files and note.
 
Thanks.
Edited by xXToffeeXx, Yesterday, 10:12 AM.