Hello, I've had this issue for years now and it's only been getting worse. I hope this is the correct place to post this.
My internet connection with this computer has become very spotty and unstable, losing connection for a second before continuing just fine for a few seconds to a minute or so, then losing it again. This happens repeatedly, sometimes in standard intervals of every 5-10 seconds, or randomly while the connection is more or less stable.
The internet connection is much more stable with other devices, though they also time out every once in a while.
I've conferred with a few people and they have no idea what could be causing this, so I'm hoping somebody here could help me identify the problem.
I'm running on Windows 7, using command lines to track my internet stability. This computer is connected through a wireless USB plugin, a Netgear model A6210. I suspect that it's wearing out and I need to replace it since it only seems to get worse on this computer, but it's only 6 months old and I've had this issue for years. We've even replaced routers and modems with no change in stability. Also contacted Time Warner (our ISP) about the issue, and they sent people to check things out, but their attempted fixes haven't done anything either.
I also have a screenshot of the command prompt showcasing the problem.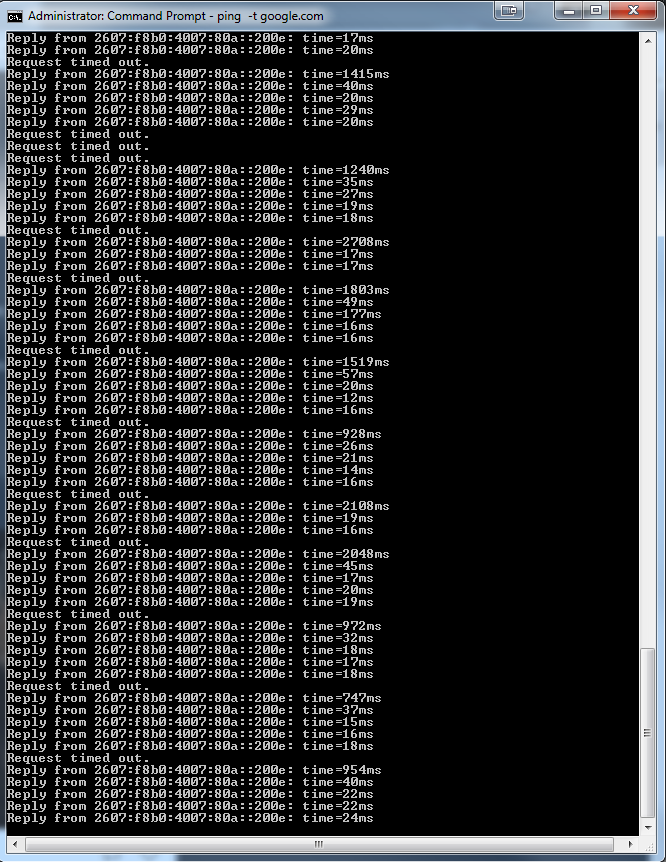 If anyone here could help me identify what's causing it, I would greatly appreciate it. I would love to have a stable connection again, especially for this computer since it's the worst afflicted.