So I have an Oracle VirtualBox Virtual machine running Windows Vista Business 32-bit w/Service Pack 2. VirtualBox v5.0.14r105127 host running on my Windows 7 Pro 64-bit host. The Oracle VM VirtualBox Guest Editions version running on the Vista guest is the same as the host - v5.0.14r105127. The Vista VM has the following 'hardware' specs:
Intel Core i7 CPU 950 @ 3.07GHz
2.52 GB RAM
My problem (as the subject of this post states) is that I recently noticed that the CPU is constantly spiked (at about 90% spiked anyway). I only noticed because TurboTax 2016 kept locking up on me so I checked out Task Manager and that's when I saw it - 'svchost.exe' is taking up between 80% - 90% of my CPU - it's constantly changing between that range...it's technically not 'fixed' on one number). I don't know how long it has been this way unfortunately. I know I should have noticed when it started happening but this virtual machine has always ran slow. So it could have been doing this for a year (TurboTax 2015 never locked up on me like this).
Here's a couple screenshots of 'Windows Task Manager':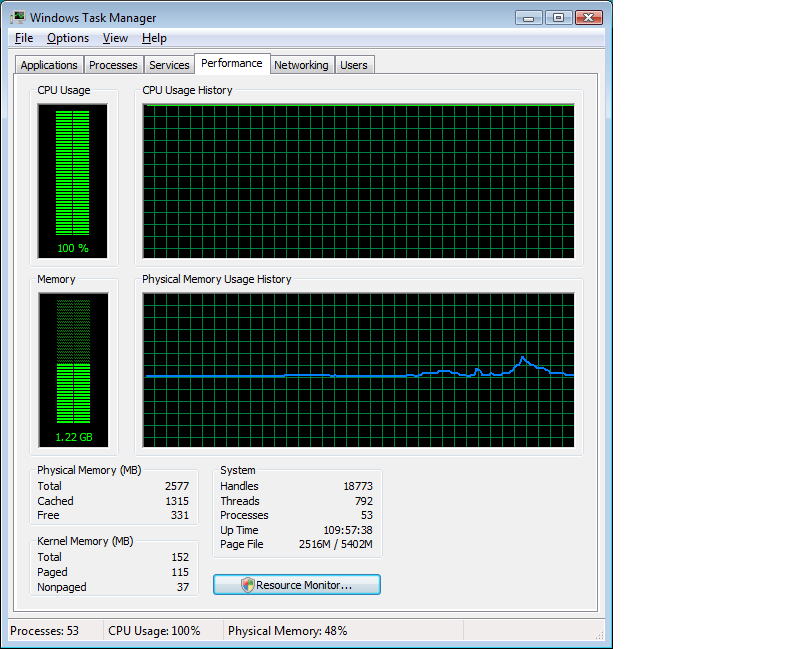 And the processes tab: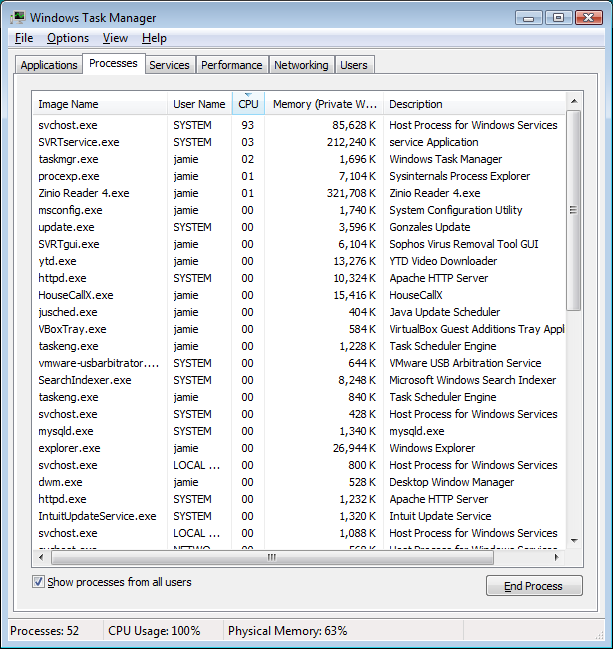 If I 'End Process' that process, my CPU goes back down to 'normal' usage. But then the process comes back within a few minutes, which starts causing the 'spiking' on my CPU again.
Looking further into this, I ran Sysinternals' 'Process Explorer: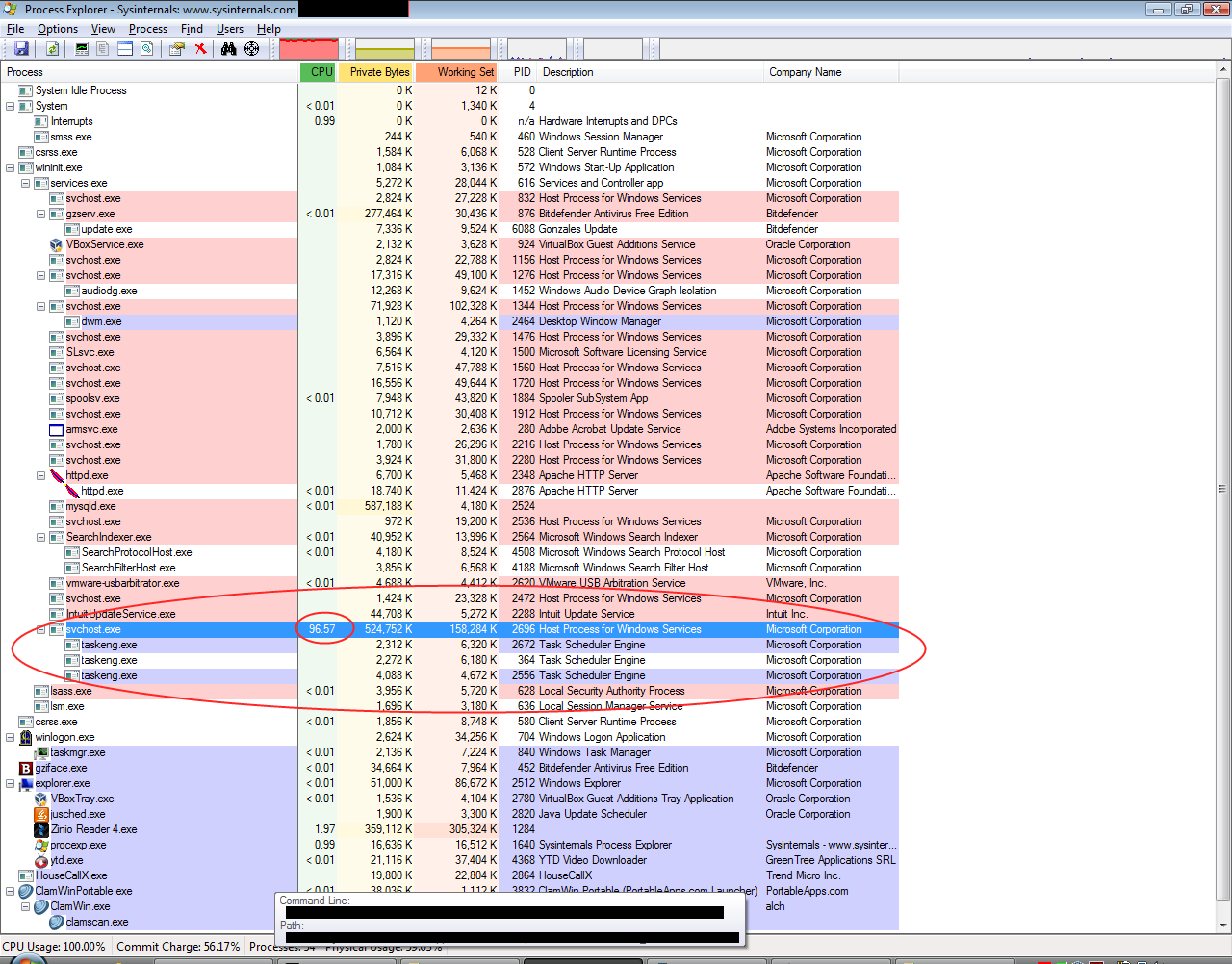 I can 'Kill Process' from there which stops the CPU spike, but then the process comes back and starts spiking it again.
I went into 'Administrative Tools --> Services' just to see if I could stop the 'Task Scheduler' service, but hit a brick wall there because everything (for the Task Scheduler' service) is grayed out (in the right-click context menu and the properties of the service)
Then I went into 'System Configuration' (msconfig) -- Services tab, unchecked the 'Task Scheduler' item, rebooted but the service still started. When I went back into 'System Configuration' -- Services tab, the checkbox for 'Task Scheduler' was checked.
Yes, I did thorough checks for malware/viruses. I did on-demand scans for viruses/malware with:
MalwareBytes Antimalware (this only found a few 'PUP's..nothing serious sounding)
TrendMicro HouseCall
Microsoft Safety Scanner
McAfee Stinger
Sophos Virus Removal Tool (I'm actually running this as I'm writing this forum post, but nothing found yet)
And I have the free BitDefender running as my active anti-virus program
All of these report no viruses, so I know it's not a virus.
I don't know why it would matter, but I took a couple screenshots of my Task Scheduler: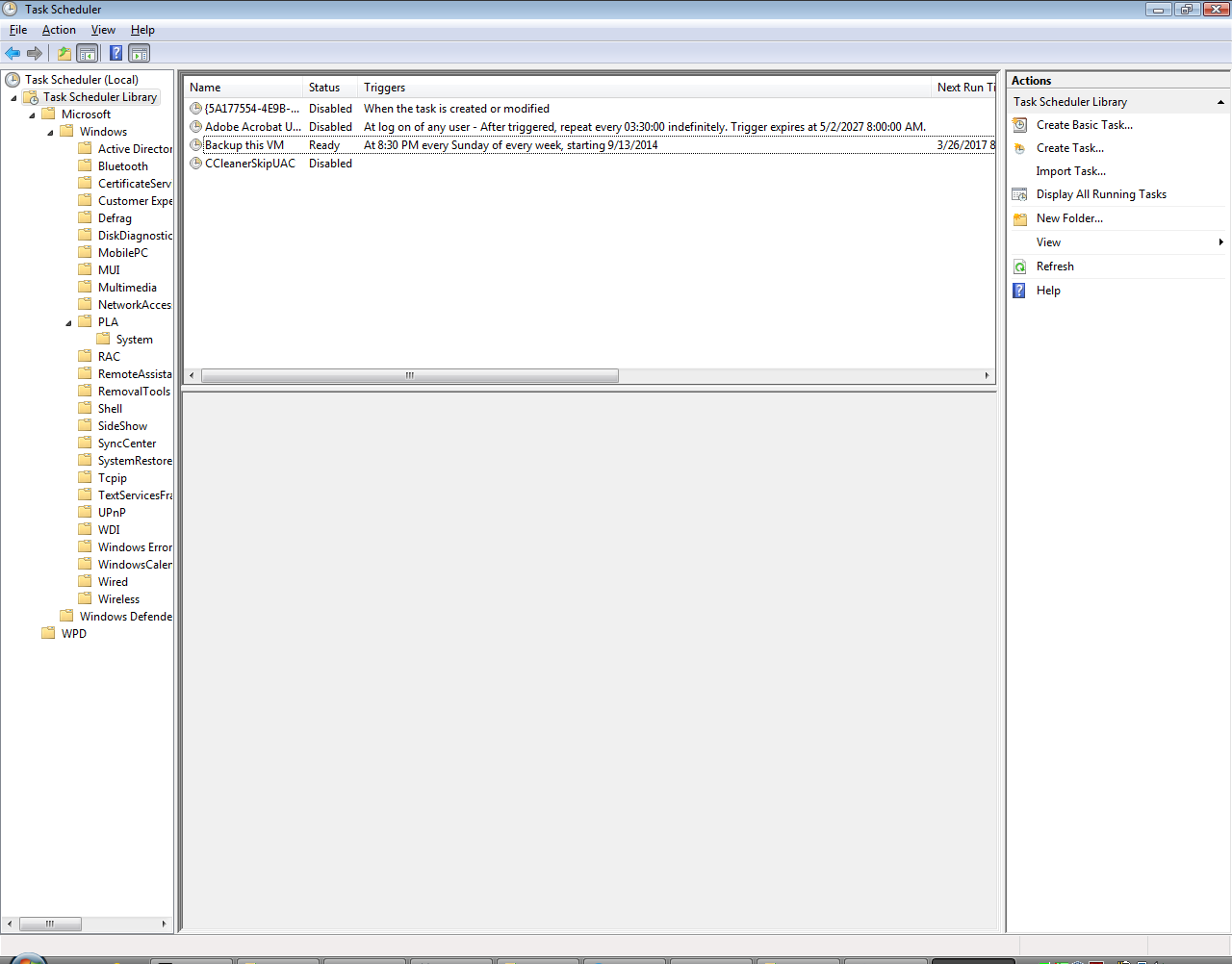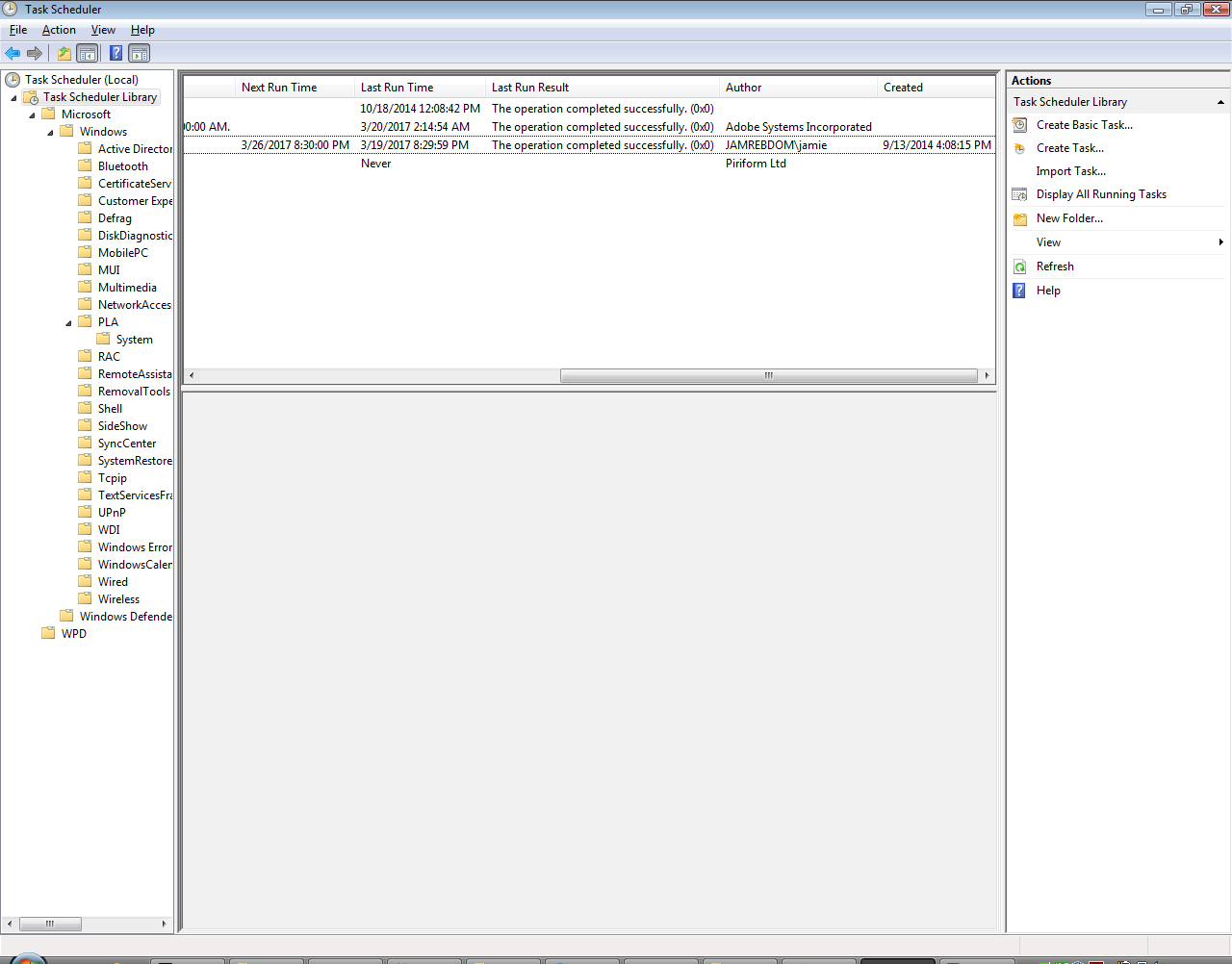 You can see that I've disabled 3 tasks, just leaving the one that I created a long time ago.
Of course I've searched Google, but didn't find any relevant matching problems compared to mine. I've run out of ideas for now so hoping someone out there may have an idea for what to do next.