I will be releasing an updated decrypter for CryptConsole2 soon.
Victims who are affected by CryptConsole2 (has email "something_ne@india.com", unsure of other emails), please contact Demonslay335 for help. He will be able to help decrypt your files.
There is a decrypter for this ransomware, which calls itself "CryptConsole". It does not encrypt the file contents but does encrypt the filenames.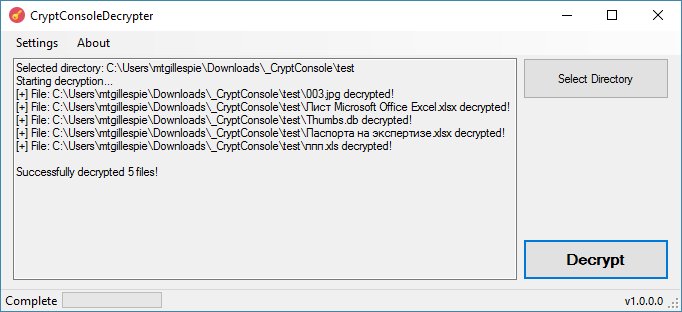 https://download.bleepingcomputer.com/demonslay335/CryptConsoleDecrypter.zip
 
Password is false-positive.
 
Note: If the decrypter cannot rename your files, we will need a sample of the malware and/or the ransom note in order to add support for it. The malware is usually called "sv.exe". Please submit them here: http://www.bleepingcomputer.com/submit-malware.php?channel=168 (leave an email address, otherwise we cannot contact you to help).
 

 
I am referencing: [/size]SHA1: a393aa0f8ba8709107f0726909b0a4babf956b4f[/size]
 
The encrypted files have so view. Example: [/size]unCrypte@outlook.com_91CFABE91D02B572FFD6EBFABCFC123D86DBCEAB5B33902D229477A5020C40A188EE08194D0301838C914FD6CF94DD48
 
Ransom note: How decrypt files.hta
 
 
Your files are encrypted!

Your personal ID
764F6A6664514B414373673170615339554A534A5832546A55487169644B4A35



Discovered a serious vulnerability in your network security.

No data was stolen and no one will be able to do it while they are encrypted.
For you we have automatic decryptor and instructions for remediation.
How to get the automatic decryptor:
1) Pay 0,25 BTC

 
Buy BTC on one of these sites:
bitcoin adress for pay:

1KG8rWYWRYHfvjVe8ddEyJNCg6HxVWYSQm
Send 0,25 BTC

 

2) Send screenshot of payment to unCrypte@outlook.com. In the letter include your personal ID (look at the beginning of this document).


3) You will receive automatic decryptor and all files will be restored


* To be sure in getting the decryption, you can send one file (less than 10MB) to unCrypte@outlook.com In the letter include your personal ID (look at the beginning of this document). But this action will increase the cost of the automatic decryptor on 0,25 btc...


Attention!
No Payment = No decryption
You really get the decryptor after payment
Do not attempt to remove the program or run the anti-virus tools
Attempts to self-decrypting files will result in the loss of your data
Decoders other users are not compatible with your data, because each user's unique encryption key 
Please, help it identify and cure
Edited by xXToffeeXx, 04 March 2017 - 10:37 AM.