I am trying to extend my desktop to a second monitor.
It was working and suddenly it stopped.
Yes, I know how it is supposed to work with the display settings, but I can not get the operating system to recognize the existence of two monitors. Let me first explain some details because my situation is not like the others. First of all, it was working and suddenly it stopped. Also, according to the Windows 10 OS, my drivers are all updated.
I am also able to reboot and have the system work with either monitor and looked into either port on the video card.
Please advise.
The problem seems to be that the drive for the monitors does not work: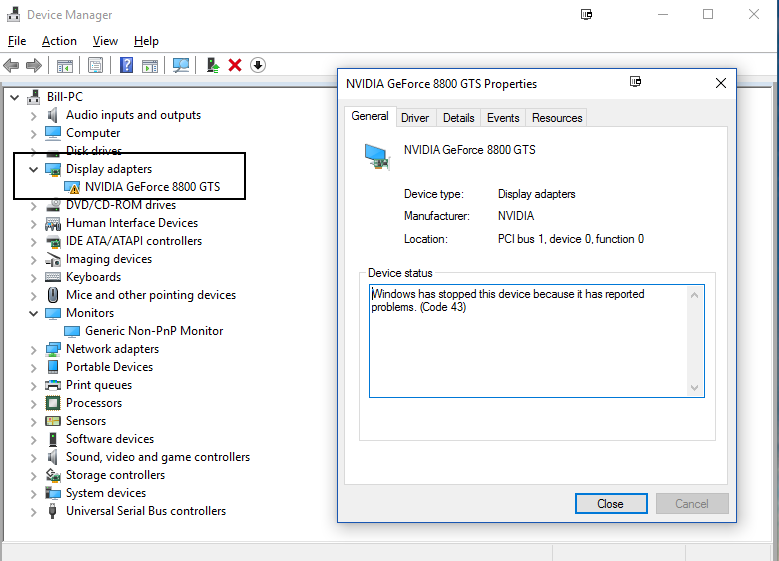 I first tried uninstalling the associated software for the driver from the Control Panel:

Armed with this information, I downloaded a software from NVIDIA that promised to update the drivers.  Then I uninstalled the software and tried to use the NVIDIA tool to install a new driver.  Then I was prompted to reboot (sometimes several times).  But nothing seemed to work.  I would open up the Device Manager and there was always this yellow yeld warning icon next to the Display adapter for NVIDIA GeForce 8800 GTS.
So, I am stuck.  Please advise.
Here is the details of my system.
From the CMD set command:
PROCESSOR_ARCHITECTURE=AMD64
PROCESSOR_IDENTIFIER=Intel64 Family 6 Model 60 Stepping 3, GenuineIntel
PROCESSOR_LEVEL=6
PROCESSOR_REVISION=3c03
Basic information:
Windows edition
Windows 10 Pro
System
Processor: Intel® Core™ I=i5-4690K CPU @ 3.50GHz 3.50 GHz
Installed memory(RAM): 16.0 GB
System type: 64-bit Operating System, x64 bsed processor
Motherboard:
For the mother board, I typed from the command line:
wmic baseboard get product,Manufacturer,version,serialnumber
Manufacturer Product SerialNumber Version
MSI Z87M GAMING (MS-7866) To be filled by O.E.M. 1.0
From Pinform Speccy we have this information:
Operating System
Windows 10 Pro 64-bit
CPU
Intel Core i5 4690K @ 3.50GHz 58 °C
Haswell 22nm Technology
RAM
16.0GB Dual-Channel DDR3 @ 933MHz (10-11-10-30)
Motherboard
MSI Z87M GAMING (MS-7866) (SOCKET 0) 31 °C
Graphics
Generic Non-PnP Monitor (1600x1200@64Hz)
NVIDIA GeForce 8800 GTS (NVIDIA)
Storage
238GB Crucial_CT256MX100SSD1 (SSD) 23 °C
698GB Seagate ST3750640AS (SATA) 23 °C
698GB Western Digital WDC WD7501AALS-00J7B0 (SATA) 29 °C
3GB JetFlash Transcend 4GB USB Device (USB)
Optical Drives
ASUS DRW-2014L1T
Audio
Realtek High Definition Audio
RAM
Memory slots
Total memory slots 4
Used memory slots 2
Free memory slots 2
Memory
Type DDR3
Size 16384 MBytes
Channels # Dual
DRAM Frequency 933.5 MHz
CAS# Latency (CL) 10 clocks
RAS# to CAS# Delay (tRCD) 11 clocks
RAS# Precharge (tRP) 10 clocks
Cycle Time (tRAS) 30 clocks
Command Rate (CR) 1T
Physical Memory
Memory Usage 51 %
Total Physical 16 GB
Available Physical 7.81 GB
Total Virtual 18 GB
Available Virtual 8.82 GB
SPD
Number Of SPD Modules 2
Slot #1
Slot #2
Graphics
Monitor
Name Generic Non-PnP Monitor on Microsoft Basic Display Driver
Current Resolution 1600x1200 pixels
Work Resolution 1600x1160 pixels
State Enabled, Primary
Monitor Width 1600
Monitor Height 1200
Monitor BPP 32 bits per pixel
Monitor Frequency 64 Hz
Device \\.\DISPLAY1\Monitor0
NVIDIA GeForce 8800 GTS
Manufacturer NVIDIA
Model GeForce 8800 GTS
GPU G80
Device ID 10DE-0193
Revision A3
Subvendor NVIDIA (10DE)
Series GeForce 8
Current Performance Level Level 0
Technology 90 nm
Die Size 484 mm²
Transistors 681 M
Release Date 2006
DirectX Support 10.0
DirectX Shader Model 4.0
OpenGL Support 3.0
Driver version 21.21.13.4201
ROPs 20
Shaders 96 unified
Memory Type GDDR3
Bus Width 64x5 (320 bit)
Anti Aliasing Modes -?-
Filtering Modes Bilinear, Trilinear, 2x Anisotropic, 4x Anisotropic, 8x Anisotropic, 16x Anisotropic
Noise Level Moderate
Max Power Draw 147 Watts
Count of performance levels : 1
Level 1 - "Perf Level 0"
Monitors: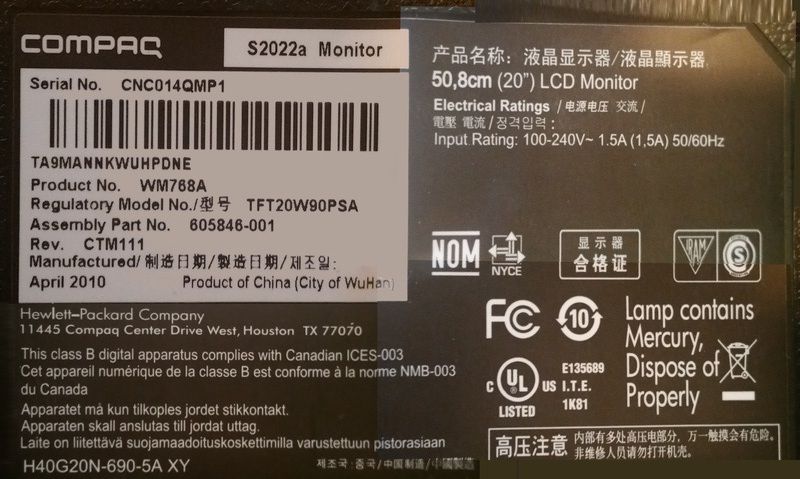 ===================
I have done all the things you might expect I should do.  Yes, I went out and bought Endust at Target, opened the case, and gave it a good dusting.
So, yes, I pulled out the card and put it back.  This was part of the dusting effort.
The first thing I did was swap out the monitors.  I concluded that either monitor will work in either of the two ports on the graphics card, but only one will work at a time for some reason.

And, yes, I did a system restore.  Actaully, to be precise, I did a system recovery since my OS said that it was more than 10 days since I did a system recovery (or some such excuse).
No, I have not tried a system restore.  I guess that is the next ting for me to try.
This is the information I got after a system reset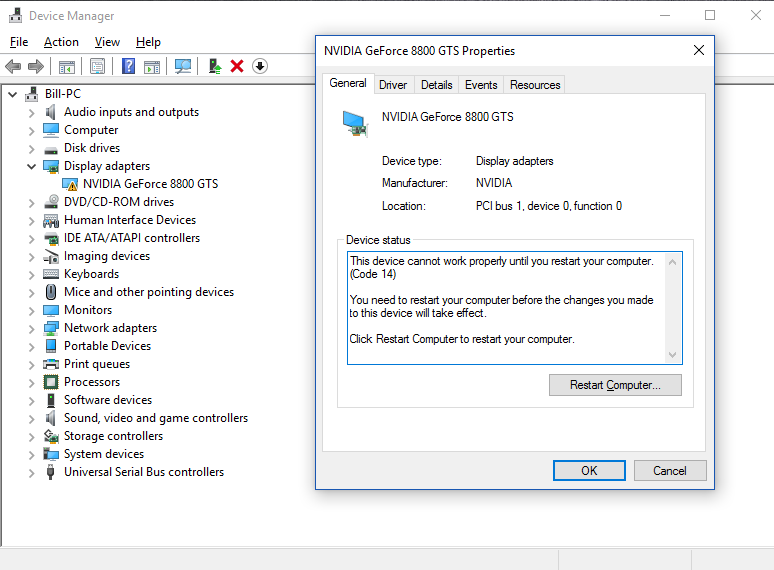 So, it seemed to be saying that all I needed to do is reboot my system.
After a reboot, this is what my Device Manager looked like: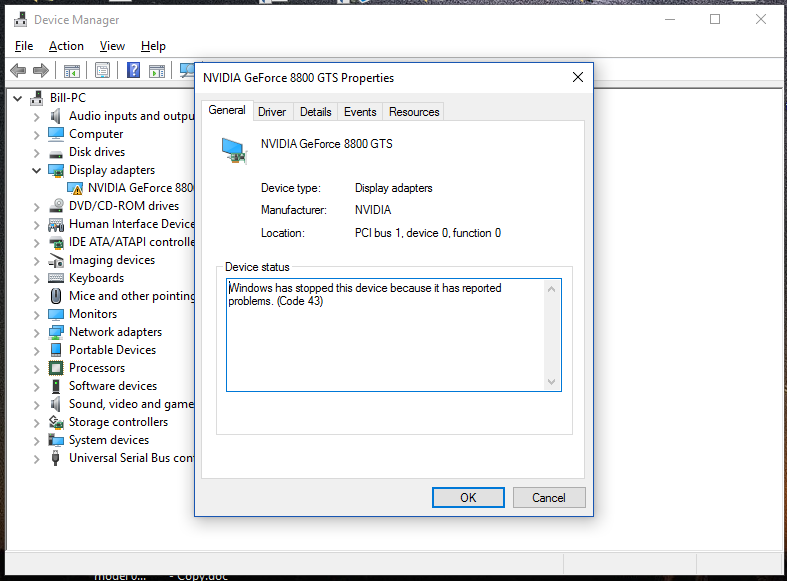 So I decided to follow the instructions on the NVIDA web site: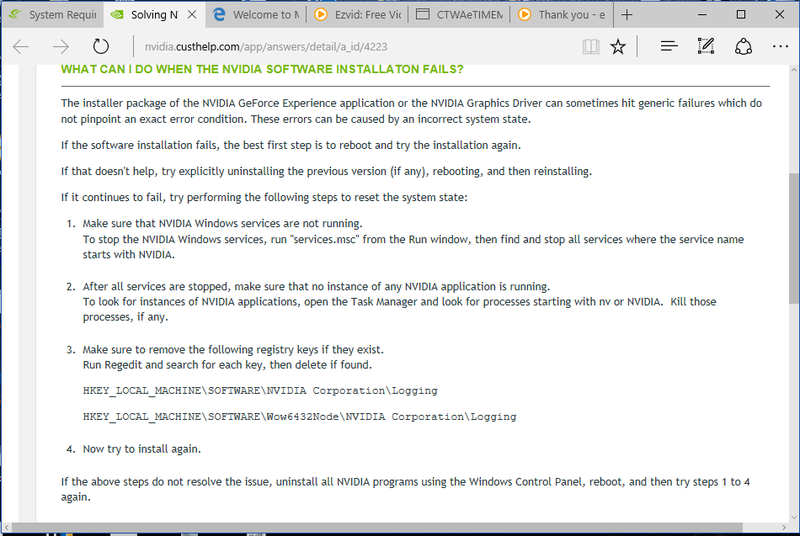 Here are the versions of the drivers I removed from my system

This the actual name of the installer for the driver
After the install process, this is the list of components that the installer finally installed on my system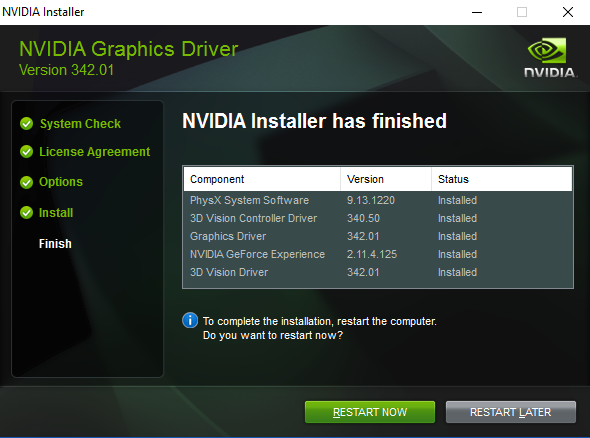 But it still does not work.  My system still cannot recognize the other monitor.  Please advise.  It worked before and stopped suddenly and I am not sure what to do next.