My cousin built this system around three years ago, and had it running for literally a week, then it started randomly losing signal to the monitor, and it has been sitting in a closet ever since, until my main pc went down, anyway the pc is mine now, and I need it fixed. When I first got the pc a month ago, I swapped the video card from his Sapphire hd 7850 to my Sapphire hd 7950 3gb for obvious reasons, and it worked just fine, everything seemed good, except that every once in a while, there would be intermittent loss of signal to the tv, and I also noticed when at idle, the tv would go to stand by, and then I could not get signal to the tv without shutting down the pc, after restart it seemed fine.
Two days ago, I was surfing the web, and all of a sudden the tv loses signal, and I cannot get it back, even after shutting down. The first thing I thought was some sort of HDMI glitch, so I borrowed my girlfriends monitor and hooked it up with my DVI cord, to no avail. Someone suggested removing the cmos battery for a half an hour to reset the bios settings, and that did work for about 3 hours....now back to square one. Now when trying to boot, sometimes I have signal to my tv 3/4 of the boot cycle, then it's gone....sometimes no signal at all. And sometimes my cpu fan goes to maximum rpm, until I shut it down. Can someone please tell me what the heck is going on with this pc, because I am lost.


Windows 7 64 bit Ultimate 
Motherboard- Asus M5A97 LE R2.0
Processor- AMD Phenom II X4 965 black edition
Ram- 8gb Corsair
Video card- Sapphire hd 7950 3gb
Power supply- Corsair GS 600 
Edited;
Just to update, I removed and cleaned both sticks of ram, and only re-installed one.  The pc booted fine, so I decided to play a game for two hours, and everything went fine. I am in the process of running a burn in program called Heavyload, and everything is running well. Here is my temps and voltages one hour thirty-seven minutes into the burn in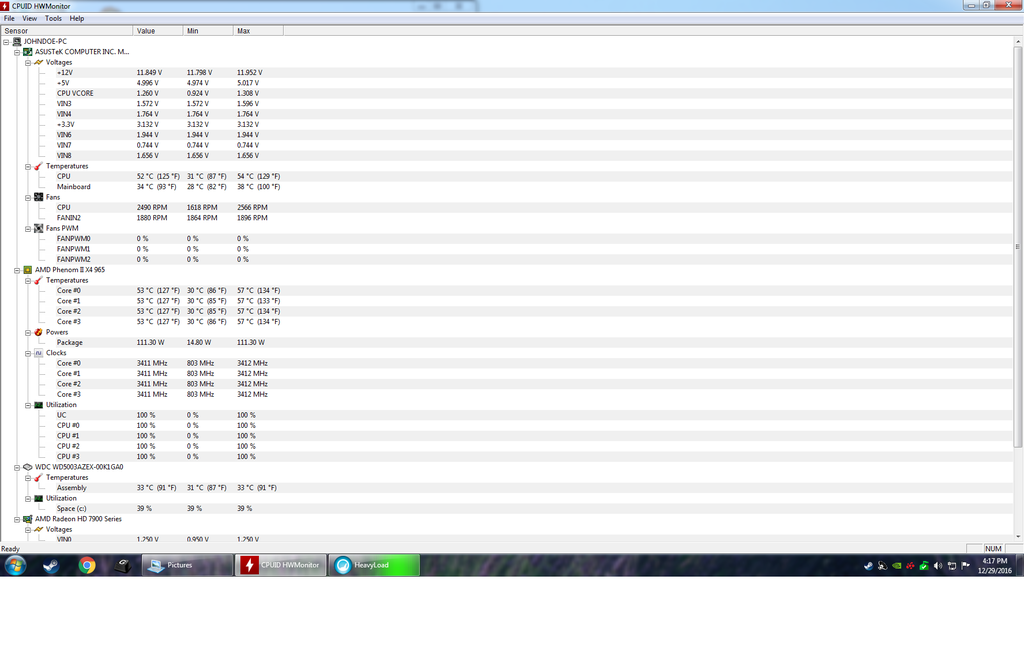 Edited by broken-pc, 29 December 2016 - 05:37 PM.