A new ransomware was discovered by MalwareHunterTeam today that encrypts the victim's files and appends the extension ".lock93".
The victim will be presented with a lock screen as shown below, with English or Russian.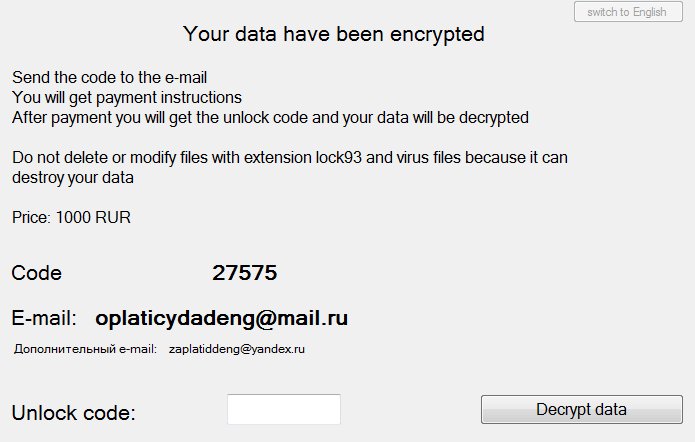 The ransom note "ИНСТРУКЦИЯ INSTRUCTION.txt" is dropped on the desktop with the following contents.
English:

Send the code to the e-mail
You will get payment instructions
After payment you will get the unlock code and your data will be decrypted

Do not delete or modify files with extension lock93 and virus files because it can
destroy your data

Price: 1000 RUR

Russian:

Для расшифровки данных отправьте код на E-mail
После этого вы получите инструкции по оплате
После оплаты вы получите код разблокировки и все данные будут расшифрованы

Не удаляйте и не редактируйте файлы с расширением lock93 и фалы самого вируса, 
т. к. это может привести к потере данных

Стоимость расшифровки: 1000 рублей

If you or anyone you know has been infected with this ransomware do not pay the ransom, and please post here for possible assistance.
Edited by Demonslay335, 22 October 2016 - 02:46 PM.