Another EDA2-based ransomware is on the loose, calling itself VenusLocker. This ransomware will encrypt files with AES-256 and append ".Venusf" to filenames. The AES key is generated with a cryptographically-strong random generator, and encrypted with an embedded RSA-2048 public key before being sent to the criminal's server.
The following screen is shown to the victim.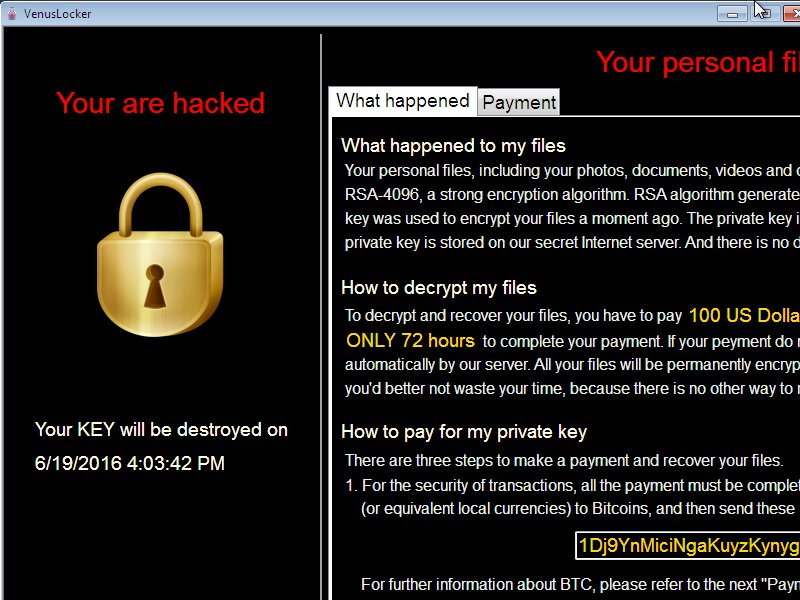 The wallpaper is attempted to be set to this image: http://i.imgur.com/Jk67LrS.jpg
The ransom note asks to email the criminals at VenusLocker@mail2tor.com with the following ReadMe.txt ransom note.
 

---------------------------------------- Venus Locker ------------------------------------

 

Unfortunately, you are hacked.

 

1. What happened to my files?

 

Your personal files, including your photos, documents, videos and other important files on this computer, have been encrypted

with RSA-4096, a strong encryption algorithm. RSA algorithm generates a public key and a private key for your computer. The

public key was used to encrypt your files a moment ago. The private key is necessary for you to decrypt and recover your files.

Now, your private key is stored on our secret Internet server. And there is no doubt that no one can recover your files without

your private key.

 

 

2. How to decrypt my files?

 

To decrypt and recover your files, you have to pay 100 US Dollars for the private key and decryption service. Please note that

you have ONLY 72 HOURS to complete your payment. If your peyment do not be completed within time limit, your private key will be

deleted automatically by our server. All your files will be permanently encrypted and nobody can recover them. Therefore, it is 

advised that you'd better not waste your time, because there is no other way to recover your files except making a payment.

 

3. How to pay for my private key?

 

There are three steps to make a payment and recover your files: 

 

1). For the security of transactions, all the payments must be completed via Bitcoin network. Thus, you need to exchange 100 US dollars

(or equivalent local currencies) to Bitcoins, and then send these Bitcoins (about 0.15 BTC) to the following address.

 

1Dj9YnMiciNgaKuyzKynygu7nB21tvV6QD

 

2). Send your personal ID to our official email: VenusLocker@mail2tor.com

 

Your personal ID is cc673bcfcf644d2c1a88893cb0ff8fa7

 

3). You will receive a decryptor and your private key to recover all your files within one working day.

 

4. What is Bitcoin?

 

Bitcoin is an innovative payment network and a new kind of money. It is based on an open-source cryptographic protocol that is 

independent of any central authority. Bitcoins can be transferred through a computer or a smartphone withour an intermediate

financial institution.

 

5. How to make a payment with Bitcoin?

 

You can make a payment with Bitcoin based on Bitcoin Wallet or Based on Perfect Money. You can choose the way that is more convenient for you.

 

About Based on Bitcoin Wallet

 

 

  2) Buy necessary amount of Bitcoins. Our recommendations are as follows.

     LocalBitcoins.com -- the fastest and easiest way to buy and sell Bitcoins.

     CoinCafe.com -- the simplest and fastest way to buy, sell and use Bitcoins.

     BTCDirect.eu -- the best for Europe.

     CEX.IO -- Visa / MasterCard

     CoinMama.com -- Visa / MasterCard

     HowToBuyBitcoins.info -- discover quickly how to buy and sell Bitcoins in your local currency.

 

  3) As mentioned above, send about 0.15 BTC (equivalent to 100 USD) to our Bitcoin receiving address.

 

  4) As mentioned above, and then, send us your personal ID via email, you will receive your private key soon.

 

About Based on Perfect Money

 

 

     input our Bitcoin receiving address in the "Bitcoin Wallet" textbox.

     input 100 in the "Amount" textbox, the amount of Bitcoin will be calculated automatically.

     click "PAY" button, then you can complete you payment with your Perfect Money account and local debit card.

 

6. If you have any problem, please feel free to contact us via official email.

 

Best Regards

VenusLocker Team
Unfortunetely, there is currently no way to decrypt this ransomware unless the system was disconnected from the internet at the time of infection, or if the malware author's server goes offline.
Edited by Grinler, 05 August 2016 - 08:34 AM.