First I'll get the required stuff out of the way.
· OS - Windows 10
· x64 
· What was original installed OS on system? - Windows 7
· Is the OS an OEM version (came pre-installed on system) or full retail version (YOU purchased it from retailer)? - Full Retail
· Age of system (hardware) - 4 years
· Age of OS installation - have you re-installed the OS? - Fresh yesterday

· CPU - AMD FX-8350
· Video Card - GeForce GTX 670
· MotherBoard - Sabertooth 990FX R2.0


· Laptop or Desktop? - Desktop
So I started getting this error a day ago while I was trying to upgrade to Windows 10. Every time I boot up I get this error message, but upon searching for the file (either on my computer or Google) I get zero results. I don't know why it's referencing a file that does not exist. The file path leads me to a .idx file with the same name. Plus I've blue screened 4 times since yesterday on a system that I have had zero problems in the past on. Anyone have any ideas?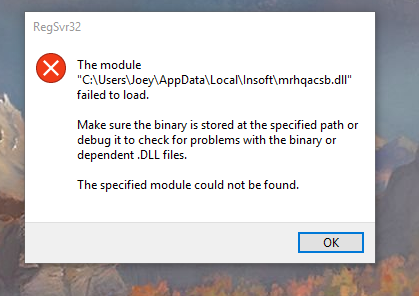 Edited by Devilofeggs, 30 July 2016 - 06:23 PM.