· OS - Windows 7
· x86 (32-bit) or x64 ? - x64
·

 What was original installed OS on system? - 

Windows 7
·

 Is the OS an OEM version (came pre-installed on system) or full retail version (YOU purchased it from retailer)? - 

OEM Version


·

 Age of system (hardware) - 

27-03-2014 
· Age of OS installation - have you re-installed the OS? - Reinstalled around 1 month ago

· 

CPU - 

AMD FX-9590 Eight Core CPU (4.7GHz-5.0GHz/16MB CACHE/AM3+)


· 

Video Card - 

4GB AMD RADEON™ R9 290X - DVI, HDMI, DP - DX® 11, Eyefinity 4 Capable


· 

MotherBoard - 

(if NOT a laptop) - 

ASUS® SABERTOOTH 990FX R2.0 (DDR3, USB3.0, 6Gb/s, CrossFireX/Sli)


· 

Power Supply - brand & wattage (skip if laptop) - 

CORSAIR 1000W RM SERIES™ MODULAR 80 PLUS® GOLD, ULTRA QUIET



·

 System Manufacturer - 

www.pcspecialist.co.uk
·

 Exact model number (if laptop, check label on bottom)



· Laptop or Desktop? - Desktop

 
FULL PC SPECS
PLEASE NOTE, THE RAM WAS CHANGED TODAY TO THE FOLLOWING: https://www.amazon.co.uk/gp/product/B0064DQR9U/ref=oh_aui_detailpage_o00_s02?ie=UTF8&psc=1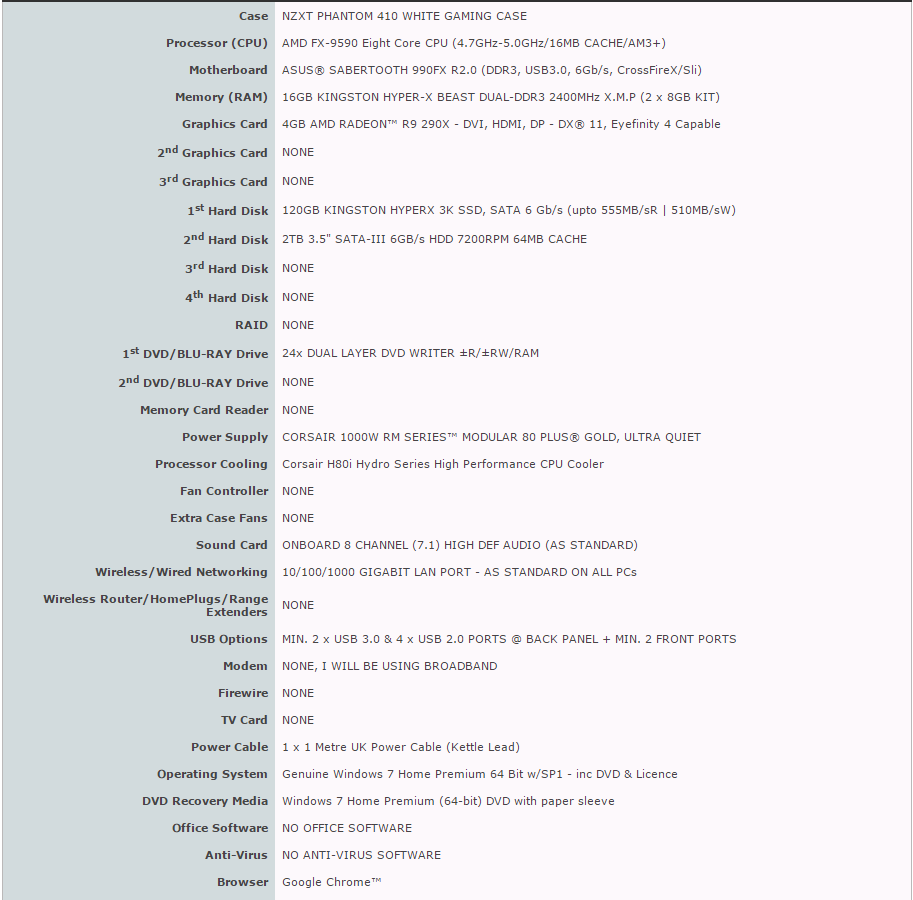 Okay, so I was told to come here by my good friend 'FreeBooter' who has been helping me with BSOD issues ever since I got this computer.
Recently I got back into livestreaming on Twitch.tv and I've been using 'OBS' as my software of choice, but every single time without fail I use OBS, my computer BSOD and restarts.

I did some research on the error code and issues with my computers specs and everyone stated that my RAM was likely the issue, so I bought new RAM yesterday and installed it today but BSOD occurred even outside of OBS.
I'm really done with my PC but hoping you guys can help, I will do whatever it takes to get this working.
Thanks!
Edited by MouldyPleb, 11 July 2016 - 02:44 PM.