Has anyone here tried this? A while ago I tried MX-14 (which is based on antiX) and didn't like it, which kind of put me off trying antiX again, until now.
http://antix.mepis.org/index.php?title=Main_Page
What led me to antiX:
I decided I was bored with LXLE (12.04) on my old laptop and wanted to replace it with something smaller and lighter. I tried Debian Jessie without a desktop or desktop environment but with xorg and openbox, then Bohdi Linux and Bohdi Linux Legacy, but they all, together with LXLE 14.04 which I tried later out of interest, crashed when they got to the part of the boot process when the computer tries to load the desktop, and after displaying error messages relating to the VIA graphics during booting. Exactly the same happens with any *buntu 14.04 distro, and also with Ubuntu 12.04.
Then I tried Vector Linux which looked more promising initially, but I soon realised that CPU frequency scaling wasn't working and the CPU was running at its max frequency all the time. I searched the internet for CPU frequency scaling tools that I could install, but Vector Linux' software repositories didn't have any of the ones I found, nor did it even have Conky!
So at that point I decided Vector Linux is not for me, and had another look at the recommendations for "Linux" distros for "Old Computers" on DistroWatch and couldn't help but notice that antiX is well up there.
http://distrowatch.com/search.php?ostype=Linux&category=Old+Computers&origin=All&basedon=All&notbasedon=None&desktop=All&architecture=All&package=All&rolling=All&isosize=All&netinstall=All&status=Active
Downloaded and burned the "full" 32 bit version to CD, and was pleasantly surprised to find it booted up and seemed to work no problem. I recall MX-14 having jittery graphics and scrolling being jerky on this old laptop, but with this latest version of antiX the graphics and scrolling are silky smooth.
It uses the Debian software repositories so there's plenty of software available, and you decide whether you want to use Stable, Testing or Unstable when you install antiX. I went for Stable due to the old hardware it's going on.
The installer is kind of basic, but that's what I like. It does what it's supposed to do and I managed to use it for the first time without having to read any instructions, without much difficulty.
One thing worthy of note is that the installer did not insist on formatting my swap partition, which the *buntu/Mint and Debian installers do. The antiX installer has an option to "use existing" swap partition.
The OS itself is very impressive, if you're wanting something lightweight and configurable. It uses Puppy-like amounts of RAM and even though its a "full" multi-user Linux distro, it uses well under 2.5GiB of HDD space, as you can see by the default Conky display. (I haven't installed anything yet apart from fully updating the system; the only thing I've uninstalled is Libre Office)
This is the "UltraBlack" theme: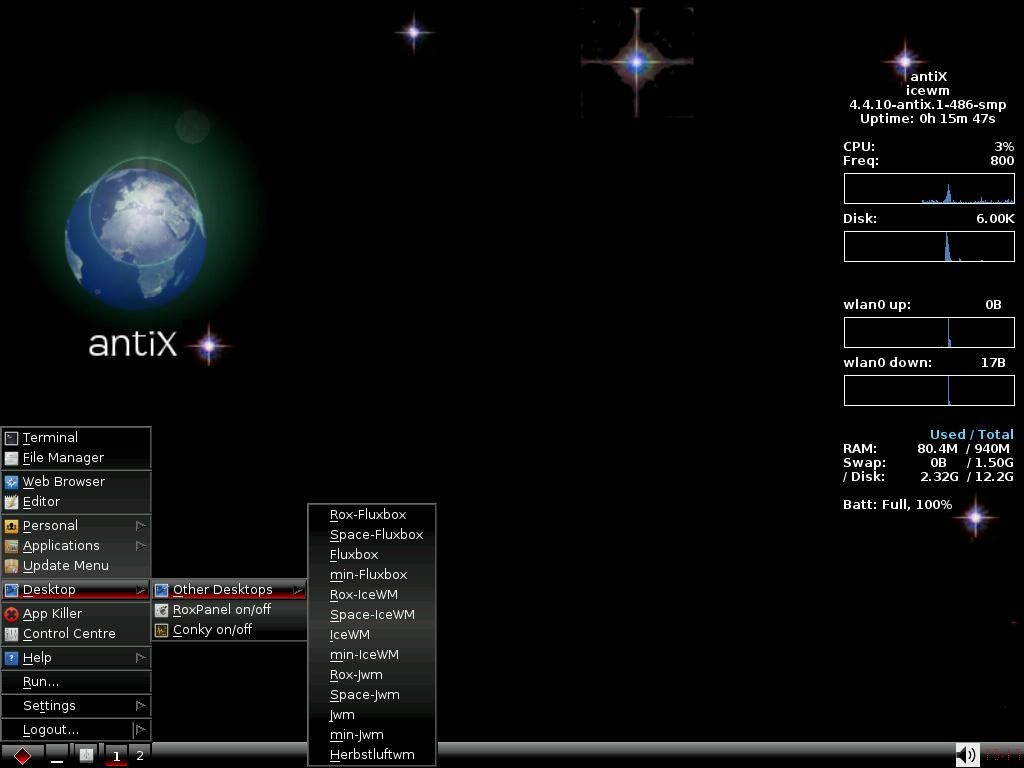 As you can see, in addition to several themes, there is also a variety of "desktops" which are actually different Windows Managers. You can switch between them with windows open too. Some of them have no "taskbar." The default window manager is IceWM which is what I'm using in the pic above. In the pic below is FluxBox in which you right-click on the 'desktop' to access a menu: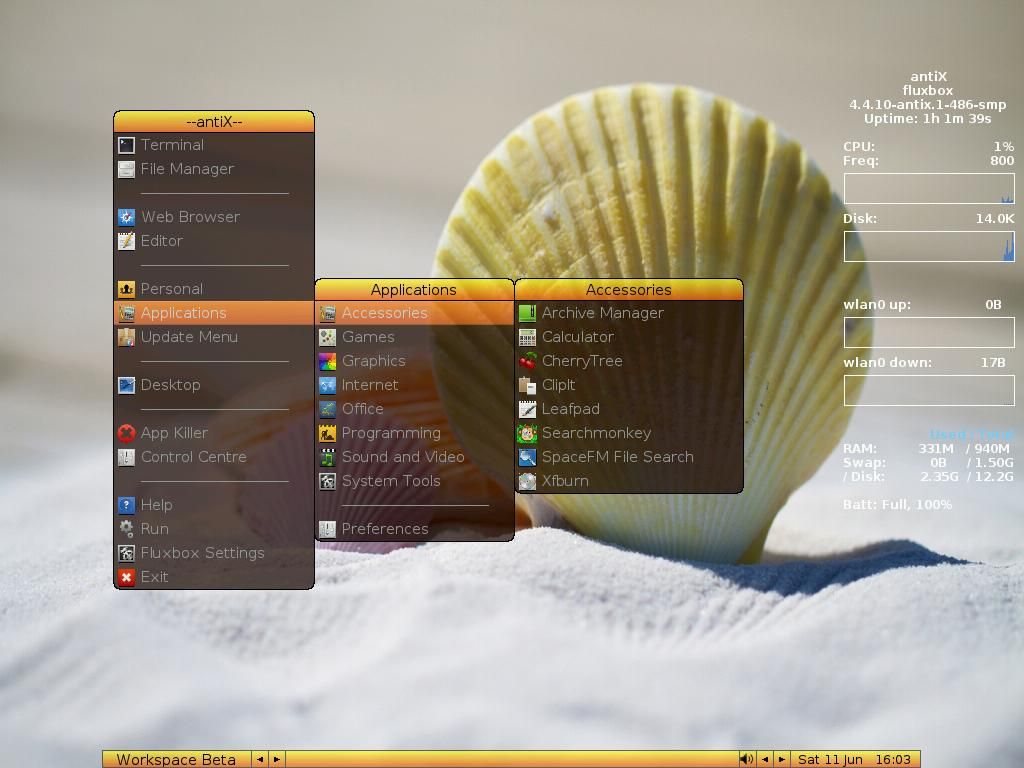 Suffice to say I'm delighted with this little distro and intend on keeping it for a while. It's noticeably faster than LXLE. The only bug I've found so far is that if I enable the "RoxPanel" which is the only way I've found so far to get an additional panel, a new panel appears at the top of the screen but nothing happens when I click on Preferences, which means I can't do much to the panel.
Oh, and nothing happens when I click on "Update Menu" in the menu, but it comes with Synaptic Package Manager and I updated it using apt-get anyway, so these minor annoyances are not enough to put me off.
Edited by Al1000, 11 June 2016 - 11:50 AM.