A new ransomware was
reported
by security researcher
Malwareforme
 that encrypts files using AES-256. Dubbed "SilentShade", but going by the name BlackShades Crypter, it adds the extension ".Silent" to all encrypted files. 
Victims are left with a ransom note called "Hacked.txt" that is displayed in English and Russian. The ransom is set at $30 USD or 0.07 BTC. The following note may also be displayed.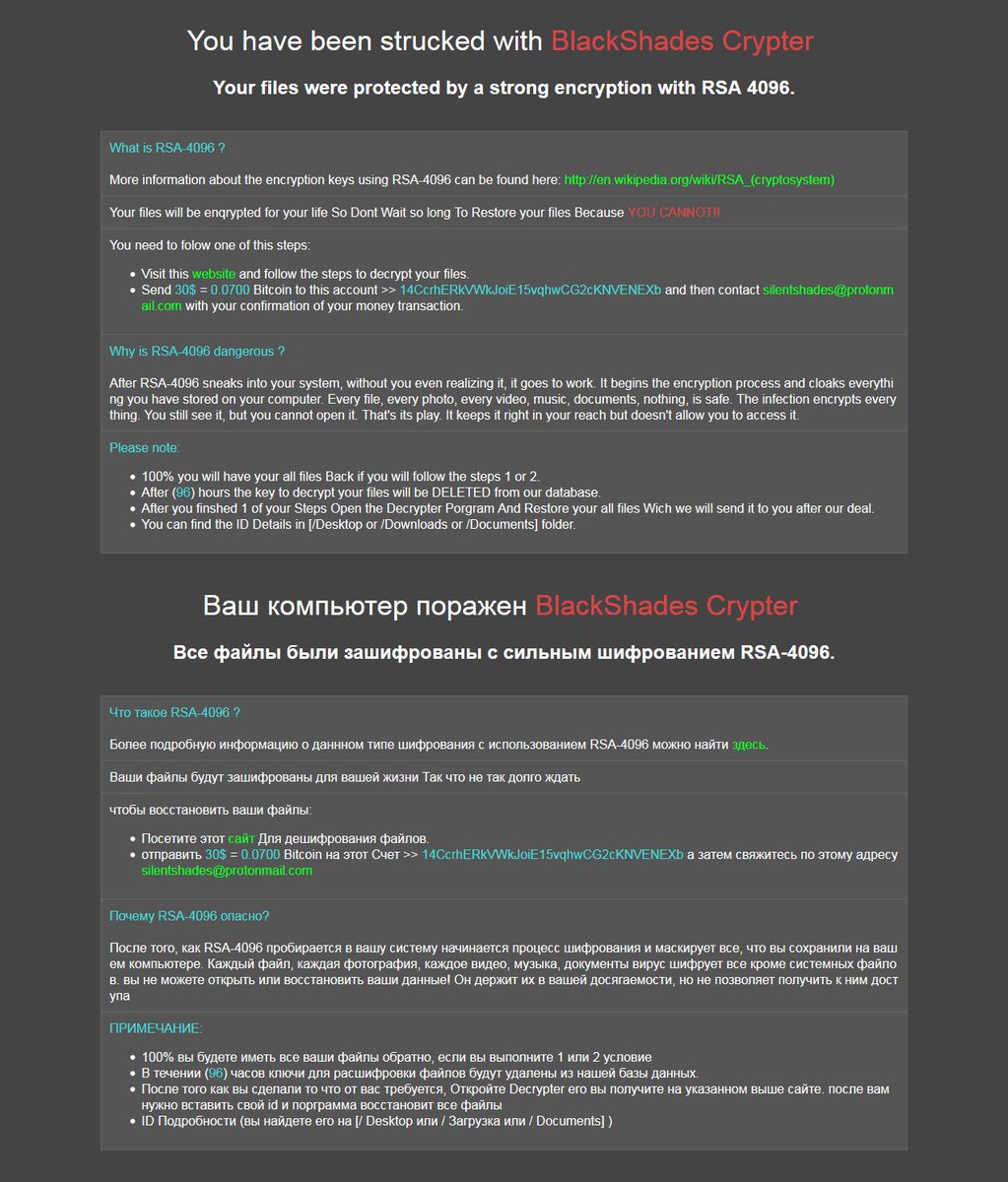 You have been struck with Black Shades
All of your files were protected by a strong encryption with RSA-4096
 
More information about the encryption keys using RSA-4096 can be found here: http://en.wikipedia.org/wiki/RSA_(cryptosystem)
 
Your files will be enqrypted for your life So Dont Wait so long To Restore your files Because YOU CANNOT!! You Need to Folow One of this Steps >
 
1- send 30$ = 0.0700 Bitcoin to this Account >> 14CcrhERkVWkJoiE15vqhwCG2cKNVENEXb And then contact silentshades@protonmail.com With your ID Details (you will find it at [/Desktop or /Downloads or /Documents] Folder) and confirmation Of your Money transaction
2- Visit This website > http://daftoraytg.com/ and Folow the steps To Decrypt Your files
 
in (96) hours the key to decrypt your files will be Deleted from Our Database
 
# NOTE > (100% you will have your all files Back ) if you will follow the steps 1 or 2
3- After you finshed 1 of your Steps Open the Decrypter Porgram And Restore your all files Wich we will sended to you after Our Deal
 
Why is RSA-4096 dangerous?
After RSA-4096 sneaks into your system, without you even realizing it, it goes to work.
It begins the encryption process and cloaks everything you have stored on your computer. Every file, every photo, every video, music, documents, nothing, is safe.
The infection encrypts everything. You still see it, but you cannot open it. That's its play. It keeps it right in your reach but doesn't allow you to access it.
 
==========================================================================================================
Ваш компьютер поражен Black Shades
Все файлы были зашифрованы с сильным шифрованием RSA-4096
Более подробную информацию о даннном типе шифрования с использованием RSA-4096 можно найти здесь: https://ru.wikipedia.org/wiki/RSA
чтобы восстановить ваши файлы вам нужно сделать следующее>
1- отправить 30 $ = 0,0700 Bitcoin на этот Счет >> 14CcrhERkVWkJoiE15vqhwCG2cKNVENEXb, а затем свяжитесь по этому адресу silentshades@protonmail.com
ID Подробности (вы найдете его на [/ Desktop или / Загрузка или / Documents] )
2 Посетите этот сайт>http://daftoraytg.com/  Для дешифрования файлов
В течении(96) часов ключи для расшифровки файлов будут удалены из нашей базы данных
# ПРИМЕЧАНИЕ> (100% вы будете иметь все ваши файлы обратно), если вы выполните 1 или 2 условие!
3- После того как вы сделали то что от вас требуется,  Откройте Decrypter его вы получите на указанном выше сайте. после вам нужно вставить свой id  и порграмма  восстановит все файлы
Почему RSA-4096 опасно?
После того, как RSA-4096 пробирается в вашу систему
начинается процесс шифрования и маскирует все, что вы сохранили на вашем компьютере. Каждый файл, каждая фотография, каждое видео, музыка, документы
вирус шифрует все кроме системных файлов. вы не можете открыть или восстановить ваши данные! Он держит их в вашей досягаемости, но не позволяет получить к ним  доступа
The ransomware also leaves the files "YourID.txt" and "Ваш идентификатор" with the victim's ID. 
Dont Remove this File you cannot Recover your file without your id >> Your ID is  >>> 
 
Не удалять этот файл, вы не сможете восстановить файлы без вашего идентификатора >> Ваш идентификатор >>>
[redacted]
The following extensions are targeted. 
.3dm, .3ds, .3fr, .3g2, .3gp, .3gp, .7z, .aac, .AAC, .ach, .ai, .apk, .ar, .arw, .asf, .asp, .asx, .avi, .AVI, .back, .bak, .bay, .bz2, .c, .cdr, .cer, .cpp, .cr2, .crt, .crw, .cs, .cs, .CSS, .csv, .db, .dbf, .dcr, .dds, .der, .des, .dng, .doc, .docm, .docx, .dtd, .dwg, .dxf, .dxg, .eml, .eps, .ert, .fla, .fla, .flac, .flv, .FLV, .fon, .gif, .gz, .h, .hpp, .html, .html, .ico, .iif, .indd, .ini, .ipe, .ipg, .jar, .java, .JNG, .jp2, .jpeg, .jpg, .JPG, .jsp, .kdc, .key, .log, .lua, .lz, .m, .m4a, .m4v, .max, .mda, .mdb, .mdf, .mef, .mhtml, .MKV, .mov, .MP2, .mp3, .mp4, .MP4, .MP4, .mpe, .mpeg, .mpg, .mpg, .mrw, .msg, .myo, .nd, .nef, .nk2, .nrw, .oab, .obi, .odb, .odc, .odm, .odp, .ods, .odt, .orf, .ost, .p12, .p7b, .p7c, .pab, .pas, .PC1, .PC2, .PC3, .pct, .pdb, .pdd, .pdf, .pem, .per, .pfx, .php, .pl, .png, .PNS, .PPJ, .pps, .ppt, .pptm, .pptx, .prf, .ps, .psd, .pst, .ptx, .py, .qba, .qbb, .qbm, .qbr, .qbw, .qbx, .qby, .r3d, .raf, .rar, .raw, .rm, .rss, .rtf, .rw2, .rwl, .rz, .s7z, .sql, .sr2, .srf, .str, .swf, .tar, .text, .txt, .vb, .vob, .wav, .wb2, .wma, .wmv, .wpd, .wps, .x3f, .xhtml, .xlk, .xlr, .xls, .xlsb, .xlsm, .xlsx, .xml, .yuv, .zip, .zipx
This ransomware will also delete shadow copies, disable Task Manager, and disable system Restore. It may run itself as "win.exe" and sets itself to run on startup. 
It is assumed this ransomware may be spread as part of keygen videos, as it has a hard-coded reference of "YouTube". 
At this time, there is unfortunately no way to decrypt data.