Hello there,
My laptop just died some days ago... It was a great machine, may he find peace in the nether. 
I had to acquire a new one which is great as well (ASUS N751JX), but one thing is really annoying...
Whatever game I try to play, the ping always rockets in a few seconds and never really stabilizes (sometimes ~500ms, sometimes ~6000 or sometimes I just get disconnected).
This is not a router/ISP issue because I never had that problem with any of my previous computers, plus my brother doesn't have it either (we are sharing the same connection). No, this is computer-related for certain.
And so began my endless search for the trouble-maker. I already tried so many things. At first I thought it could be a network adapter issue (mine is an Intel® Dual Band Wireless-AC 7260) so I tried updating the drivers and it didn't change anything. Then I ran a few speedtests & pingtests and this is what I usually get :
So yeah, maybe my adapter is not the issue here... Then I'm going for the firewall : completely disabling it as well as the antivirus (desperate times indeed). Not a change, of course, that would have been too easy huh? (I'm using Windows Defender and no other firewall than the Windows Firewall)
I don't think it is a bandwidth issue because my speedtests are pretty good :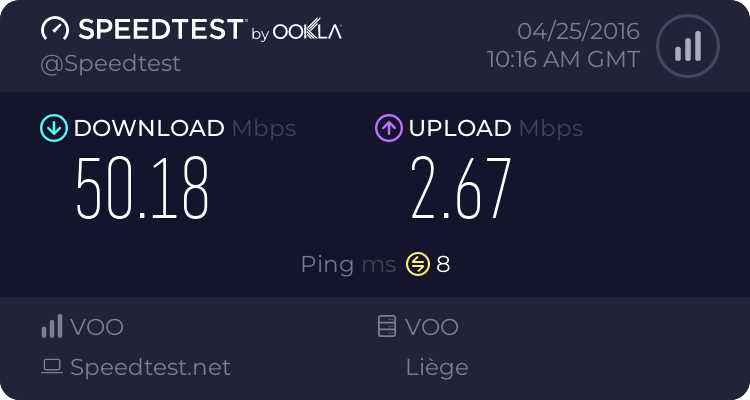 I don't know if it helps but the in-game ping is always correct at first, I think it's so strange. I.E. for World of Warcraft, I have a minute of ~30ms ping before it all goes tits-up. Likewise, for League of Legends for instance, the ping appearing in the loading screen is ~100ms then rises so fast to ~500 - ~6000ms once in-game.
I also ran Malwarebytes Anti-Malware.
I'd be so grateful if you could help me with this, I don't know what to do anymore.
Thanks in advance for your time and consideration.
Edited by UnhappyCyborg, 25 April 2016 - 09:54 AM.