A new ransomware was reported by @malwareforme recently that encrypts files and requests payment via BitCoin. Based on the source code, this ransomware goes by the name Telograph, but may more commonly be seen as CryptoHost. According to detections by Microsoft, it is possible this ransomware has been around for about a month.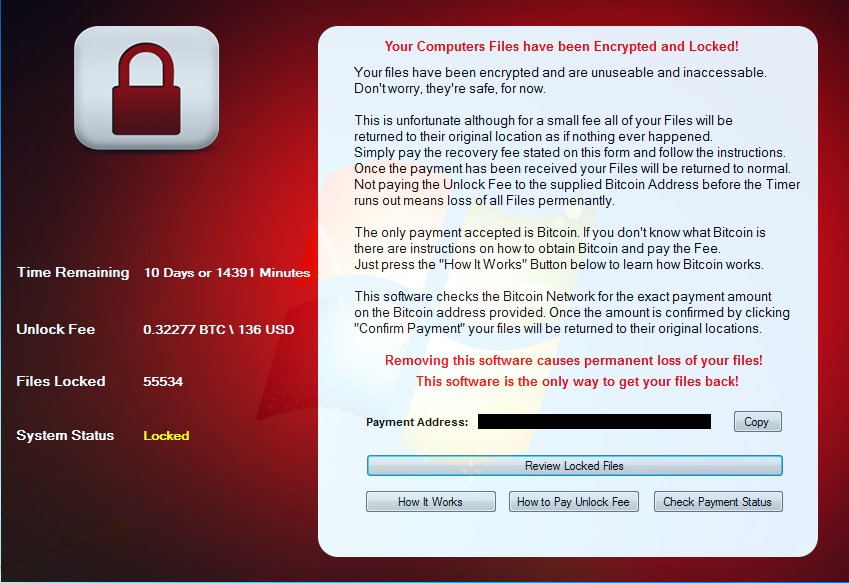 The malware appears to be bundled with uTorrent installers, most likely from illegitimate sources.
 
No ransom note is left behind, only the program screen displayed above. File names are left un-touched.
 
Official analysis is still underway, but early indications suggest there may be a weakness to allow victims to decrypt their files. If you have been infected by this ransomware, please do not pay or close the window, and post here with your experience.
 
The following file types are targeted.
 
*.jpg, *.jpeg, *.png, *.gif, *.psd, *.ppd, *.tiff, *.flv, *.avi, *.mov, *.qt, *.wmv, *.rm, *.asf, *.mp4, *.mpg, *.mpeg, *.m4v, *.3gp, *.3g2, *.pdf, *.docx, *.pptx, *.doc, *.7z, *.zip, *.txt, *.ppt, *.pps, *.wpd, *.wps, *.xlr, *.xls, *.xlsl
 
More information to follow as it is released.
Edited by Demonslay335, 07 April 2016 - 04:02 PM.