Hi guys,
I built my gaming setup about two years ago. It's currently in a Rosewill MicroATX sized case and only has 2 fans for the chassis (one for air in, one for air out). Recently, my CPU has been overheating (still on stock CPU fan) and I think it's time for new fans, CPU fan, and a new chassis. 
I purchased the Corsair Carbide Spec 01 case on Amazon and liked that it has 5 slots for fans and filters already in the case. I purchased a 4 pack of Cooler Master 120MM fans and plan to put them in the new Corsair case. I know there is a fan slot in front of the hard drive bay in the Spec 01. Should I remove the hard drive bay completely if I install a fan in front of it? It seems like if there was a fan there, the air would get blocked by the hard drive bay.
This image shows how I am planning to place my fans. I'm only planning on one fan on top of the chassis. I plan to put my new Cooler Master Hyper T4 CPU fan blowing the air towards the back of the case where the rear case fan is located.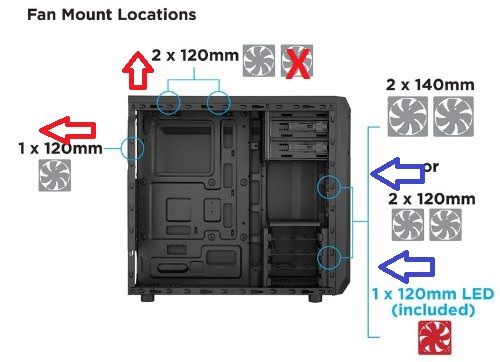 Is this a good setup? Should I remove the entire hard drive bay in order to install the second front fan, or is there a way to take part of the drive bay out without removing the entire bay? I still haven't received the Spec 01 yet, that's why I'm asking. Also, my motherboard only has USB 2.0 headers. Am I ok to plug in the USB 3.0 into a 2.0 motherboard slot?
Edited by pilot2fly, 23 February 2016 - 12:24 AM.