So I was doing an Avast! boot time scan and when it finished, my main monitor was no showing anything, and could not be detected in display settings. AMD Vision Control Centre gave me an error saying either the driver was not running properly or is not installed. Device manager showed that the 2nd GPU with an alert. It said that the driver had been stopped because the device reported a problem. I assumed the 2nd GPU had finally died. I switched off the PC and removed the 2nd card. I booted up with only the primary monitor connected. The resolution was all wrong and the same errors came up. I swapped GPUs and the same happened. I then tried them both in together and now they both report errors.
Did both cards die? Surely this is not a motherboard or power supply issue, they are both brand new.
MSI 970 Gaming Motherboard (less than 1 year old)
EVGA Supernova B2 750W PSU (even newer)
2x CrossFire Sapphire HD 3870 512 MB (ATi)
Windows 10 Pro (x64)
AMD Vision Engine Control Centre/AMD Catalyst Install Manager 8.0.916.0 (Only version which seems to support my cards)
Asus 1680*1050 monitor (DVI)
Acer SVGA (VGA-DVI adapter)
Unfortunately I have no option to swap GPUs with another PC to test anything, unless I borrow a PC/GPU (I have 1 other PCIe PC but it's Linux)
Hold on while I get the exact error details...
Edit: Okay, so this is just strange. I switched on the PC to check the errors and quote them, and all is fine now. Both cards are without errors. The first card was very hot when I removed it, perhaps they overheated? I wasn't doing much graphics wise though, and haven't played a game at all today. I think it may be a thermal paste or heatsinc pressure issue. The cards are 8 years old keep in mind.
edit again: I tried to use the PC just now and the problem is back. It can't be overheating then because it would be cool by now.
The details are:
No AMD graphics driver is installed, or the AMD driver is not functioning properly. Please install the AMD driver appropriate for your AMD hardware.
Windows has stopped this device because it has reported problems. (Code 43)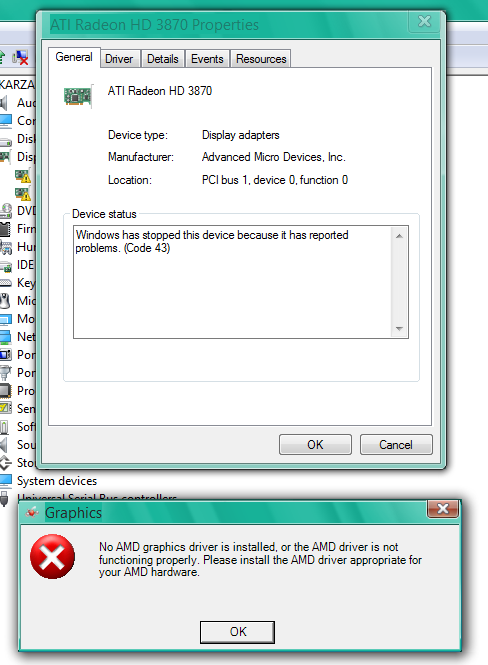 Edited by Karzahni, 09 December 2015 - 12:44 AM.