I've always been able to access my workmail from my home computer by using firefox and the webmail-address. Today (Nov. 1st) it fails, while I haven't actively changed anything in my settings. I have also tried internet explorer, but this gives the same fault-message: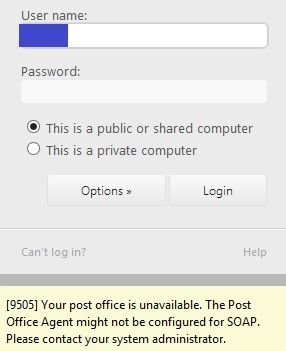 I am absolutely certain my username and password are correct. I tried changing it to "this is a private computer" but that doesn't change a thing. The button "options" can only be used to change the language.
Gmail works just fine.
I don't know what SOAP means, but I understand from reading about it that it is a way of sending data. I don't know how to dis- or enable this though.
Any ideas on how to fix this?