As
reported
earlier this week, Dr.Web has been able to decrypt TorrentLocker files for quite some time, but only for licensed customers. It appears they have also offered this service to their distributors and partners in order to help their clients. In the past, the distributors and partners that we have seen promoting this decryption service have been offering it for free. Today, a member notified us that a web site based out of Spain is advertising these same services for 165 to 225 Euros depending on the particular victim.
A web site based out of Spain appears to be offering TorrentLocker and Crypt0L0cker decryption services for 165 to 225 Euros. Though there is nothing that specifically states that this site is a Dr.web partner, there are many posts about Dr.Web on the site that leads us to believe that they may be affiliated in some way. This site is claiming to be able to decrypt TorrentLocker/Crypt0L0cker files within 48 hours. If they are successful they require a fee of 165 to 225 dollars. This is a large amount of money considering that Dr.Web offers the same services for any licensed owner of their software, which is considerably cheaper.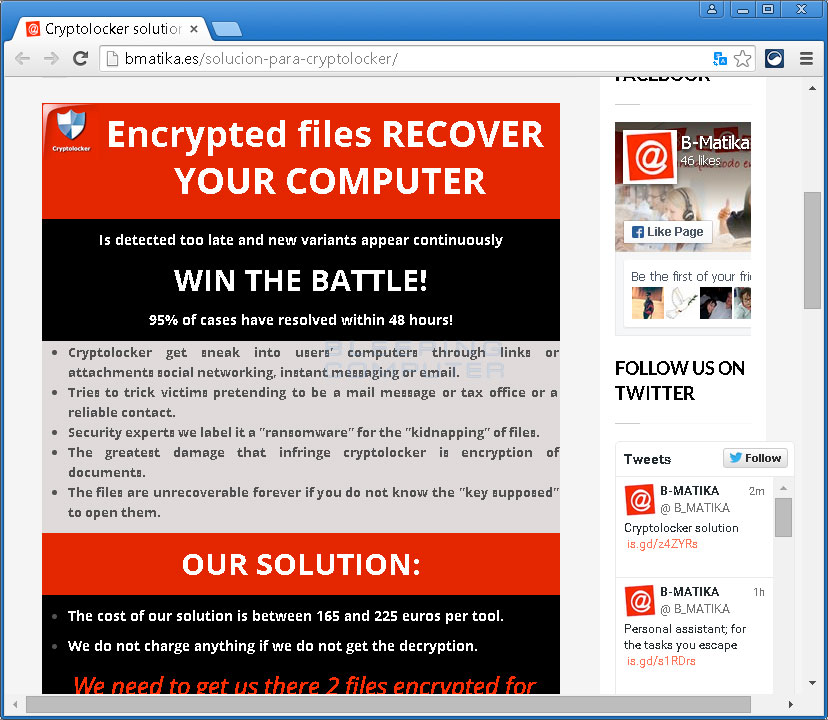 Furthermore, it has been
reported
that a site that we previously reported was decrypting for free, and admits to using Dr.Web for the decryption, is now charging 70 Euros to receive the Dr.Web tool and decryption key. It is a shame that these companies are taking advantage of TorrentLocker victims by charging a lot of money when a victim can purchase Dr.Web for 30 USD and get the same services as part of their license.
Hopefully Dr.Web will begin to crack down on these sites who are using their services and taking advantage of their customers.