Hi everyone
A few months ago, I posted my list of favorite freewares in a thread on Sysnative, and it seems that one of them got a lot of attention since no one knew about it and they all fell in love right away with it, so since I have a bit of time right now I decided to create a thread introducing it here.
The program/tool (because you can either install it or use it as a portable application) is called WSCC, which is an acronym for Windows System Control Center. Here's its description: 
WSCC is a free, portable program that allows you to install, update, execute and organize the utilities from various system utility suites. WSCC can install and update the supported utilities automatically. Alternatively, WSCC can use the http protocol to download and run the programs. WSCC is portable, installation is not required. Extract the content of the downloaded zip archive to any directory on your computer.

This edition of WSCC supports the following utility suites:

Windows Sysinternals Suite (including support for Sysinternals Live service)
NirSoft Utilities

The setup packages are downloaded from the author's website!
Basically WSCC is provides an interface that allows you to download, update and launch tools from the Windows Sysinternals Suite and NirSoft Utilities. With this, you don't have to download a new version of a tool everytime you want to use it, since you can download them all at once and update them all at once as well. Since these tools are often used by powerusers, this application allows you to control them directly and also discover new ones you didn't know of before.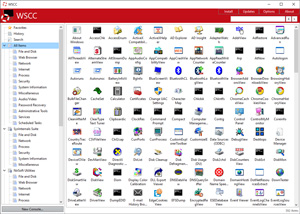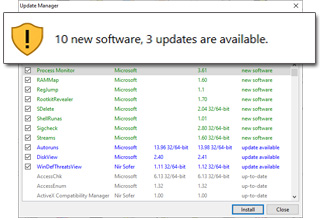 You can also customize the way the program works and where the tools are stored. Personally, I created a Sysinternals and NirSoft commandline tookit using WSCC (I can explain how to proceed if needed) and I use WSCC to look up new tools and keep them updated. I would say that for powerusers (or even standard users) it's one of the most interesting program to have since it allows you to use tools that can help you gain and maintain control on your system as well as manage it. It's also compatible on every version of Windows (from Windows XP to Windows 8, 64-bit support as well) and I'm sure Windows 10 will be officially supported as well as Sysinternals and NirSoft Utilities are made compatible with it.
WSCC Official Website
Sysinternals Suite Website
NirSoft Utilities Website
Hopefully you'll like it as much as I do
The product description and screenshots comes from the official website for WSCC, all rights belong to it:
http://www.kls-soft.com/wscc/
Edited by Aura., 10 July 2015 - 01:39 PM.