Kdenlive 15.04 (Free Multi-Track Video Editor )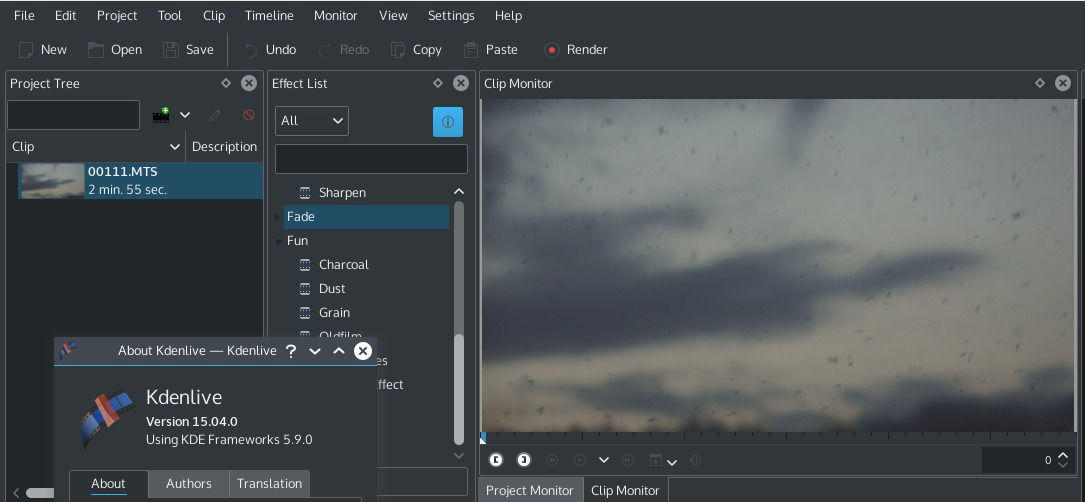 Kdenlive 15.04 is a free and open source video editor for GNU/Linux, Mac OS X and FreeBSD. It supports DV, AVCHD and HDV editing. You can check our user's camcorder database to see a list of supported camcorders. Kdenlive relies on several other open source projects, such as FFmpeg, the MLT video framework and Frei0r effects.
Kdenlive can be used to mix mutiple video, audio and images to unleash your creativity. It is one of the few free multi-track video editors with support for a wide range of camcorders and cameras, including low resolution camcorder (Raw and AVI DV editing). It also supports Mpeg2, mpeg4 and h264 AVCHD (small cameras and camcorders) and high resolution camcorder files, including HDV and AVCHD camcorders.
Since Kdenlive 15.04 is now based on Qt5/KF5, you will KDE Frameworks 5 to run Kdenlive. The latest release of Kdenlive 15.04 now auto save new projects and the download new render profile feature is now fixed. The release also features fixed video stabilization.
Versions of Kdenlive in official repositories may be deprecated. You can install the latest stable release using Sunab's alternative repository:
You can check what versions this repository will install from here https://launchpad.net/~sunab/+archive/kdenlive-release
To use the Sunab's alternate repository:
type 'Software Sources' in Unity Dash > Other Software ; or use your favoutite System Menu and look for Software Sources > Other Software ;
click add and paste this line in:

ppa:sunab/kdenlive-release

close software source and click reload.
Install Kdenlive with the Software center or your favourite package manager.
Alternatively you can do all the process typing the following command line in a terminal :

 sudo add-apt-repository ppa:sunab/kdenlive-release && sudo apt-get update && sudo apt-get install kdenlive