In my quest to find a easy way to rid my comp of WGA, I looked in Downloaded Program Files.
(As opposed to these complicated lenghty instructions.)
http://support.microsoft.com/kb/921914
Windows Genuine Advantage Validation Tool is located in C:\WINDOWS\Downloaded Program Files.
When right clicking on it, there is an option to "Remove" .
Dare I try it?? lol Will it even work? Points to ponder.
Since I was still not quite sure, I created a restore point. Then googled for some info.
Hmm... look what I found. Straight from [Ha!] almighty M$ theirselves.
Frequently Asked Questions about the Windows Validation Assistant:
http://www.microsoft.com/resources/howtote...dation_faq.mspx
How do I uninstall the Windows Validation Assistant component from my computer?
Open the C:\Windows\Downloaded Program Files folder. On a Windows Server 2003 machine, right click on ProductIDGatherer.WindowsGatherer and select Remove. On a Windows XP machine, right click on Windows Genuine Advantage Validation Tool and select Remove. Please note: The path for the Downloaded Program Files folder could be different depending on your Windows installation folder.
It can not be removed via start > control panel > add/remove
(BTW The only thing that can not be uninstalled from there!)
or disabled in IE > tools > Manage add-ons.
Not on my system anyway even though it states in the dialog box:
"This add-on in managed by your Administrator"
Nonsense, I am in the administrator account!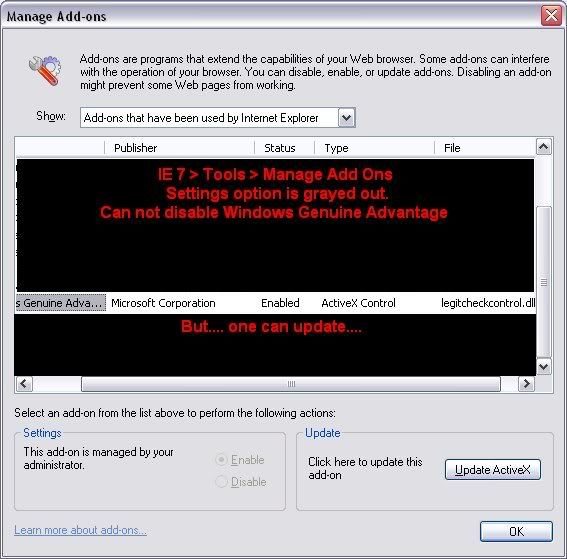 LegitCheckControl.dll
is also in the WGA folder in Downloaded Program Files
The right click option for it is "delete" Wondering if it would delete too...
Do any of you

real

techs (lol) have any thoughts on this?
Could doing so screw up my comp?
After all the info. is on Micro$oft.con oh I mean .com

If it would mess things up, would a sys. restore put things back in order?
Perhaps a reg backup should be made too??
Should I go for it?
Edited by Scarlett, 07 July 2006 - 06:35 PM.