I don't like fancy mouses at all. The more buttons and contours there are the harder it is for me to grip/control it (claw/fingertip grip). It seems like the only two brands that make simple, yet accurate mouses, are Razer and Steelseries. Sucks because I'm a fan of Logitech hardware (not software) and they don't really make in that style. 
I personally love everything I've seen about Steelseries and dislike Razer almost with a passion. I think I might just be biased because of the logos though. 
Mouses they make seem very well priced at 55$ for a *seemingly* good quality optic. Construction seems stable to and uses a braided cord. Steel series logo reminds me of Code Lyoko.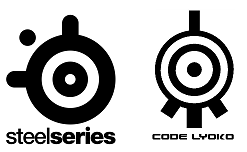 Now Razer has put me off since day one. Always had mentally put them in the same category with Turtle Beach as being overpriced, OK quality, and targeted at 13 year olds/people who don't know better by using marketing. Reason being~
It's really hard to think of them as high quality and well priced when they have such a gimmicky looking logo. I mean the entire thing looks like it was created by a marketing team to be "cool", "hip", "radical", and "baddass" with today's youth. To make the 13 year olds think they're the highest quality stuff ever made. 
However in past years with releases of interesting new tech (specifically love the idea of green switches) and only ever hearing praise hailed towards them. I think I've been very biased and should really give them consideration for my next mouse choice (that I need bad). At the same time I think I may be giving Steelseries to much praise with no real backing evidence. i do hear stuff about Steelseries, but not a whole lot and far in between. Might just be they don't spend much in the way of marketing (unlike Razer's well paid marketing team), but they very well could be bleep and it's just cause I've never noticed before now. 
Would love a outside view on it. Reviews seem like they might be biased for Razer cause of marketing (*cough* Alien Ware *cough*) so I'm here for some real world response.