The developer of the
Tox ransomware
affiliate platform has decided to get out of the ransomware business and is looking to sell his affiliate platform. In a
post on Pastebin
, the dev named Tox, claims that he never expected his platform to gain so much attention and the heat is too much for him to handle. Tox further states that is
selling his platform
and if no one buys it, he will release the keys and automatically decrypt any victim's files.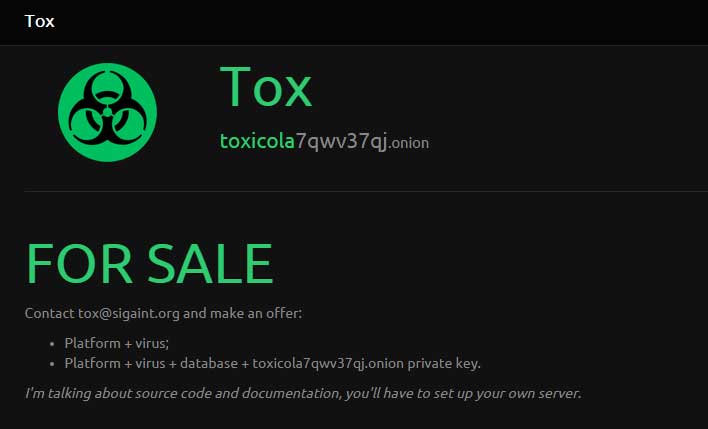 It seems Skiddies are starting to realize the magnitude of what they have done and are looking to bail out before they go to jail. First it was the Locker Dev, known as Poka BrightMinds, who apologized and
while releasing all of his victim's decryption keys
. Now, it's Tox who is only going to release the keys if his greedy ass can't get a buyer. A humorous comment from Tox is: 
It's been funny, I felt alive, more than ever, but I don't want to be a criminal.

The situation is also getting too hot for me to handle, and (sorry to ruin your expectations) I'm not a team of hard core hackers.

I'm just a teenager student.
Hate to say it Tox, but it's too late and you are already a criminal. You selling the platform will not change that.
All of these devs want a piece of the Ransomware pie, but then realize that this is high stakes and high visibility and want to get out. What people do not realize is that there is no such thing as a "hidden" ransomware. Once you create a program that encrypts people's files and ask for a payment, your program is in plain sight. Furthermore, once a security researcher discovers this they are going hawk your every move. Ultimately, it really is too bad as these are obviously bright people, but are only looking for the quick buck. Wouldn't it be amazing if they used their knowledge to create something truly useful?
The full Pastebin post is: 
Dear users,

Just one month ago, in one instant, all what I've studied for months fused in one brilliant idea, which was then named Tox. I knew it was something new, something that was completely different from what was already there. I started designing the whole thing in my mind, then I started coding, reading documentations, testing software.

After two weeks of non-stop hard work, the platform was online.

A little more than a week ago, I started posting links around the deep web, in the hope somebody would have given Tox a try.
Things exploded.

Even before the website was ready to host users, the McAfee blog was featuring the article about this platform. The the number of the users started growing. From 20 to 50, from 50 to 100, it was doubling every day. Infections, with a little delay, started growing too.

In just one week, the platform counted over one thousand users and over one thousand infections, with an average of more than two hundreds of polling viruses per half-hour.

Yesterday, 2nd June 2015, I decided to quit.

Plan A was to stay quiet and hidden. Well, I think I screwed up.

It's been funny, I felt alive, more than ever, but I don't want to be a criminal.

The situation is also getting too hot for me to handle, and (sorry to ruin your expectations) I'm not a team of hard core hackers.

I'm just a teenager student.

Some have said I think out of the box, others said I'm a skid who just developed the worst ransomware ever. I think that both opinions may be true, but one thing is objectively true: with Tox, I opened a door for a whole new way of thinking. I'm sure that others will try to replicate what I did. Not just for bad reasons, maybe somebody (maybe myself?) will find out how to do something good based on all this.

One last thing: if I really was a team of hard core hackers, with time and resources, this would have become one the greatest viruses ever.

In these days, in the chat, people helped me testing and debugging the virus, but the most interesting part is that they suggested me how to improve it. I don't think that such a great brainstorming has ever happened in the process of designing a virus. Users were spurred to help me improving the platform, for their own good.

What's next? I'm selling all this out because even if I didn't, somebody would have developed his own Tox-like version.

I'm asking my users to be patient, I'm not going to scam you. In a few days I'll ask you a bitcoin address in the case somebody pays some of your ransoms. I'll forward you your part.

If nobody's going to buy the database, in one month I'm releasing the keys, and victims will have their files automatically unlocked.

My choices are not linked to the recent external events, I pondered all these choices on my own, for my own good.

Sincerily, Tox