Hey Everyone!
I have been here over the years through google searches and have got much help here through other posts.
today I have searched everywhere and tried lots of things to fix my problem.
My internet Explorer has some proxy error happening which would not bother me if it was not for the facts my ff14 updates using it!
I get and error while trying to update it and searching the error from ff14 got me to IE11 which is the actual problem.
My Firefox, and chrome both work fine that is how I am posting here
Okay so here is a picture of both errors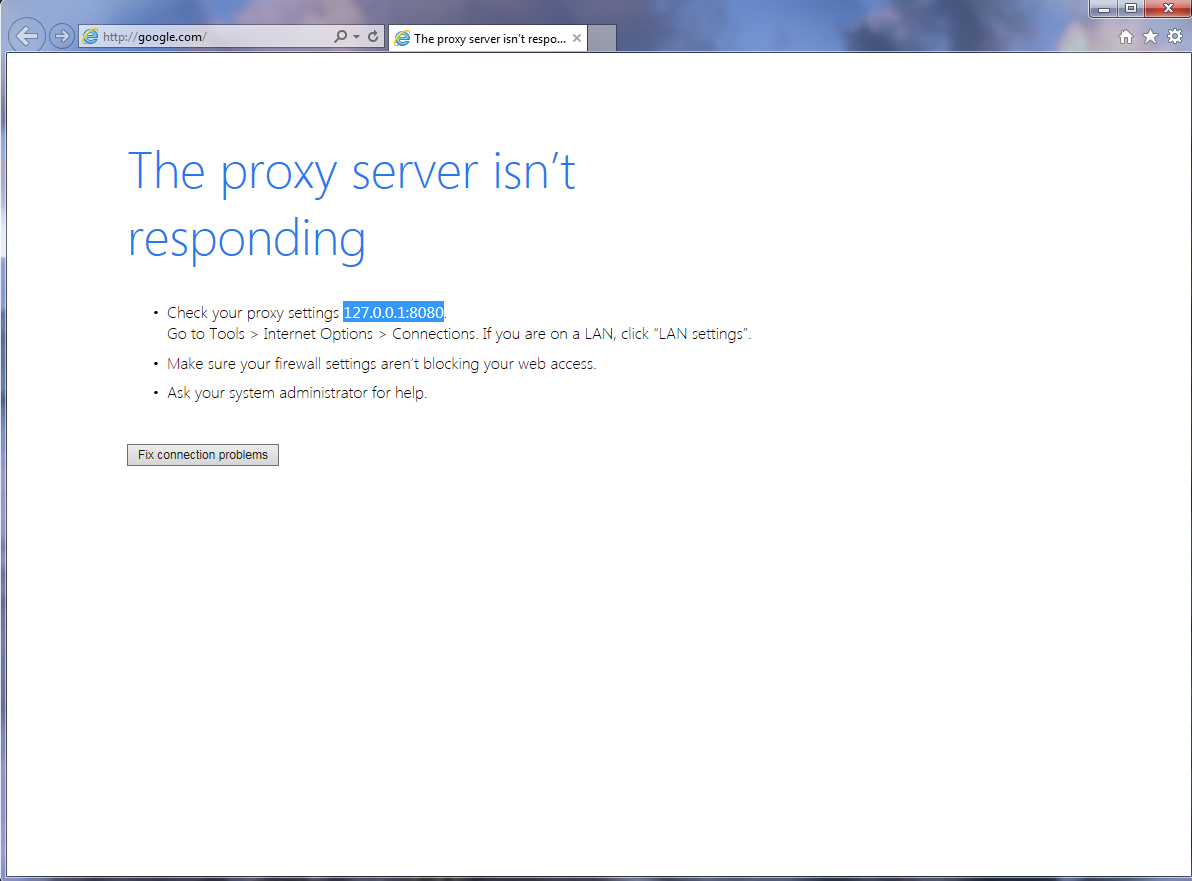 So there is a few things i have tried, After searching the ff14 error I stumbled upon http://www.reddit.com/r/ffxiv/comments/21nz8v/need_help_with_a_system_error_has_occured/
Here were a few things said there and things I followed as well!
 

When FF14 updates, it deletes or loses the valid certificate for the launch client. Even if Internet explorer isn't your default browser, it uses IE to launch the client.

What worked for me, was: 1. Open Internet Explorer 2. Click on internet options 3. Click Advanced 4. Make sure "Always run or install software even if certificate is invalid" 5. Open FF14 Client again.

You'll now be able to log in and download the game update which will also download a valid browser certificate.

 

Had this happen last week. The game launches accesses through IE and somehow you've enabled proxy either by accident, on purpose, or a program changed your settings.

Just open IE, go to Internet Options > Connections and click LAN Settings. Check "Automatically Detect Settings" and click okay. That should fix your problem.

 

 

No luck with those things!

Here is a screen shot of my current internet explorer lan settings.

 
Here is what my Registry entry looks like as of now
After doing all this I began so suspect a virus!
I followed all the steps at this link http://malwaretips.com/blogs/the-proxy-server-isnt-responding-removal/
I didn't think to take any screen shots sorry! of the malware/adware that was found but it found some registry entrys and like 3 file deletes in %appdata%
I also tried Uninstalling IE11, When I did my system auto installed IE8 and things still did not work. After doing that I could not update back to IE11 without a system restore
so here I am now posting defeated lol, If anyone has any ideas or is willing to help me anything would be greatly appreciated! I couldn't be there for my friends today
I posted anything i could think of and all relevant information! if you need anything else from me i'll try to be frequent about checking back. Thank you!
Edited by hamluis, 03 June 2015 - 07:01 AM.
Moved from Win 7 to Am I Infected - Hamluis.