A free decryption tool was
released
by
BloodDolly
called TeslaDecoder. This utility has the ability to decrypt files encrypted by TeslaCrypt.
TeslaDecoder can now decrypt all variants of TeslaCrypt 3.x and 4.x. This includes encrypted file extensions: .micro, .xxx, .ttt, .mp3, and encrypted files that were not renamed.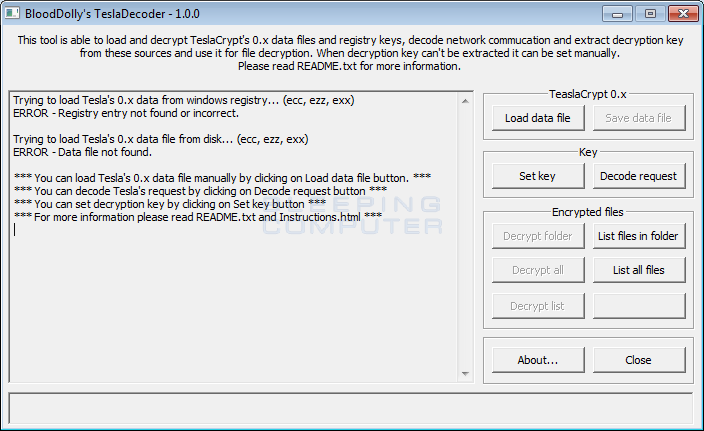 TeslaDecoder Decryption Tool
TeslaDecoder can be downloaded from this url: 
http://download.bleepingcomputer.com/BloodDolly/TeslaDecoder.zip


A changelog for the tool can be found here: 
http://download.bleepingcomputer.com/BloodDolly/changelog.txt
For older versions of TeslaCrypt, when run, TeslaDecoder will search for certain Windows registry keys, the storage.bin file, or key.dat file, and if detected, will attempt to extract your decryption key. Once a decryption key is extracted it will allow you to decrypt all the files in a particular folder or all files on a computer. Unfortunately, on some victim's computers the decryption key has been stripped from the data files. In this situation, TeslaDecoder will be unable to help you recover your files.
For newer versions of TeslaCrypt, which most people are currently affected by, you will need to read the instructions contained in the download to learn how to decrypt your files.
We have already updated our TeslaCrypt guide with information about TeslaDecoder. For the latest information about TeslaCrypt, you can always visit the guide below that is continuously updated as new information is released: 
TeslaCrypt and Alpha Crypt Ransomware Information Guide and FAQ
Update 5/19/15 - Included link to downloadUpdate 1/8/16 - Added information about the instructions included in the download.Update 5/18/16 - TeslaDecoder can now decrypt all variants of TeslaCrypt 3.x and 4.x
Edited by Grinler, 18 May 2016 - 03:43 PM.
Forgot to post link to download