Today Google released a new Chrome extension called Password Alert that notifies you when you enter your Google password into a non-google site. When you first install Password Alert, the extension will ask you to login into Google where it will then create a scrambled version of your password. Then whenever you login to another site, it scrambles the password you enter and compares it to the scrambled Google password. If it is a match, Password Alert warns you that you entered your password on a non-Google site and that you should change it.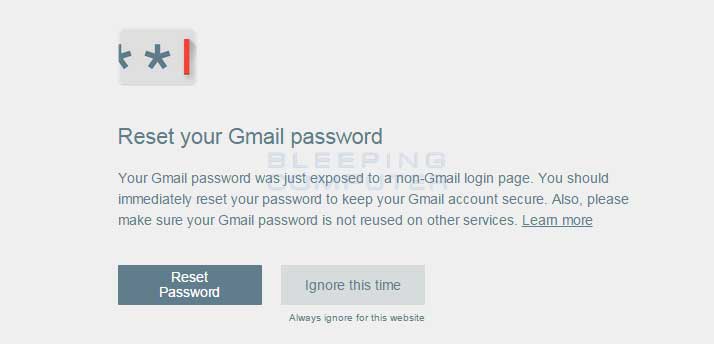 The problem with this extension is that it is working under the assumption that people use a unique password at Google or that Google can convince users to do so. Unfortunately, the people who would be the most protected by this app are the ones who use the same password on every site they visit. Regardless of the fact that people shouldn't do this, people will continue to do so, and this extension will constantly trigger warnings for them. I think it's a good attempt at trying to convince users to use unique passwords, but unfortunately for those who use the same password, the alerts will become a nuisance and they will just remove the extension.
What single-password users need is good education on how to generate unique passwords and not a constant stream of ignored alerts as they sign into web sites. Using a password creator and password database to maintain unique passwords is a great way to start. Even better would be to come up with an easy to remember password generation scheme that allows you to create unique passwords that are easy to remember. Unfortunately, I do not see any of this education in the Password Alert alerts, or the Learn More link that is given.
Password Alert is a start, but needs a lot more to become truly useful.