Today Kaspersky announced the availability of a free decryption application for those affected by the
CoinVault ransomware
. In a joint operation between Kaspersky, the National High Tech Crime Unit (NHTCU) of the Netherlands' police, and the Netherlands' National Prosecutors Office a database of some of the private decryption keys were seized from CoinVault's Command & Control server. Using this database Kaspersky has created a dedicated site and decryption application that can be used to decrypt files encrypted by CoinVault. Unfortunately, in our tests the database is incomplete and does not contain every bitcoin address associated with CoinVault victims.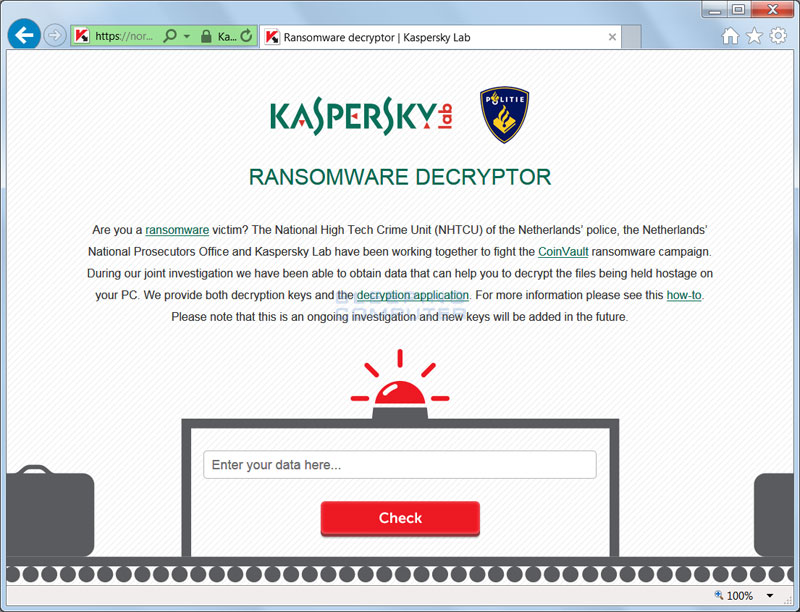 To check to see if Kaspersky was able to recover your decryption key, go to the site
https://noransom.kaspersky.com/
and enter the bitcoin address that is displayed in the CoinVault program. Once you enter the Bitcoin address, the site will search through the decryption key database and check to see if they have your key. If the site is unable to find your bitcoin address it will state
Currently we do not have any records for this Bitcoin wallet.
. Otherwise it will show the IV code and key that is associated with your bitcoin address. You will need this information to decrypt your files using their decryption application.
If you are able to retrieve your information, you should download
Kaspersky's CoinVault Decryptor
and enter in the IV code and Key that the site displayed. You can then either decrypt an individual file or all of your encrypted files. If you wish to decrypt all of your encrypted files, you need to browse to the
filelist.txt
file that contains a list of all your encrypted files. This file is usually located at
%AppData%\Microsoft\Windows\filelist.txt
.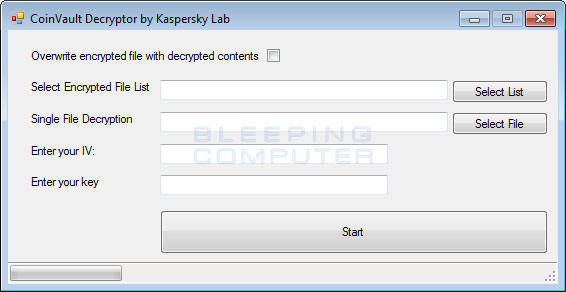 Once you are ready to decrypt your files, click on the
Start
button. After performing the mass decryption process utilizing the filelist.txt list, if there are any data files still encrypted you can use the tool to decrypt those leftover files individually. If there are many files leftover, you can enter their paths into a text file and use that file as your encrypted file list.
Kaspersky provides
instructions
on how to use the program, but unfortunately it does not address some issues. For example, if the CoinVault program is unable to access the Command & Control server, it will not make itself visible. Therefore, you may be unable to access your bitcoin addresses. Furthermore, if you are not able to access the GUI for the ransomware, you cannot use the instructions for exporting the file list. If you know your CoinVault bitcoin address, you can access the file list using the path described above.