The last time I used Cinnamon desktop was around a year ago when Mint 16 was the latest version. That was only the second Linux distro I had ever installed, with Ubuntu 12.04 being the first, and I don't recall exploring Cinnamon too deeply back then, I just basically installed it and used it in its default configuration. So I decided to explore it further, and installed Mint 17.1 Cinnamon the other day.
After installation I updated it, enabled the firewall, installed the recommended Nvidia driver and conky-all, and everything went just fine.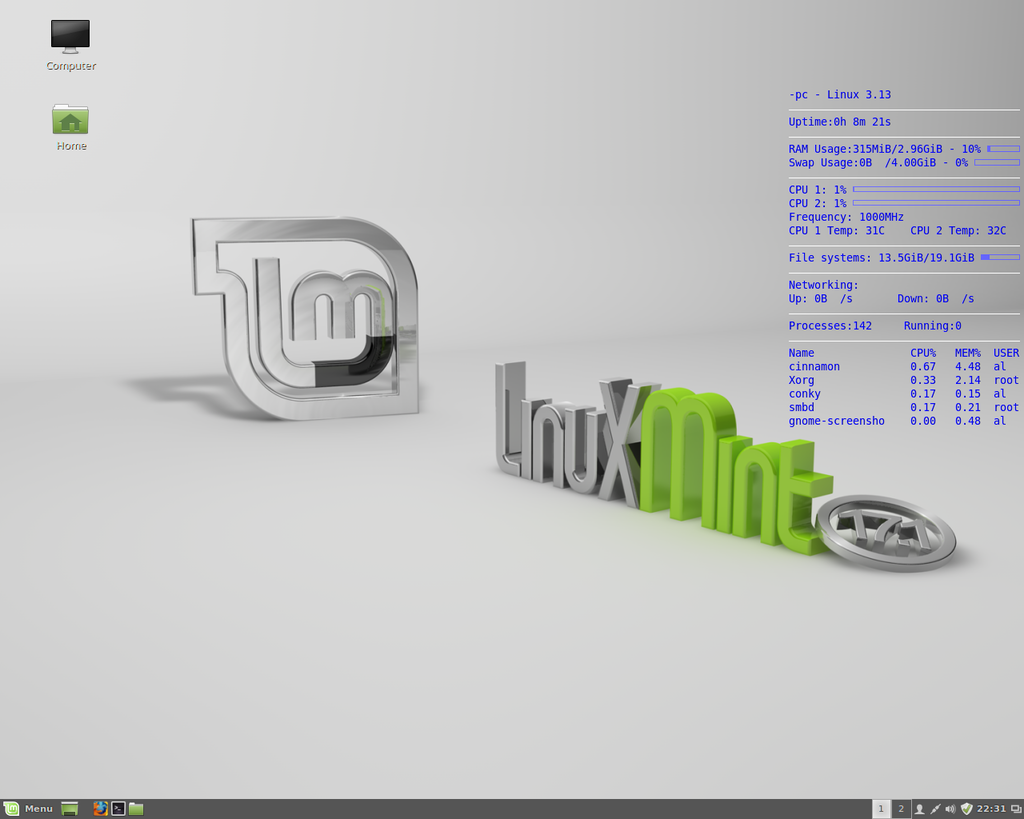 Then I set about seeing what I could do to configure it. The first thing I tried was creating an extra panel at the top of the screen to put icons in for the applications I use the most often, like I have on KDE and LXDE desktops on Kubuntu and LXLE respectively, but the options are very limited in Cinnamon. It seems that unlike with KDE and LXDE, you can't just create an empty panel wherever you want. The only options I found were to either 1) have the default panel at the foot of the screen, 2) move the default panel to the top of the screen, or 3) select "panel at top and bottom" which creates an empty panel at the foot of the screen, with the default panel at the top.
Whereas what I wanted was the empty panel at the top of the screen, and the default panel at the foot. I thought about moving everything from the panel at the top to the panel at the bottom, but that seems like a lot of hassle for the amount of time I'm likely to be using this operating system. Is there any way to easily create an empty panel at the top of the screen on Cinnamon?
I enabled a hot corner, and switching between workspaces and selecting them from the background etc, all works fast and smoothly, but KDE does all that as well. Cinnamon only uses around two thirds as much RAM as KDE, which is impressive, but it seems nowhere near as configurable and doesn't have nearly as much in the way of desktop effects or applications. Overall, it's very bland in comparison to KDE. It seems very similar to MATE, just slightly more polished. That's not to take anything away from MATE, as it's supposed to be basic; but as Cinnamon is Mint's "flagship" desktop, I was expecting more.