Hi all,
BleepingComputer first-time poster here. I have used your site many times as a lurker, but on this occasion I can't seem to find a solution to my problem, so am forced to bother you for direct help!


The problem
Earlier tonight I was playing Elite:Dangerous on my new (one month old) Windows 8.1 desktop system, and all was well.  Belarc Advisor system profile posted here, fyi:
I finished playing, and installed the latest Windows Updates (nine of them - I can even supply the KB numbers if helpful) and restarted. When prompted, I then upgraded Flash Player from 16.0.0.235 to the latest version (16.0.0.257). After doing this, I tried to play a song in Winamp and received this error message: "Bad DirectSound driver.  Please install proper drivers or select another device in configuration." 
Shortly thereafter I noticed that my system's audio had stopped working altogether, through both speakers and headphones.  While searching for a solution I have also noticed that Youtube videos in Firefox now crash after a second or two, although they play in IE (silently, of course).
 

The symptoms
 
I am in the fortunate position (from a diagnostic perspective) of having an almost identical working computer sat next to me. My father and I bought identical computers a month ago. Needless to say, after this happened I have not yet run the updates on that machine, so it allows me to compare and contrast. Hopefully that means that we can get to the bottom of this.

As you can see from the left-hand screen grab below, the volume button in my taskbar now has a white cross on a red background, and displays "No speakers or headphones are plugged in" when hovered over, and the Control Panel sound menu now has no playback devices listed (the four HDMI outputs also appear as "not plugged in" on my father's fully functional system).  As compared with my father's system, mine has lost "Speakers" and "Realtek Digital Output" from this list. 

The right-hand screen grab is from Device Manager (with "show hidden devices" enabled, displaying the hidden devices as greyed out).  On my father's system all the same sound controllers are listed, but "Realtek High Definition Audio" is not hidden (ie. not greyed out).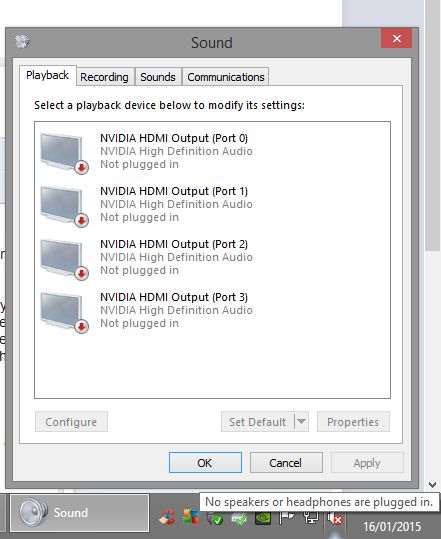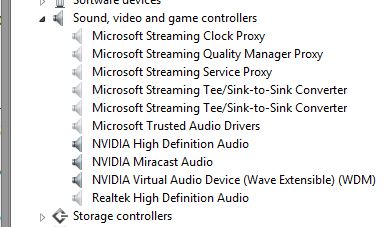 Attempted solutions
 
The first thing I tried was updating drivers through Device Manager.  Nothing seemed to need updating there, so I did a system restore to a point before the updates.  The system restore went through fine, and the updates were rolled back, but the audio problem persists (as does the failure of Youtube videos). 

I then tried reinstalling Realtek HD audio (both from my driver disks and from the Realtek website), but nothing changed.  I tried uninstalling all sound drivers and restarting the machine, and also tried re-installing the Windows/Flash updates.  I have tested the speakers, which work fine with other machines.  I am at a loss to explain or fix the fact that my computer suddenly can't recognise any audio devices.

Any ideas?  I'm happy to run any diagnostics requested and post the results here.  For now, I have run the below three, as suggested on this slightly similar thread.  These were run after rolling back the updates via System Restore, i.e. as close as I can get to when the sound system was working.
Speccy:
http://speccy.piriform.com/results/vtEp57kC1NMJDsqIKv6OdVN

SecurityCheck.exe:

MiniToolBox
:
Many thanks.
Edited by Dornroschen, 16 January 2015 - 05:22 AM.