Laptop is a PB EasyNote E6307 with an AMD Sempron 3000+ single core CPU, 768MB of RAM and integrated VIA graphics.

After reading rburkartjo's comment on this operating system re "for old computers" in his cheesemakers-linux corner thread I decided to try it out. Booting from the DVD it displayed a screen full of colours instead of a desktop, as has happened with many other modern Linux distros, for example Ubuntu 12.04 and Lubuntu 14.04, due to the laptop's graphics incapabilities. But I tried again, pressing tab on the boot menu and selecting Compatibility Mode, and it booted to the desktop. So I decided to install it from there and deal with any problems with booting to the desktop once I had it installed, but as it turned out there weren't any.
Installation seemed faster than with Mint 13 MATE which I installed last week (and which this now replaces), despite the 17.1 ISO being around 30% larger. Rebooted the computer into Puppy to change the UUID in my Grub4Dos bootloader configuration file, in the menu entry that I previously used for Mint 13 MATE, and for Kubuntu 12.04 before that, then rebooted again and selected that menu entry and it booted to the Mint 17.1 Xfce desktop no problem. Although booting takes a little longer than Mint 13 MATE took.

Once there, I was pleasantly surprised to find that this uses even less system resources than Mint 13 MATE used at idle; about the same amount of CPU resources but 25MB or so less of RAM.

Unlike with Mint 13 MATE, connecting to wifi couldn't have been easier. I selected my network which it had already detected from the menu, entered my password and that was it.

The main issue was - and still is to a lesser extent - dragging windows around the desktop is a little jerky, whereas Mint 13 MATE was smooth. I went into Compiz settings and started disabling things, but couldn't see an option to disable Compiz altogether. So I Ctrl+Alt+F5 'ed and logged into a command line interface, and ran:
 

sudo apt-get remove compiz
...rebooted from there, and back to the GUI desktop. It looks just fine without Compiz, and as I understand it, Compiz is installed on top of the "regular" Xfce desktop, so I doubt I'll come across any issues from having removed it - even though doing so also involved removing a package called: mintdesktop

I removed ThunderBird, HexChat, and all Libre Office packages using Synaptic Package Manager, as I don't intend using then on this laptop. I've disabled the following applications from starting automatically: Desktop Sharing, Indicator Application, Indicator Sound, Migrate Compiz to Custom Profile, and Print Queue Applet, so far, and added one: Conky. No doubt I'll find more applications to disable to speed it up more, but it's running pretty well as it is considering the hardware it's running on.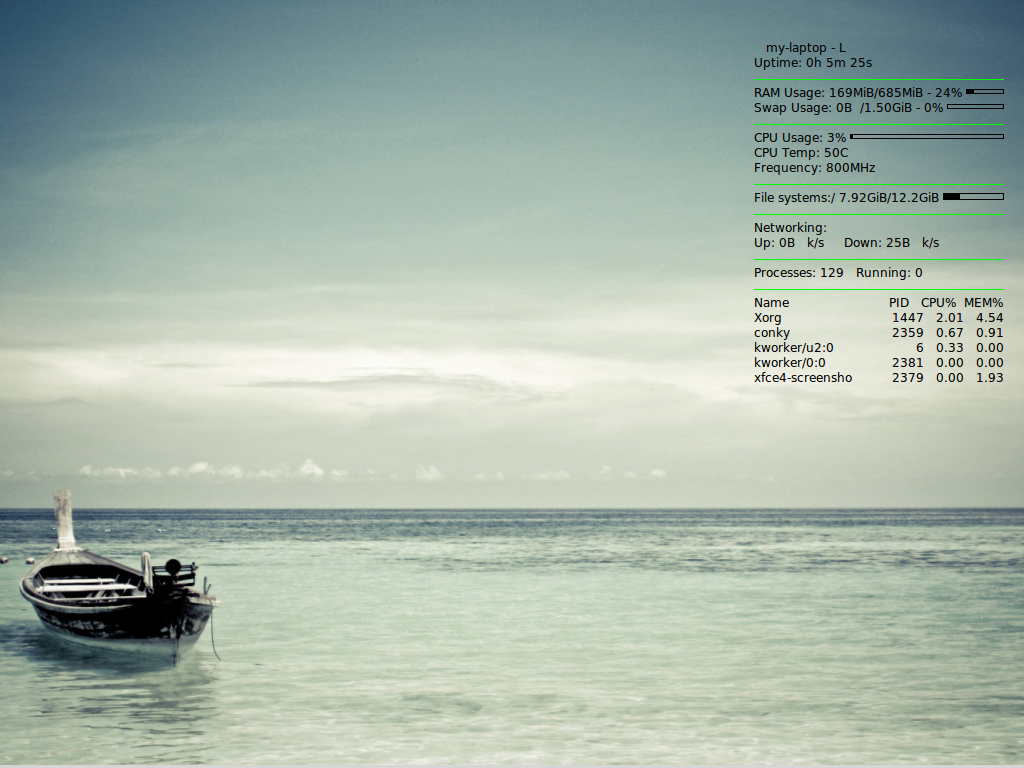 Edited by Al1000, 12 January 2015 - 06:36 PM.