How to create a secure multi-session Puppy CD with updatable Firefox browser
Guide Overview
The purpose of this guide is to teach you how to create a secure multi-session Linux Puppy CD with an updatable Firefox browser. (Please see my EDIT at the end of this post for a quicker and easier alternative)
Equipment required:
1) A computer with internet access
2) A blank CD-R (A CD-RW might also work, but a normal CD-R is recommended)
Using a "live" CD rather than an installed operating system for internet browsing because nothing can be saved to your files unless you select "save" and write another session to the CD. So in the unlikely event of some malware affecting your Linux file system while you're browsing the internet, it will be wiped from your computer when you reboot or shut down unless you choose "save."
I'm going to use Tahr Puppy, which will upgrade to the latest version during this set up process. Tahr Puppy was recently
reviewed and rated 10/10 by Linux Format magazine
and should be suitable for all but very old computers.
If your computer is old and has integrated graphics, it may not boot with Tahr. If Tahr doesn't work on your computer I suggest trying
Lucid Puppy 5.2.8.7
instead. It has recently been updated, works better with older hardware, and also includes the application called Quickpet which has the up-datable Firefox that I'm going to install here.
All that is not covered here is:
1) How to boot your computer from CD/DVD.
2) How to burn an ISO image to a blank CD. If you use XP and don't already have ISO burning software, I recommend
freeISOburner
. It's a tiny program that solely burns ISO images to CD or DVD, contains no spyware, and is simple enough to not need installed on your computer. Just download it, click on it, and it runs. If you have Windows 7 or later, simply click the ISO file with a blank CD in your drive, and Windows more or less does the rest.
NOTE: Do not "close" the session when you burn the ISO to CD. In order to be able to save anything to CD, you need to leave it "open" so that you can write other sessions to it. Depending on your burning software, you might need to check a box that says "create a multi-session CD," or uncheck a box that says "close CD," or something similar, prior to starting the burn.
If you require further advice on either of these topics, please start a new thread in the Linux forum specific to your computer and software. I hope to cover everything that specifically relates to Puppy here.
You'll find a link to the latest version of Tahr Puppy
here
.
When you have burned the Puppy ISO file to CD, put the CD in the CD/DVD drive and boot up your computer.
(NOTE: This guide was originally written for Tahr Puppy 6.0. Some of the following steps may have become redundant in the newer versions of Tahr Puppy.)
In the window that appears, check the box that says "Firewall enabled" and select your country and language etc from the drop down menus.
When done, press OK.
In the next window that opens Press Return/Enter on your keyboard to confirm you want to enable the firewall, and the script in the window will automatically run. When you see it has finished, and it only takes a couple of seconds, press Return again to close the window and acknowledge that the firewall is now enabled.
In the next window that appears, select your country/continent.
Click on "autostart" if you want Puppy to synchronise the clock at each start up.
The next window to appear will say that you have finished Quick Setup. Click on "Restart X" to apply the changes.
If you use an ethernet cable to connect to the internet, you will probably be connected already, in which case just close the next window.
If you use usb or dial-up for the internet, or your computer has more than one ethernet connection and you are not already connected, then click the "connect" icon and follow the instructions specific to your connection. If you want to set up a wifi connection, detailed advice is
here
.
Now click on the "quickpet" icon on the desktop, then click on "tahrpup bug fixes." Please note that like most other Linux operating systems, by default, you single-click rather than double-click on desktop icons and files etc to open them.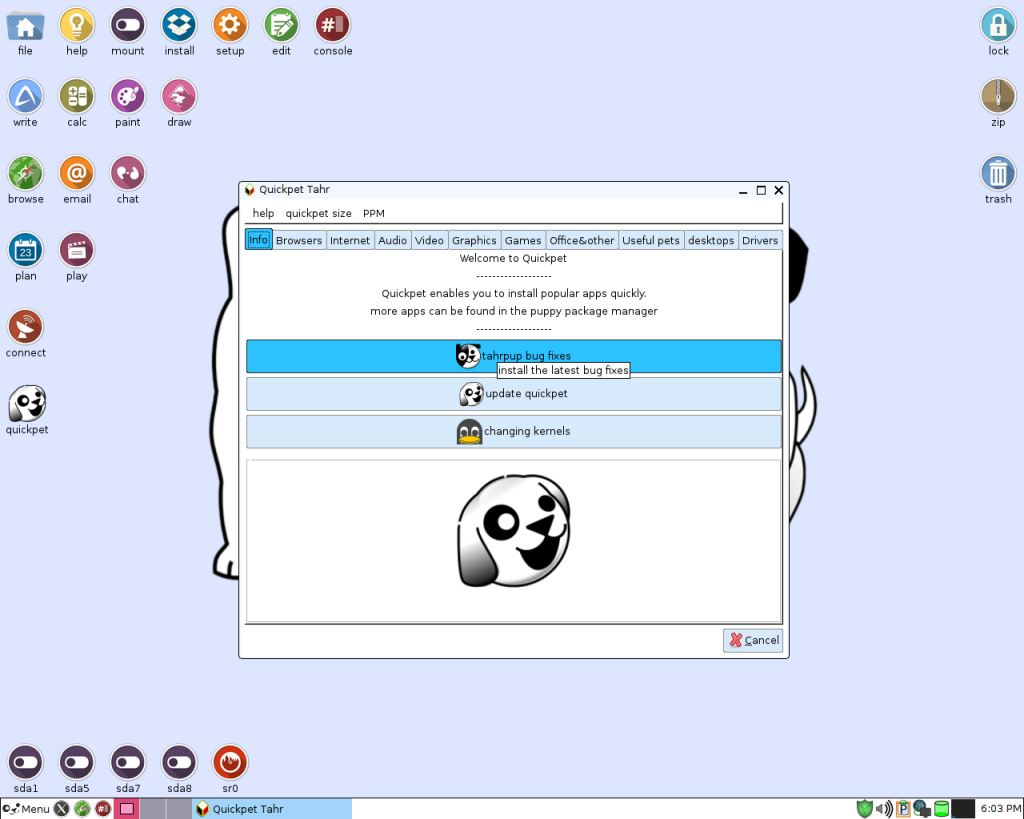 Click OK: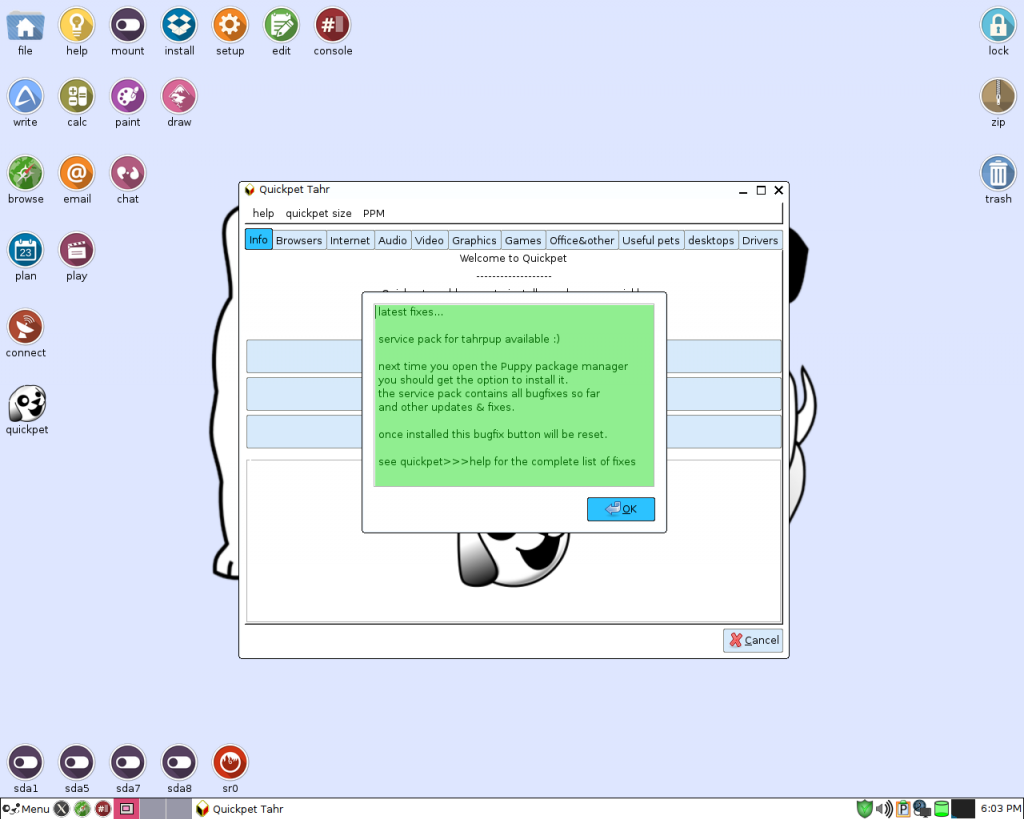 Now click on the "install" icon on the desktop. In the window that opens, click the "install applications" tab then "Puppy Package Manager."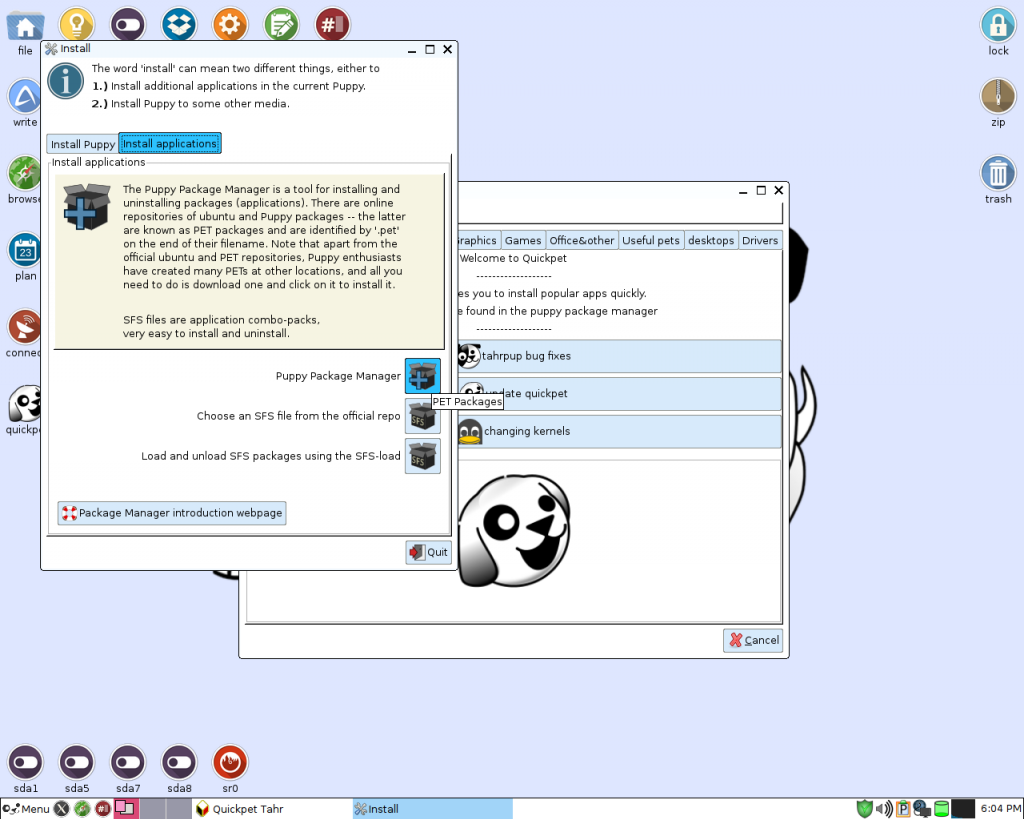 When Puppy Package manager opens, close it, leaving the Service Pack window open.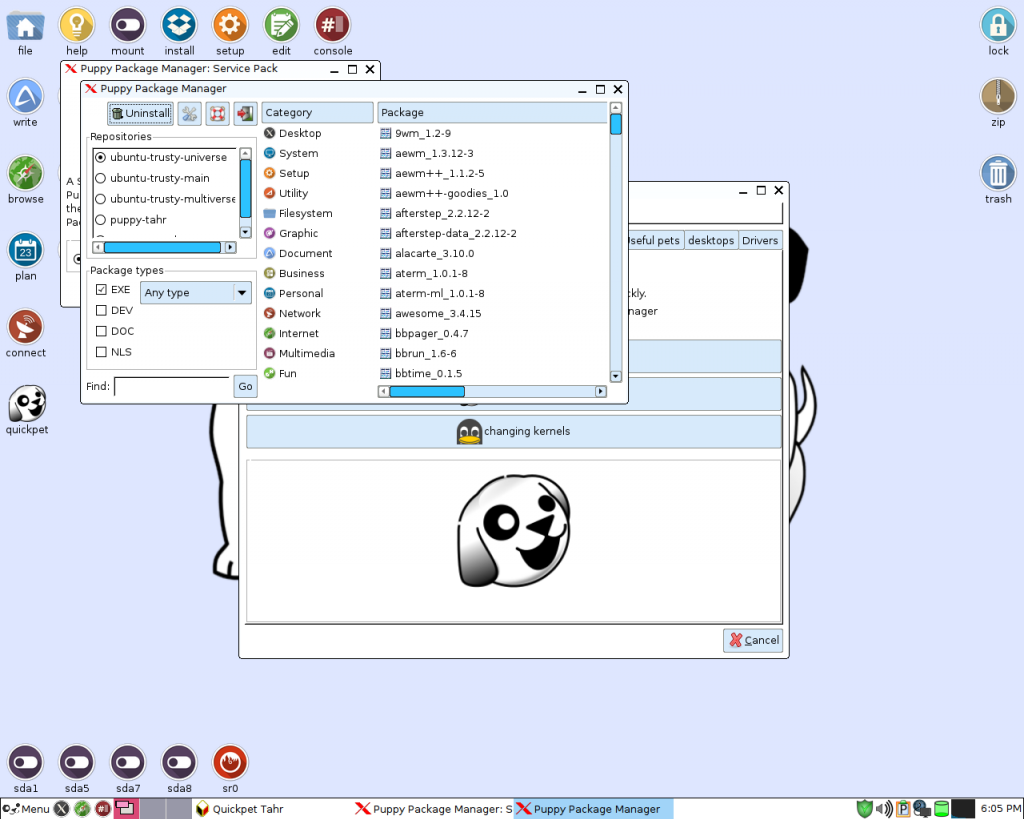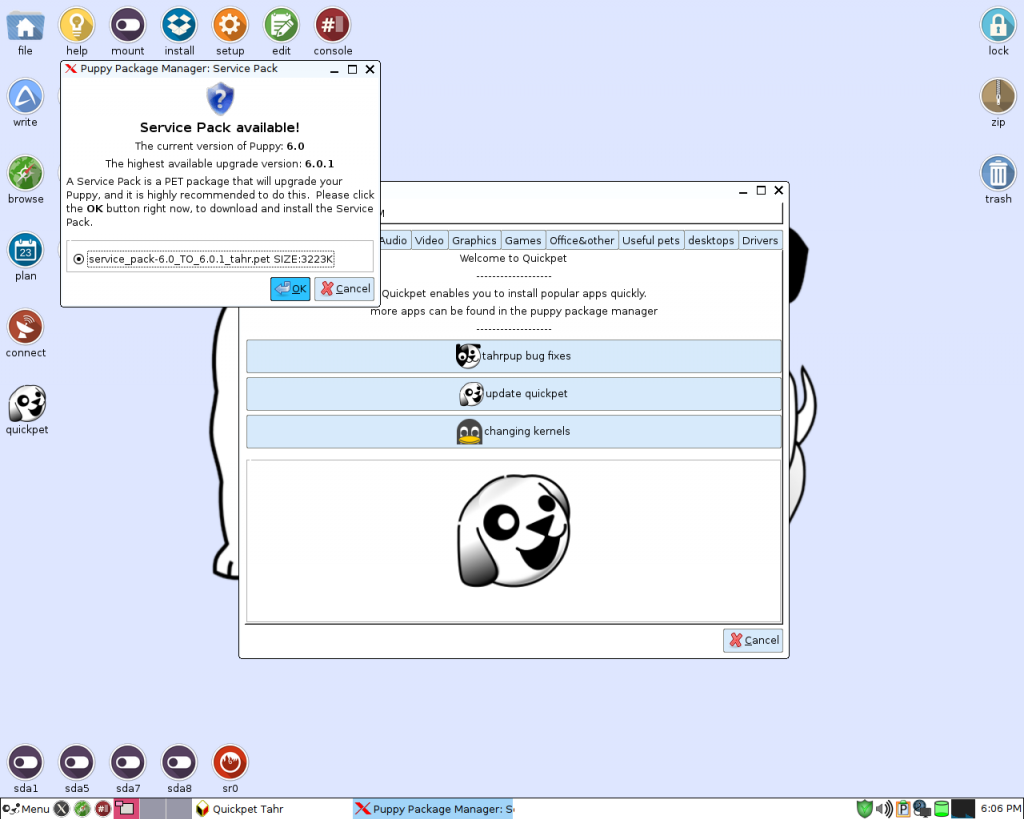 Click OK to install the Service Pack, then click OK to acknowledge that it has been installed when prompted to do so.
In the next window that appears, click "Yes"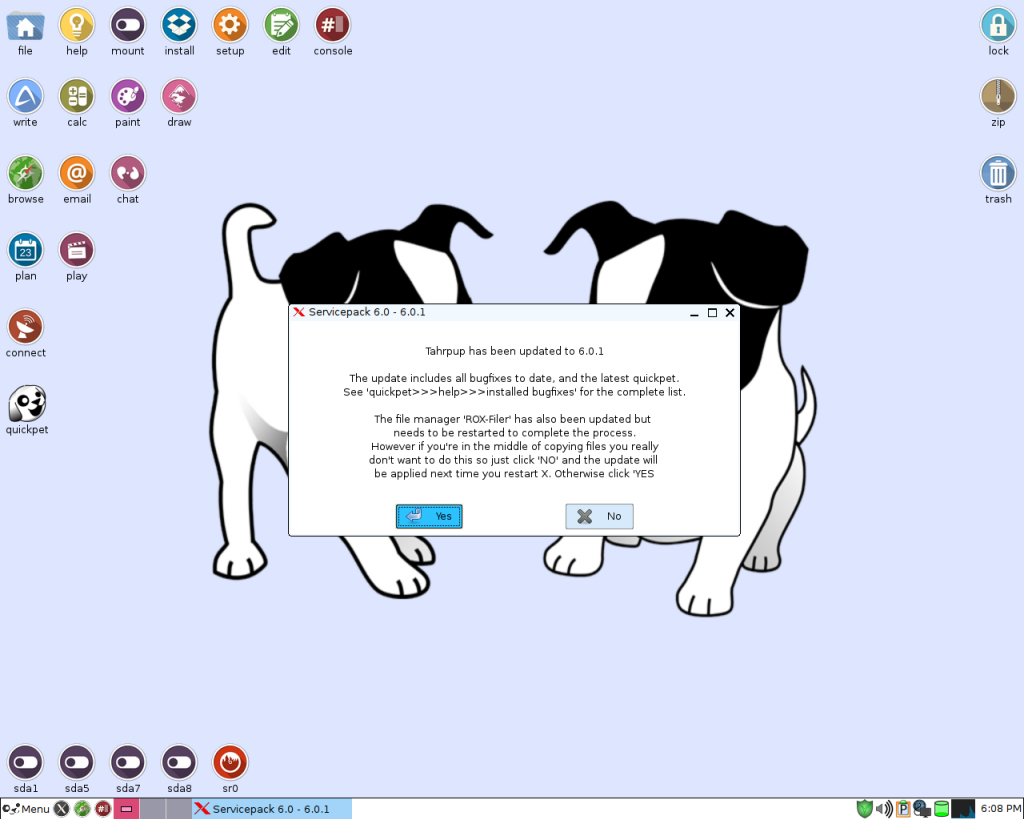 Now open quickpet again, and click on "update quickpet"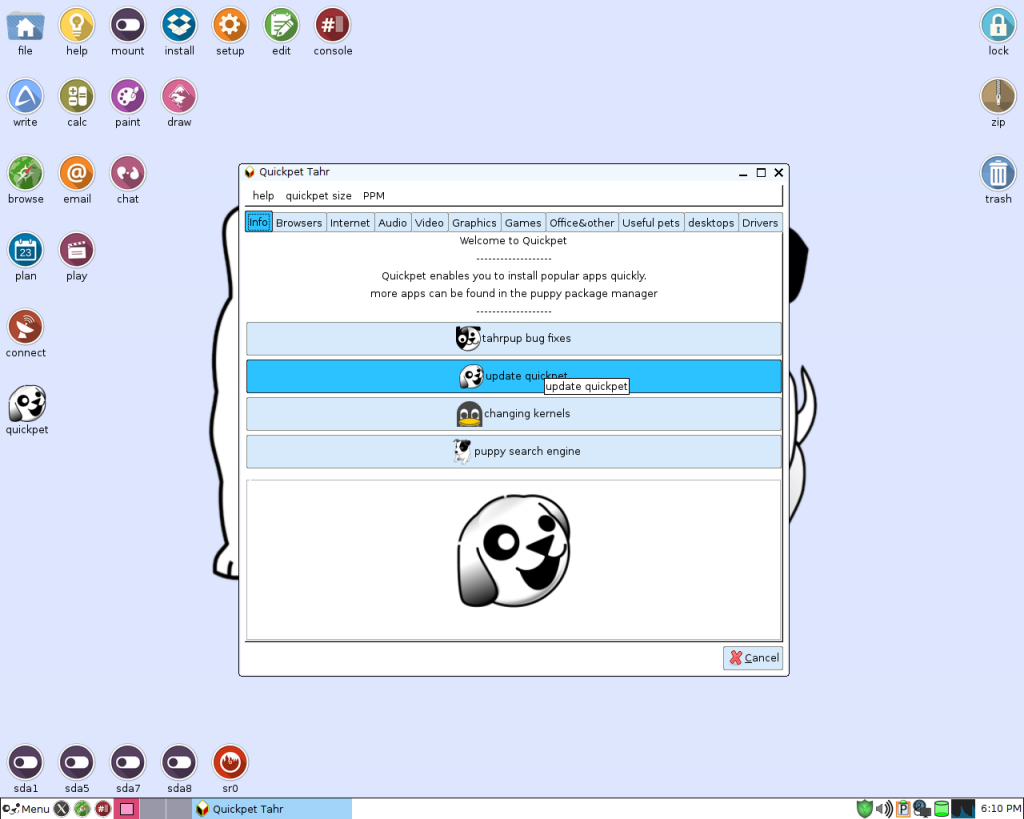 Click OK: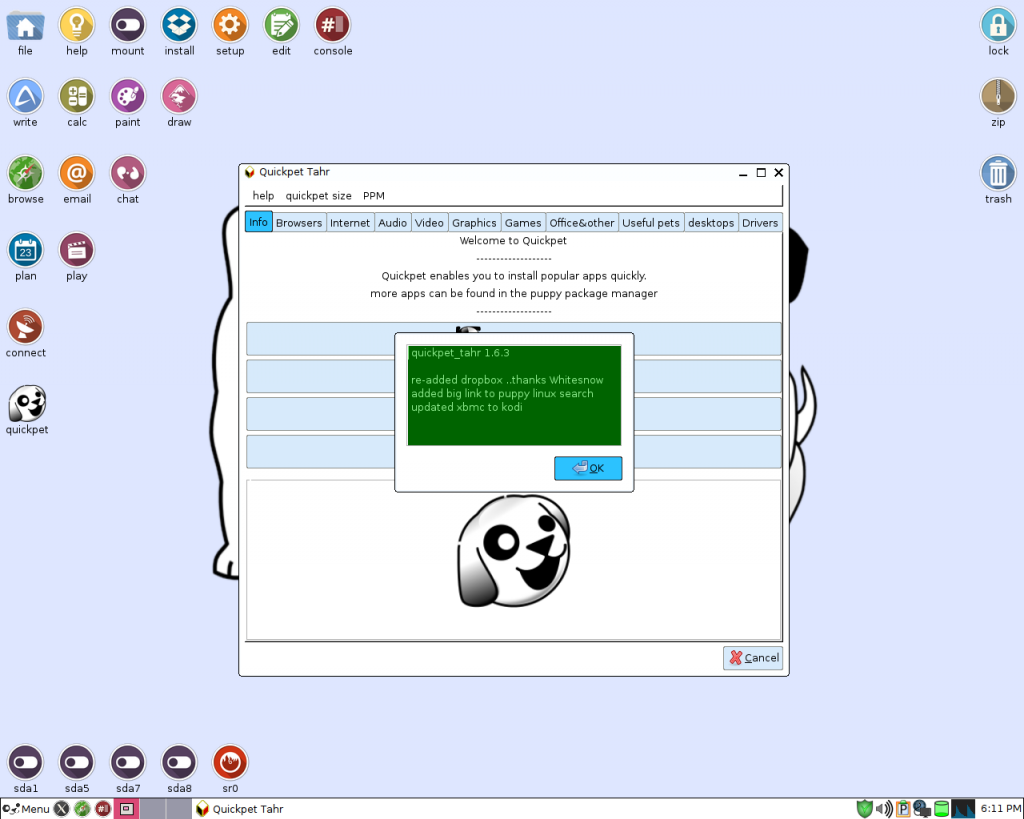 Now to install Firefox. Click on the "Browsers" tab in quickpet, and click on Firefox.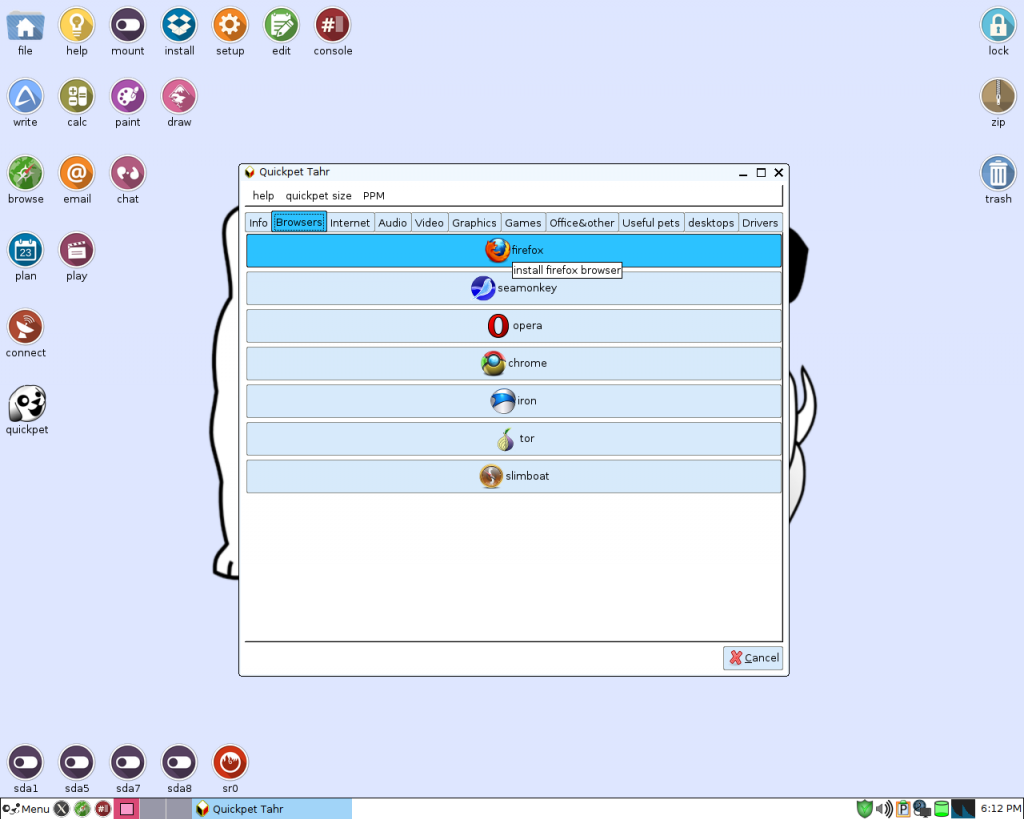 Firefox will now automatically download and install. Click "OK" when prompted to do so.
OPTIONAL STEP:
If you plan on using Firefox to watch videos, you might also want to install Flash. Bear in mind that Adobe stopped releasing new versions of Flash for Linux some time ago, so all that is available are older versions. However, flash will be downloaded and installed as a plug-in for Firefox, which need not be enabled by default, which is what I am going to do. So if you want to install Flash, click on the icon, then select the most up-to-date version (unless you think an older version would be more suitable for your computer). Click "OK" when prompted to do so.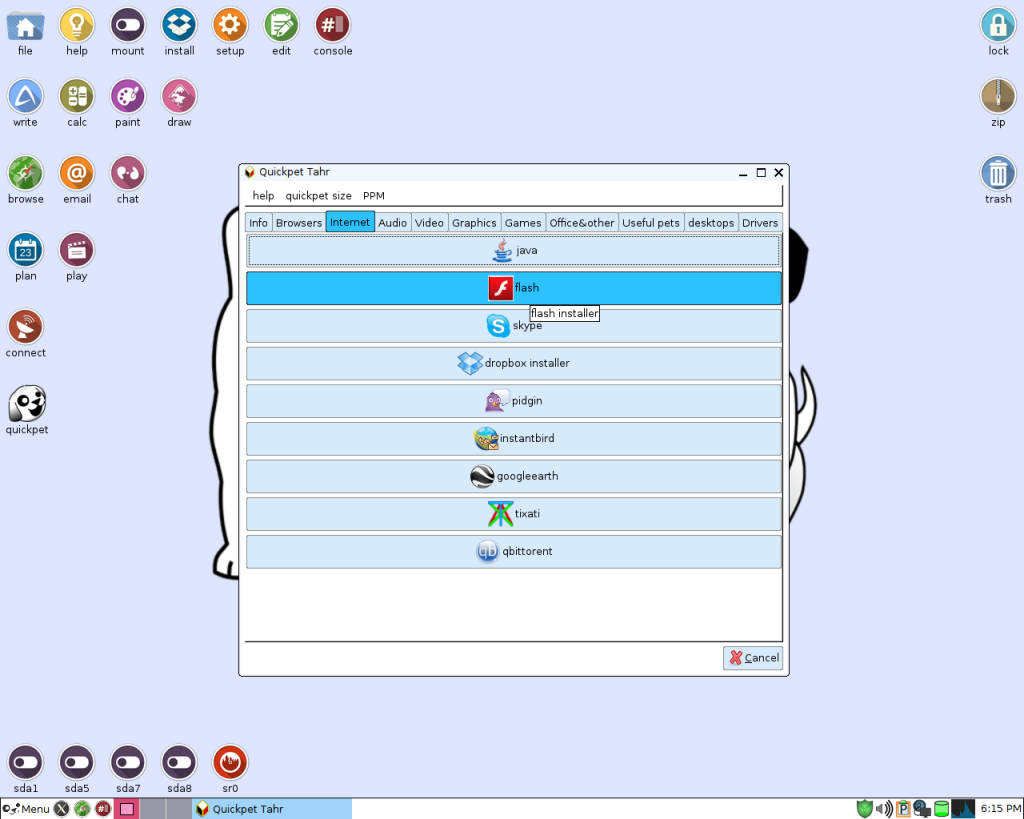 Alternatively, you might want to install Google Chrome from quickpet, as it comes with pepperflash player built in. But I don't think it can be updated as easily as Firefox, and for the purpose of this thread Firefox is what I'm using.
You could of course install both browsers, but bear in mind that the more software you install, the longer your multi-session CD will take to boot.
Or, make more than one Puppy CD. You could have one for watching videos, and another for internet banking for example. The possibilities are endless.
So with Firefox installed, select it from the menu.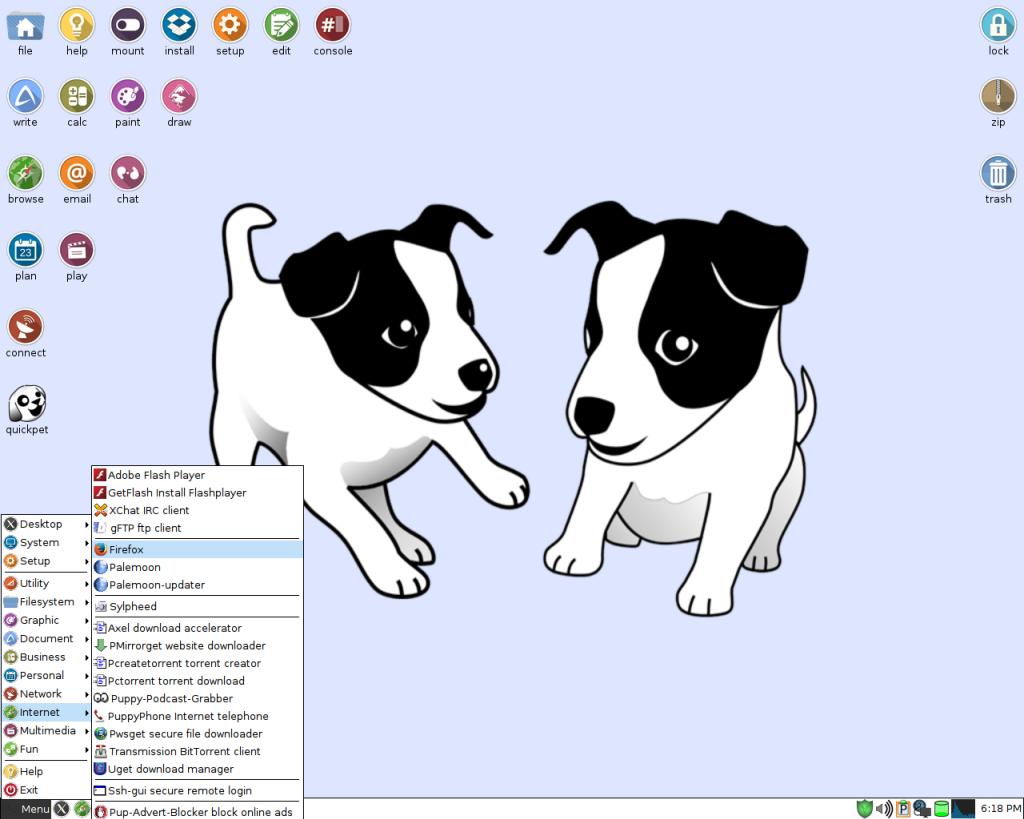 Make it your default browser if you want, and close the "take a quick tour" option.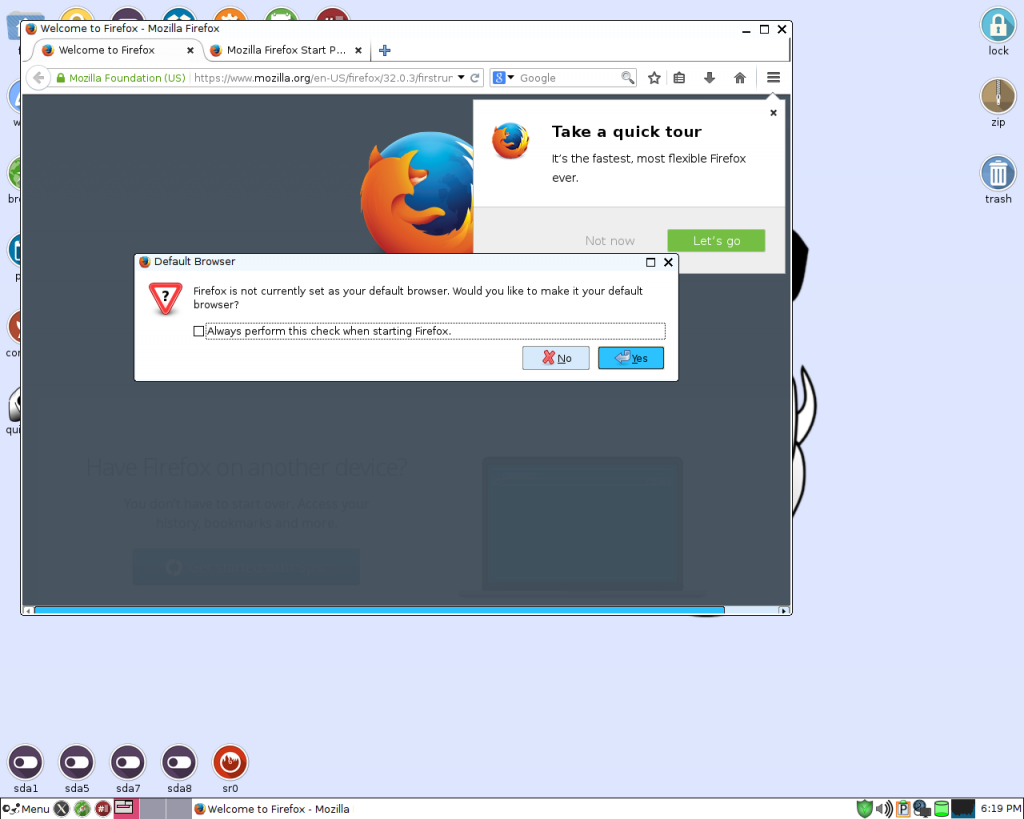 Now to update Firefox to the latest version. Right-click in the white space to the right of the tabs, and select "Menu Bar"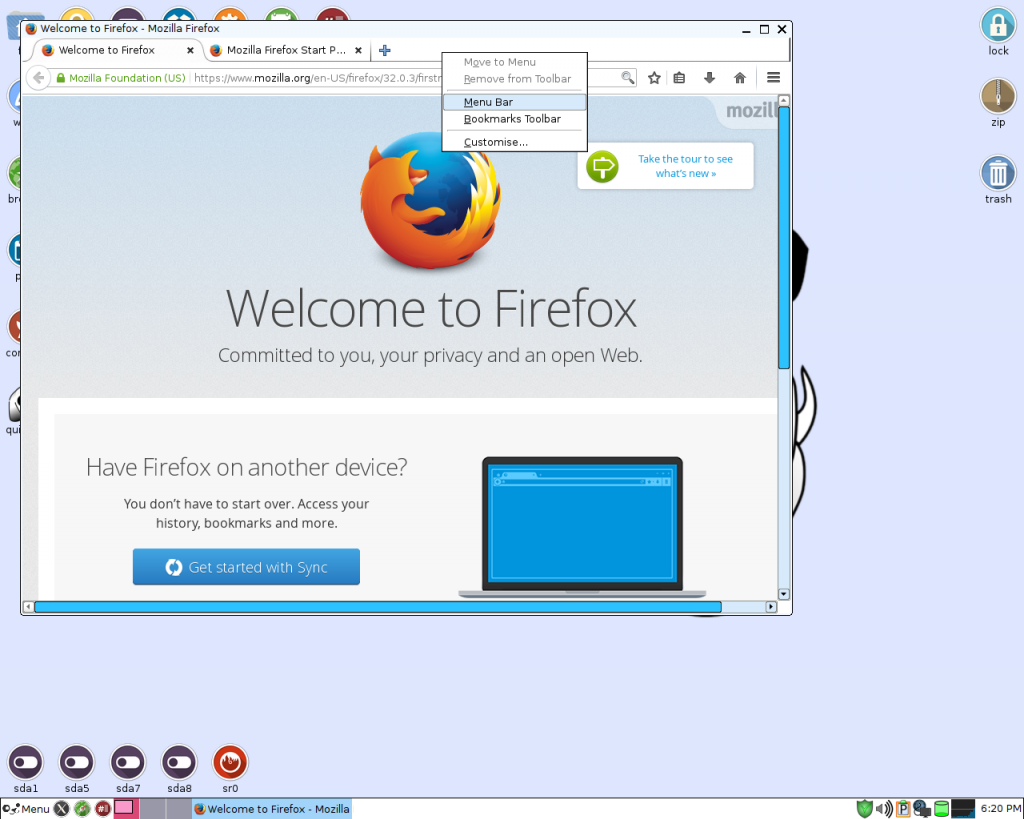 (continued in next post)
In the Menu Bar, select "Help" then "About Firefox"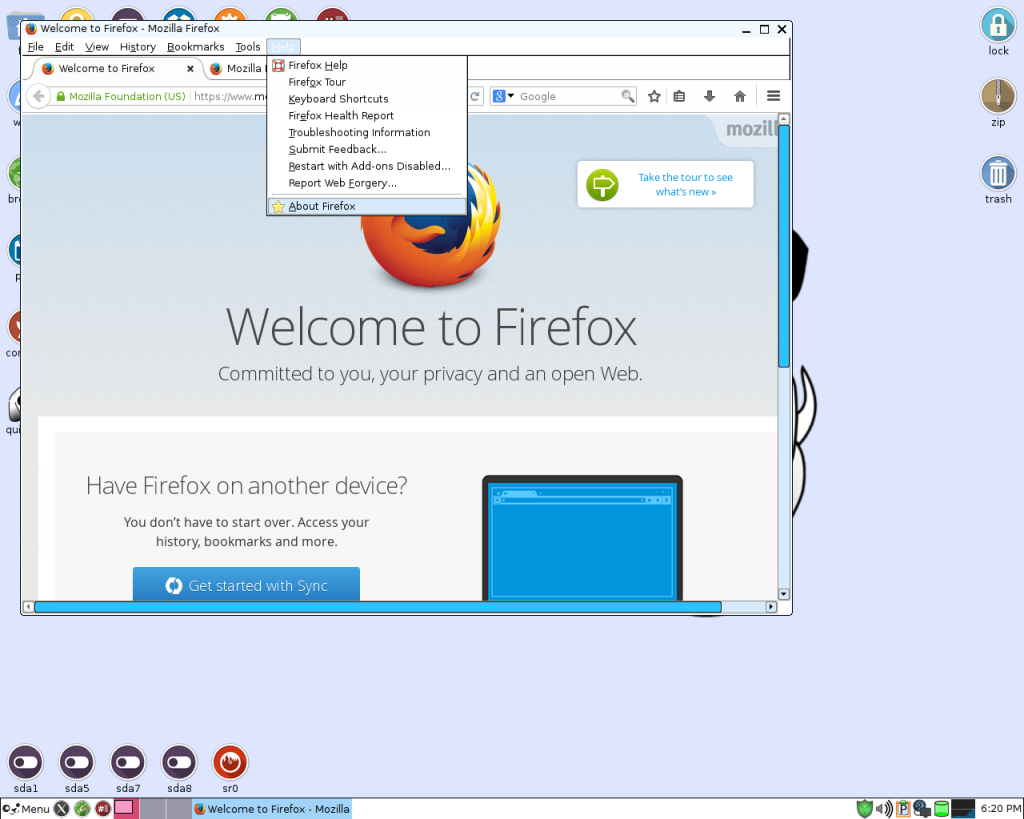 Firefox will now automatically update to the latest version.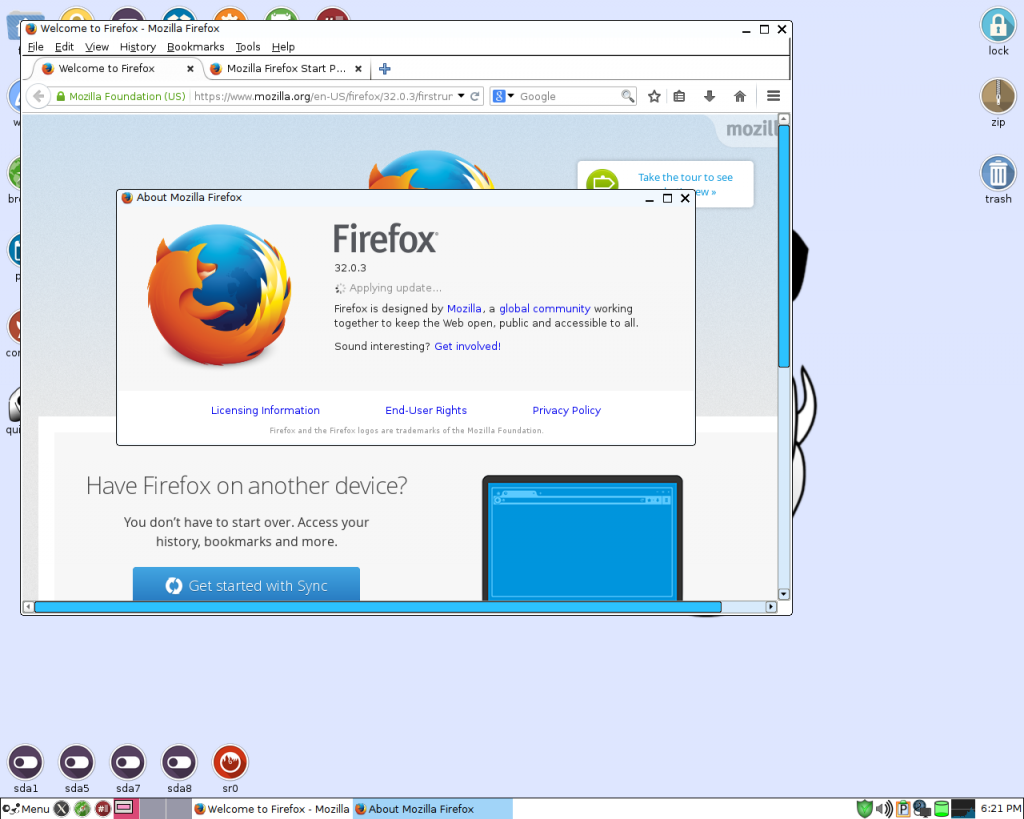 Click to restart Firefox when prompted to do so, to apply the update. If you want, select "About Firefox" from the menu bar again, and it will confirm that it is the latest version.
This is how to update Firefox each time a new version is released. Clicking on "About Firefox" will either update it to the latest version, or confirm that you already have the latest version, so it's a good idea to check it periodically.
Now is a good time to install any add-ons you want, and check they are up to date.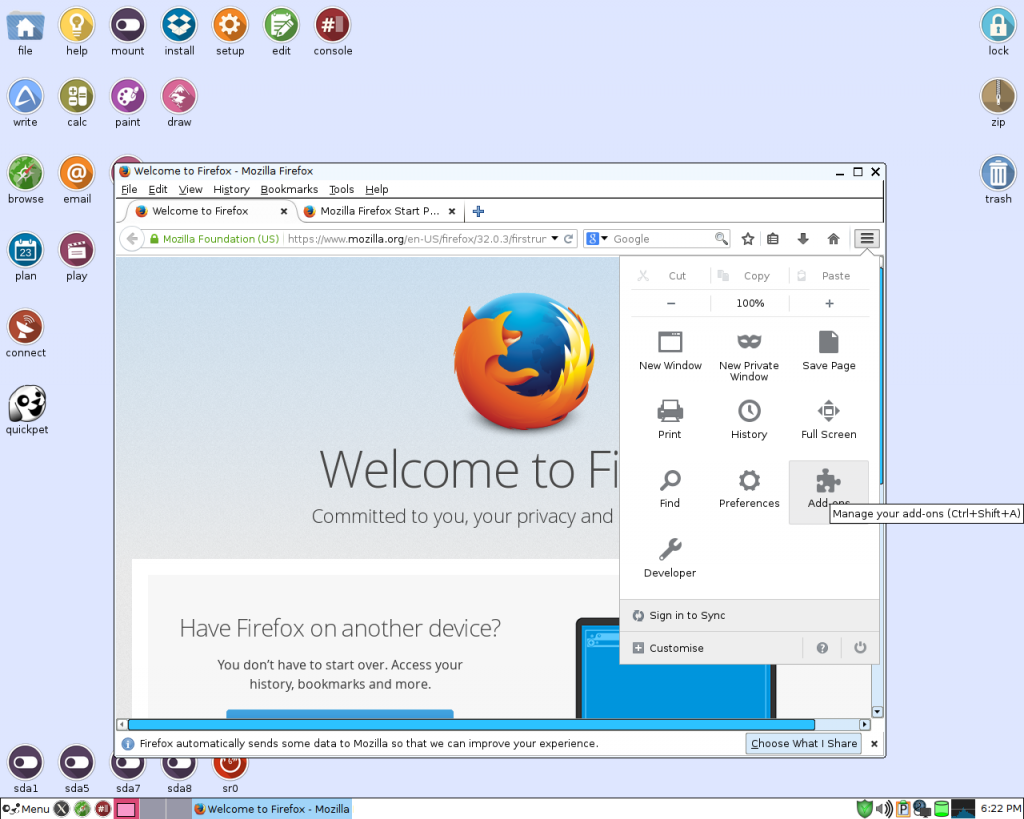 ... and to set Flash to "Ask to activate" if you have installed it.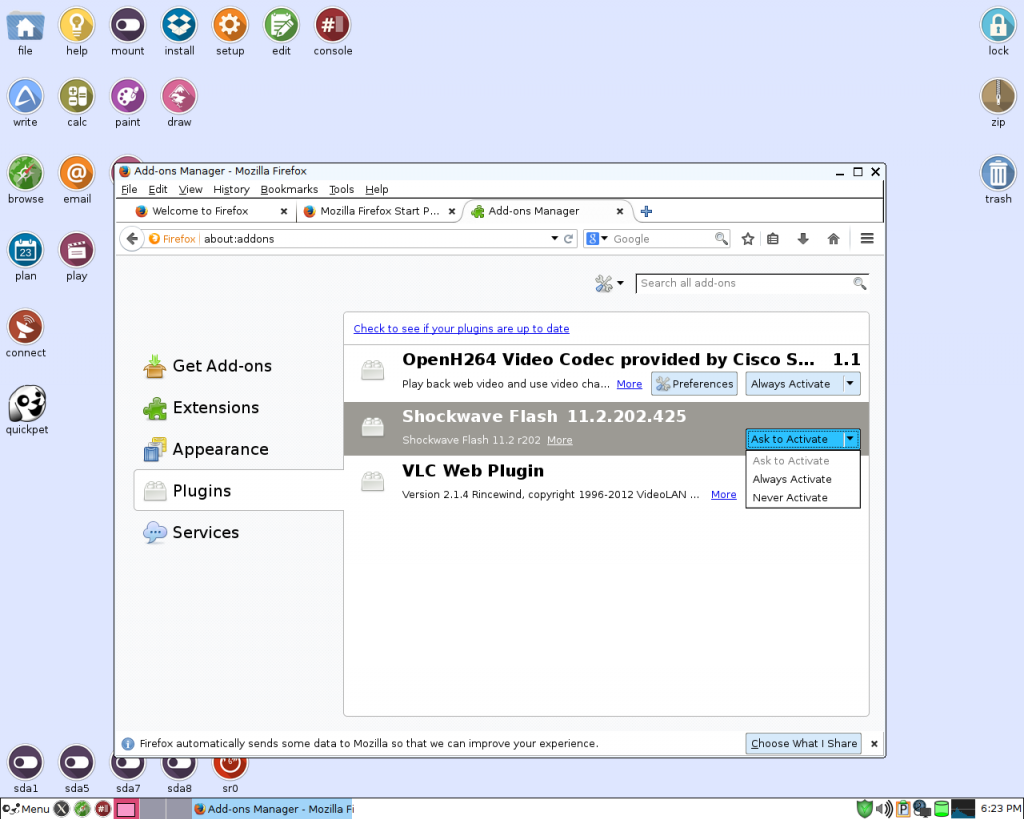 When you have finished installing plug-ins, is a good time to close Firefox with several tabs open, if you don't want to be warned about closing multiple tabs again.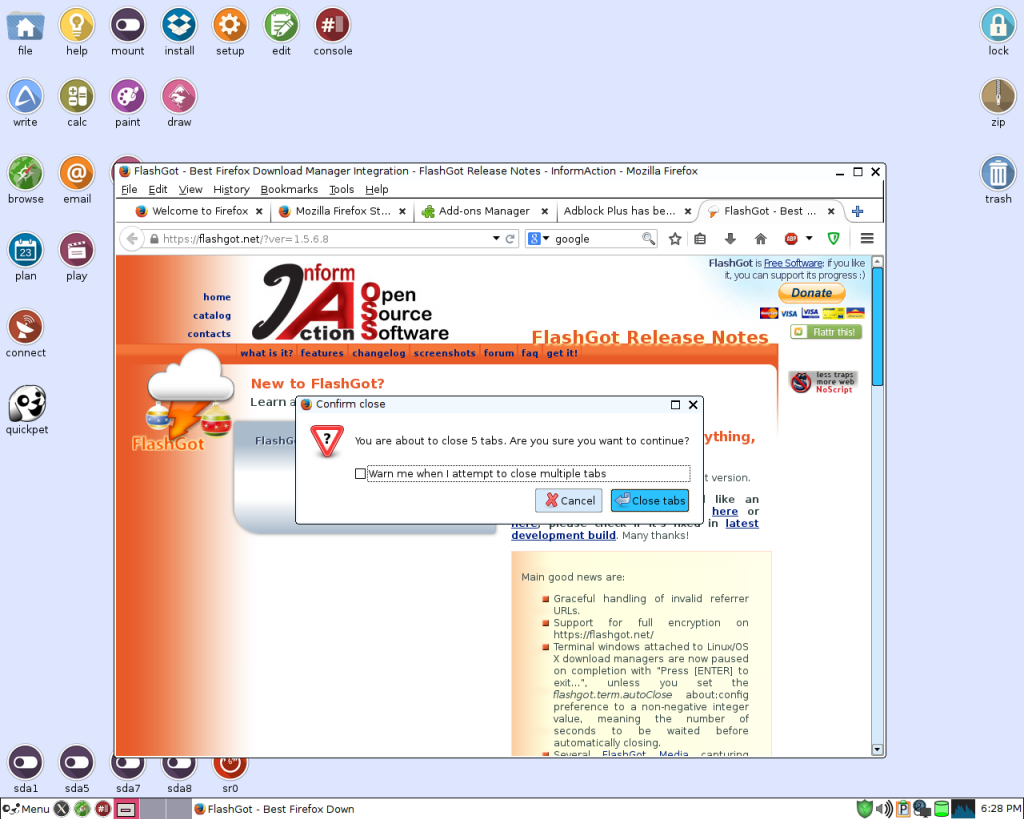 Now all that remains to be done, is to write another session to the CD during the shut down process, so that everything you have done will be saved. So with the CD in the drive, select "exit" from the Menu. The select the following options, when presented with them:
1) Shutdown
2) SAVE
3) administrator
4) SAVE TO CD
Now press Enter/Return on your keyboard to save the session to CD, which might take a few minutes to complete. The CD will automatically eject when completed. Remove the CD from the drive (unless you want to leave it in), then press Return again to close the CD drawer and shut the computer down - close the CD drawer manually if you're using a laptop.
Now you have a personalised, secure, portable operating system, and all it cost in monetary terms was the price of a blank CD.
The idea is that in future when you shut down, and have not installed or updated anything, select "NO SAVE."
On occasions that you do want to save another session, for example if another Service Pack or version of Firefox is released, install such things just after booting up. Save sessions before rather than after browsing the internet, both to minimise the chance of saving any malware, and to ensure that you aren't also saving a bunch of temporary internet files to CD.
I should also mention that even though booting from CD is the slowest way of booting Puppy, Puppy is very fast when booted up. Unlike most larger live operating systems, Puppy runs entirely from RAM, so you can remove the CD from the drive when it's booted up and use the drive for other purposes.
Just bear in mind that when you are using Windows for example, Windows will prevent you from deleting system files, but the only thing preventing you from accessing and deleting Windows files while booted up with another operating system is your common sense. So while Puppy is designed to be user-friendly, it's not for little children to play with. However your hard drive is not accessible by default when you boot up with Puppy. You can see the icons in my screenshots that represent my hard drive partitions, just above the menu bar: sda1, sda5 etc. If you are using XP or Windows 7, you might only have one icon/partition. So unless you know what you're doing, don't mess about with your hard drive partitions. Otherwise, it's perfectly safe to mess about with Puppy's file system, which you can access by clicking on the "file" icon on the desktop.
Similarly with all the applications that are included in the menus, most of them are perfectly safe to play around with; except one called Gparted, which is a hard drive partitioning tool, and you can easily wipe your hard drive if you play about with it and aren't familiar with it.
If you want to download anything using Puppy, it will be downloaded by default to your downloads directory, which you will see if you click on the "file" icon on the desktop. The easiest way to save downloaded files is to drag and drop them onto a usb flash drive. Plug one in, and you will see an new icon on the desktop appear, which will probably be labelled sdb1.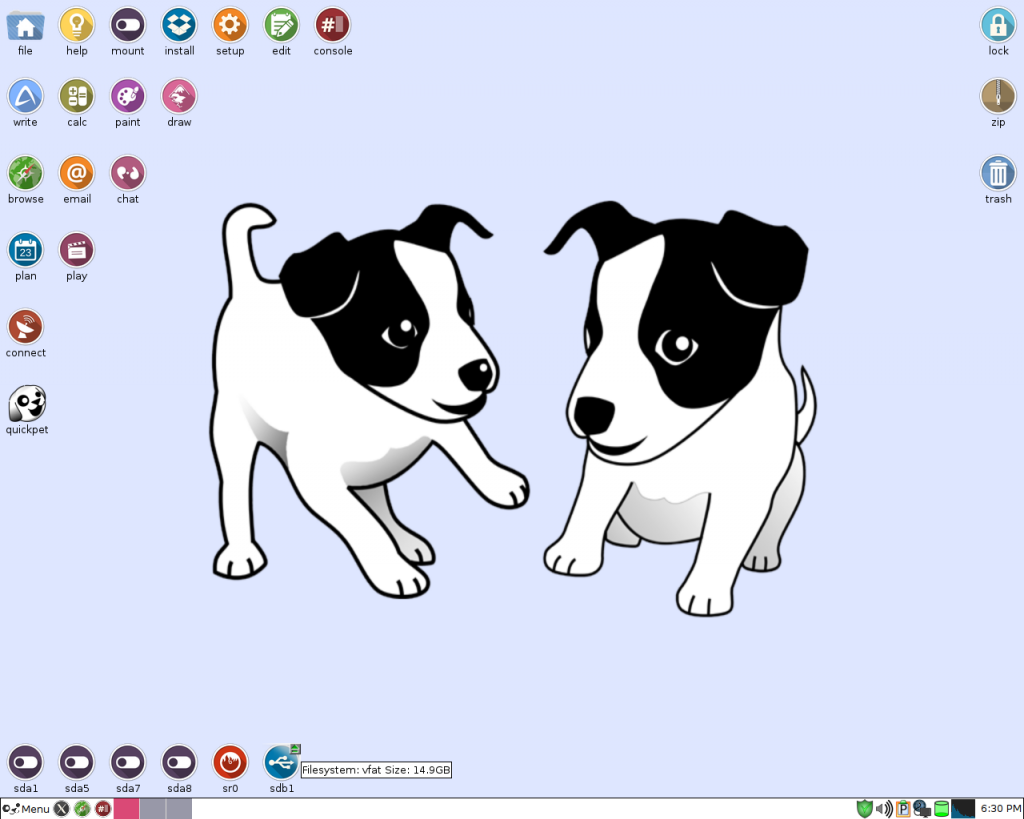 Click on the icon to access the USB drive, a little green button will appear (which you press to remove access to the USB drive and/or remove it) to show that it is accessible (/mounted), and a window will open automatically into which you can drop files from your downloads (or any other) folder. Then when you become more familiar with Linux filesystem, set your internet browser to download files to usb instead of the default downloads folder.
But I reckon that's enough for now, and I hope some folk will find this information helpful.
EDIT: Due to Firefox being quite a large application for a CD particularly when it has been updated a few times, and to recent versions of Firefox being prone to crashing, on my latest Tahr Puppy CD I am just using the included Palemoon browser. Palemoon can also be updated easily by clicking on "Palemoon Updater" in the menu under "Internet."
Edited by Al1000, 28 November 2015 - 08:14 AM.