Not long ago
Soul Invictus
loaded winXPpro on the PC and confronted an issue. Thats really not surprising. Issues exist using this, the latest & greatest OS in wide distribution world-wide. It was developed upon previous versions, so it really shouldn't come as a big surprise what it does & to some extent, how it does it. Yet, it still exists with functionality barely defined to the novice user, IMHO.
I have XP Professional and I'm getting my bearings on the differences between this version and another XP version. I notice this one has a Windows Firewall. My problem is that I used to be able to access my employer's company intranet from home. When I go to the site and enter my login info I get the message: Access Denied (policy_denied). Your system policy has denied access to the requested URL. For assistance, contact your network support team. I'm thinking I have to modify a setting in gpedit.msc, however I can't be sure. Any thoughts of what security setting that needs to be modified?
My thoughts are:
Policy information in winXPpro is kinda confusing.
Like many, I am the network support team in my household.
My thoughts are: "What should I do when contemplating changing a setting".
Any changes might best be done knowing first what the default settings are.
and where to find them.
and how to interpret the information available on the OS about these settings.
So, I navigated to the "group policies" that typing
gpedit.msc
in the "run" will deliver. To the best of my knowledge, all settings are at the default setting. Before doing this, I also navigated to a section I typically use to find "Security Policies". It is among what are considered "administrative tools" and accessed slightly differently. The
"administrative tools"
panel includes shortcuts to:
Component Services
Computer Management
Data Sources (ODBC)
Event Viewer
Local Security Policies
Performance
Services
First let's try
start
-->run-->gpedit.msc. Here we find two basic directories with 3 main folders each.

Opening them up reveals the organizational
tree
we get used to seeing in a Windows OS and elsewhere.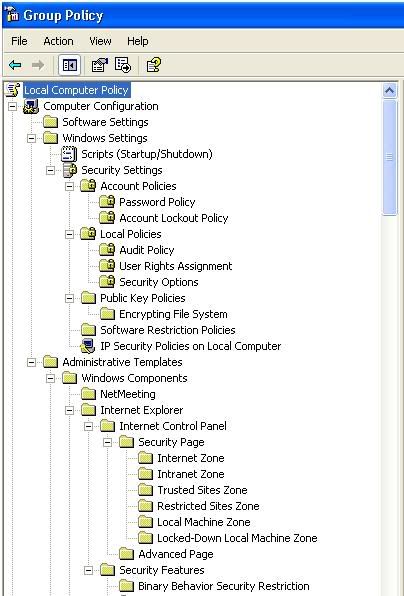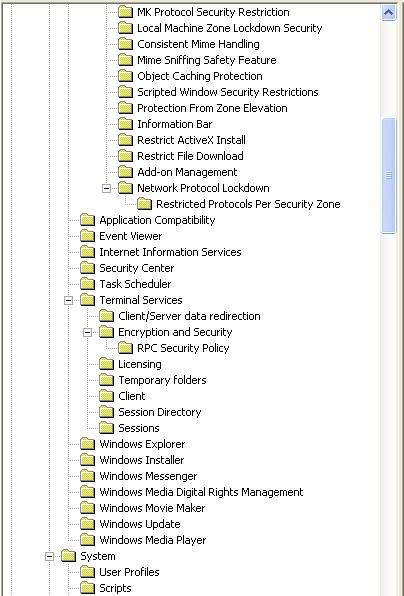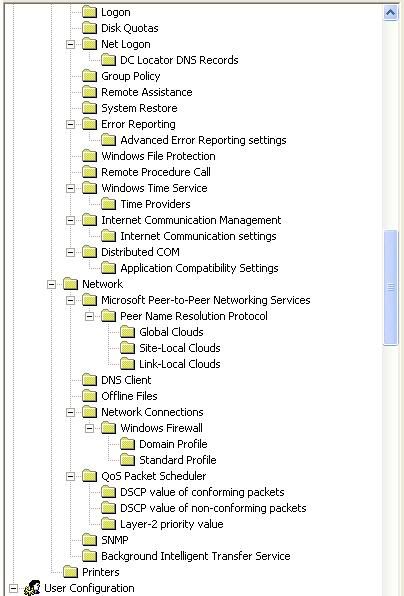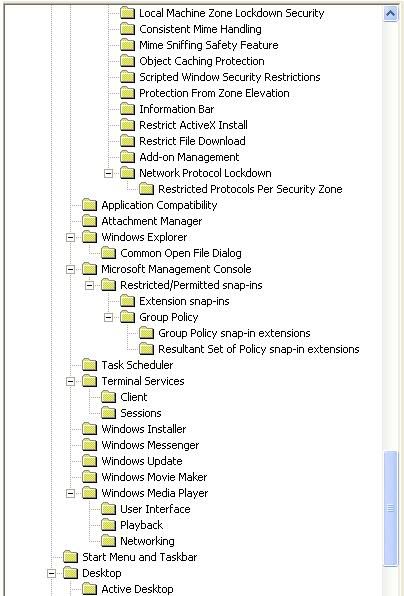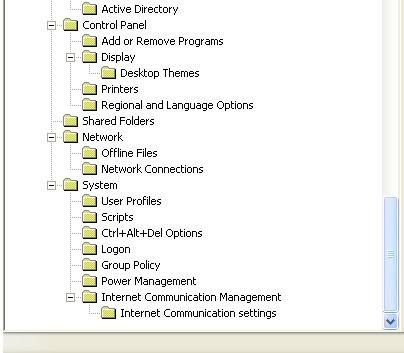 That appears to me to be... large. A cornerstone of
understanding it
might be
to see
what
all
users share in having this feature. Windows XP Pro tends to strike one as an operating system designed to accomodate users within a range from single user to large corporation users. For this reason I think it is desireable to "filter out" that which is unnecessary for the simpler user & understand what should be done as one advances in the complexities of use. Bearing in mind security issues. (at some risk of having a bucket of water thrown at me and hearing "just stay with the defaults if ya' know whats good for ya'!")
To see it from a different angle we'll select
start
-->control panel-->performance & maintenance-->
administrative tools
-->local security settings: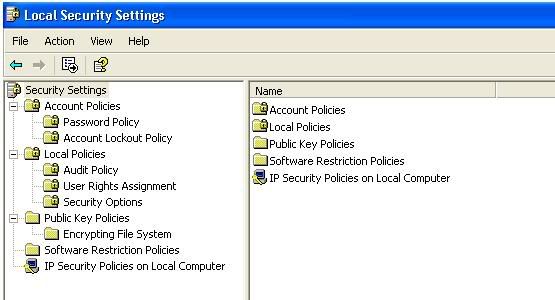 Five directories are here and moving down the
tree
, opening each folder as we go...
1. Account Policies-->
Password Policies

2. Account Policies-->
Account Lockout Policies

3. Local Policies-->
Audit Policies
click for image
4. Local Policies-->
User Rights Assignments
image
image
5. Local Policies-->
Security options
image
image
image
and backing up to capture the lost type:
image
image
6. Public Key Policies-->
Encrypting File System
image
7.
Software Restriction Policies
image
8.
IP Security Policies on Local Computer
image
and once again, backing up to capture the type that extends past the limit of a screenshot.
image
Where we "backed up to capture the lost type" was the entry: Network access: Remotely accessible registry paths. (#48 of 63 security options). If you right-click on this entry (or
any entry
) you will get more details by selecting "properties". Here we see why the entry is so long, 10 registry paths are involved.
image
What does this all mean?
I don't know. By having it visible, I do know that it is not
invisible
. Perhaps we can reference to it as we learn, huh?
Hundreds of entries, each bringing about a change possibility. Maybe given time we could discuss them in more depth in this thread, by right-clickin' each line & asking the questions that will inevitably arise, I guess.